Queensland Reds sign promising duo
After impressing during this year's inaugural Queensland Rugby Challenger Series and tour of Japan, Queensland Rugby pathway products Connor Anderson and Phransis Sula-Siaosi will join the Queensland Reds squad in 2023
 .
Backrower Anderson will call Ballymore home for the next two seasons, while prop Sula-Siaosi has signed through 2023 to bring added depth to the Reds forward pack next year.
Through Queensland Rugby's recent groundbreaking player development initiatives, the Club Rugby pairing both earned their maiden Queensland cap against the Saitama Panasonic Wild Knights earlier this month in Kumagaya.
  

 Reds General Manager – Professional Rugby Sam Cordingley said: "We're pleased to welcome another two genuine Queensland Rugby pathway products to our squad for 2023.
 

"Connor and Phransis have both been impressive for their respective clubs for a number of seasons now, and they only enhanced their reputations during the Challenger Series and Japan Tour. It's great to reward their performances with a Reds contract.
 

"At the Reds, we've been built on a strong connection with the community game in Queensland, but the opportunity is clearer than it's ever been with introduction of the Queensland Challenger Series, and Reds caps and contracts will be available again next year for outstanding performers.
 

"Next year's Challenger Series will grow again and with the Saitama Panasonic Wild Knights travelling to Queensland in 2023, we will be keeping contract positions open for outstanding performers."
  

 Anderson said: "I'm super excited to be joining the squad in 2023, this has been a dream of mine since I was four-years-old.
 

"Being selected for the Japan tour and earning a cap was a massive honour and something I'm extremely grateful for.
 

"A massive thank you to my coaches at Wests and the club. I wouldn't be in this position without them.
 

"I'm looking forward to the challenge of Super Rugby and can't wait to rip in this pre-season at Ballymore."
 

Sula-Siaosi said: "Earlier this year, my dream of being a professional footy player still felt like a long way away.
 

"I was over the moon to be called into the squad for the Challenger Series and thought what a great year of footy it has been.
 

"Getting my first cap on the Japan Tour still feels unreal to think about.
 

"I'm glad I was able to impress Thorny and the staff enough to sign me and I'm excited to take advantage of this opportunity and make something out of it."
 

Anderson has enjoyed a breakout 2022 campaign, the backrower winning the StoreLocal Hospital Cup title with Wests and receiving the Alec Evans Medal as the competition's best player.
 

The 26-year-old graduated from Brisbane State High School in 2013, and played for the Queensland U20s side in 2016.
 

An Everton Park Roosters junior, Anderson made the move to Sylvan Road in 2017, and has been a permanent fixture in the Bulldogs pack in the years since.
 

He featured for Brisbane City in the 2019 National Rugby Championship, before earning selection in this year's Challenger Series with the Reds.
 

Still only 22-years-old, Sula-Siaosi captained Souths in the year's Hospital Cup and has risen through the ranks after graduating from St Joseph's Nudgee College in 2018.
  

 Sula-Siaosi was an Australian Schoolboy the same year, touring Ireland and Scotland alongside current Reds scrumhalf Spencer Jeans.
 

The prop made his Premier Grade debut the season after, and went on to captain the Magpies in 2022.
 

Anderson and Sula-Siaosi will report for pre-season training at Ballymore next week, with Queensland's preparations for the 2023 Super Rugby Pacific season set to kick-off on Monday.
 

The Reds will play five home games at Suncorp Stadium in 2022, with two at Townsville's Queensland Country Bank Stadium, including a Round 1 blockbuster against the Hurricanes.
 

Secure your 2022 Reds membership via https://bit.ly/3UP1YDJ.
 

Connor Anderson
 

Position: Backrow

 Height: 191cm

Weight: 107kg

Born: 13/05/1996

Place of birth: Brisbane

Senior Club: Wests

School: Brisbane State High School

Queensland debut: 04/11/2022 v Saitama Panasonic Wild Knights, Kumagaya Rugby Stadium, Saitama

Queensland caps: 1
 

Phransis Sula-Siaosi

 Position: Prop

 Height: 174cm
 Weight: 118kg

 Born: 15/07/2022

Place of birth: West Auckland, New Zealand

Senior Club: Souths
School: St Joseph's Nudgee College

Queensland debut: 04/11/2022 v Saitama Panasonic Wild Knights, Kumagaya Rugby Stadium, Saitama

Queensland caps: 1
Former English International to join the Highlanders
English first-five Freddie Burns will join the Highlanders for the 2023 edition of DHL Super Rugby Pacific. Burns, currently playing for Leicester Tigers in the English Premiership has agreed terms with the Highlanders, and with the support of Leicester, will land in New Zealand prior to the first round.
The 32-year-old Burns will bring with him a wealth of experience having started his first-class career with Gloucester back in 2010. His first turn at Leicester was between 2014-2017 before three seasons with Bath and Burns has over 200 appearances in the Premiership to his name. In 2021 he had a short sojourn in Japan before returning to Leicester for the 2022 season.
A former England U20 representative he represented the senior side five times most notably debuting against the All Blacks in 2012, replacing Owen Farrell, in their 38-21 victory.
A prolific goal kicker and tactically sound first-five, who can also play fullback, he was the toast of Leicester when he dropkicked the winning goal for the Tigers against Saracens in the 2022 Gallagher Premiership final.
Burns is looking forward to the experience.
"As a young lad I grew up watching Super rugby in the early hours of morning. To have the opportunity to represent such a prestigious club as the Highlanders in the 2023 Super Rugby Pacific season is a huge honour. I look forward to getting started and adding to the group both on and off the field"
Highlanders Head Coach Clarke Dermody has welcomed the arrival of the experienced playmaker.
"Having a player of Freddie's calibre available to us in such a crucial position is a real boost for the squad. Last year we were exposed at 10 due to a run of injuries and while we covered the situation, we were asking a lot of Sam Gilbert and Vili Koroi who are not regular starting first-fives. Freddie's arrival will provide us with that extra insurance against that scenario playing out again in 2023".
Burns will be the second international back to be added to Dermody's 2023 squad with Argentinian outside back Martin Bogado also set to play in Highlanders colours.
ENDS
BLUES PRE-SEASON FIXTURES TO BE MOVED
The Blues, alongside Mahurangi Rugby Club have made the decision to move their pre-season event – Blues Fest '23 – away from Mahurangi Rugby Club due to the condition of the field.
The recent bad weather around the Blues region has meant ground staff haven't been able to work on the field and after a check last week the tough decision was made to move the two games and nib Blues open training session to a new venue.
A final decision on a new location for Blues Fest '23 is yet to be made.
Blues CEO, Andrew Hore, said the club were gutted to make the tough call.
"As a club we were getting excited to head north for the pre-season," said Hore.
"Unfortunately, the weather has conspired against us in recent weeks and when we met with Mahurangi Rugby Club on Friday, both parties agreed the field hadn't responded how we would've hoped, and the call was made to move the event."
Mahurangi Council of Clubs Delegate, Sam Ryburn, said the club were taking a philosophical view over the change.
"We were very much looking forward to hosting the Blues at Mahurangi for Blues Fest '23," said Ryburn.
"There's not a lot we can do, both The Blues and our club explored all the options before coming to this decision, but we're hoping to continue our relationship with the Blues and look at future options for hosting pre-season matches."
The Blues still intend to host the entire Blues Fest '23 programme including a 'Game of Three Halves' between North Harbour, Northland and Auckland development players, a nib Blues women open training session and the Blues men vs Hurricanes pre-season match.
A decision on where this will be held will be communicated in the coming days.
Richie Mo'unga to depart Crusaders after 2023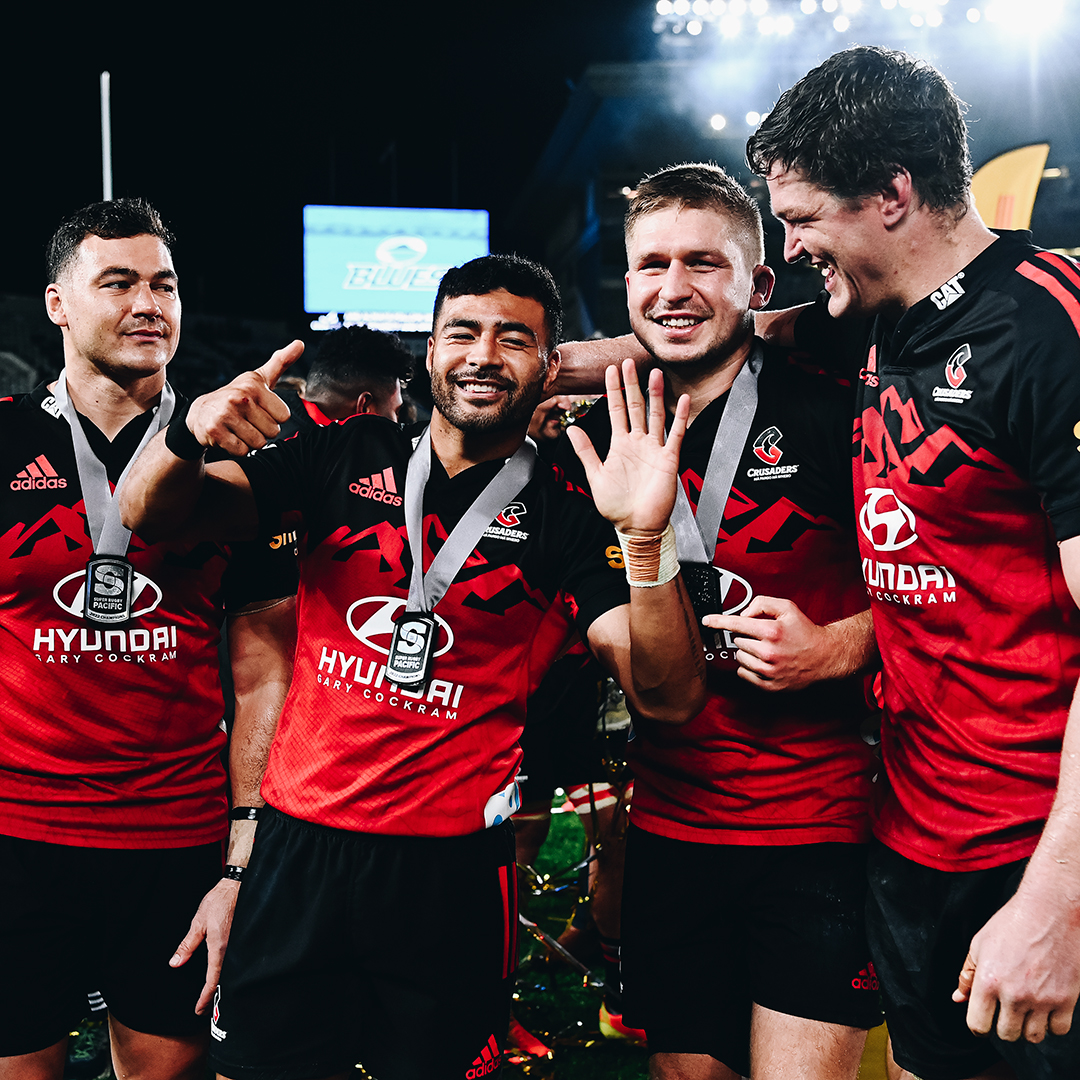 Mo'unga debuted for the Crusaders on 27 February 2016, facing the Chiefs at home and scoring 13 points. He made the starting line-up for the rest of the season.
"This team has given so much to me as a rugby player and as a person, and in return I've always wanted to give my everything to the team both on and off the field, to help us succeed, and to be the best environment for players," Mo'unga said.
Asked about his star first-five's departure after the 2023 season, Crusaders Head Coach Scott Robertson said Mo'unga was "a special man".
"If there's one player that continues to leave their mark on this team, that'd be Richie Mo'unga," Robertson said.
"Through his performances in the biggest games, the biggest moments – he stood up, which Crusaders do. He's a special man, a local boy, pride of the community, and there's no doubt about it – Richie can play.
"When Richie is on, the team is on. He brings out the best from all the players. For me, he is one of the most influential Super Rugby players ever – how he plays the game, his ability to score points consistently year after year in those crucial moments.
"The biggest thing for me with Richie is how much he cares about the team and the club, about the players he plays with and the people he plays for. He means a lot to the Crusaders and we wish him all the best. There'll be a time to properly say goodbye to him at the end of the season, but for now we're all focused on the job in front of us."
Richie Mo'unga and the Crusaders kick off their 2023 Super Rugby Pacific season against the Chiefs on 24 February at Orangetheory Stadium in Christchurch. Memberships are available now.