Highlander greats to join Management Team
Former Highlanders' co-captains Nasi Manu and Ben Smith have joined the 2023 Highlanders' management team. 
Manu, who co-captained the team with Smith to a Super Rugby Championship in 2015, has joined in an operations and player mentoring role. Manu who battled cancer in 2019 before returning to play for Tonga and Otago also played for mid-Canterbury in this year's Heartland Championship. As yet he has not called time on his playing career.
"The opportunity to work in a club that I love with and to mentor some younger players was too good to turn down. I don't know if it signals the end of my playing days just yet, at the moment I am just excited about being able to continue to work in rugby and with the Highlanders," said Manu.
Highlanders General Manager of Rugby, Greg O'Brien, said Manu is widely respected within the club by both past and present players.
"Nasi came here in 2010 and had an immediate impact on everyone at the club – his engaging approach off the field and uncompromising play on it certainly left a lasting impression. Nasi's professional attitude and passion for the club will provide a positive influence for many of our up-and-coming players. His unique perspective and inspiration come from a guy who has been there and done that in rugby terms," said O'Brien.
Highlanders' legend Ben Smith has already dabbled in coaching having worked with the Otago NPC Squad during the 2022 NPC season and is looking to extend that experience with the Highlanders. He will be working with the team for two days a week focusing on the back three counterattack.
"I wasn't sure if I would enjoy coaching, or if the players would respond to my style of coaching, however I certainly enjoyed my time with Otago and was encouraged enough to commit some time to the Highlanders. As most people would probably guess, this region and this club mean a great deal to me," said Smith.
Highlanders Head Coach Clarke Dermody was keen to utilise Smith's knowledge if possible.
"Ben has only just retired from a great rugby career, and I knew he probably wasn't likely to want to commit all his time to coaching straight away. As one of world rugby's best counter attackers from fullback he understands the role of the back three in detail and the knowledge he will be able to impart to our players will be invaluable."
Between Smith and Manu they have over 200 games in the Highlanders' colours and know what it takes to be successful and combined with the new coaching group, their collective presence around the clubrooms should provide the class of '23 with all the support they need.
ENDS
Former English International to join the Highlanders
English first-five Freddie Burns will join the Highlanders for the 2023 edition of DHL Super Rugby Pacific. Burns, currently playing for Leicester Tigers in the English Premiership has agreed terms with the Highlanders, and with the support of Leicester, will land in New Zealand prior to the first round.
The 32-year-old Burns will bring with him a wealth of experience having started his first-class career with Gloucester back in 2010. His first turn at Leicester was between 2014-2017 before three seasons with Bath and Burns has over 200 appearances in the Premiership to his name. In 2021 he had a short sojourn in Japan before returning to Leicester for the 2022 season.
A former England U20 representative he represented the senior side five times most notably debuting against the All Blacks in 2012, replacing Owen Farrell, in their 38-21 victory.
A prolific goal kicker and tactically sound first-five, who can also play fullback, he was the toast of Leicester when he dropkicked the winning goal for the Tigers against Saracens in the 2022 Gallagher Premiership final.
Burns is looking forward to the experience.
"As a young lad I grew up watching Super rugby in the early hours of morning. To have the opportunity to represent such a prestigious club as the Highlanders in the 2023 Super Rugby Pacific season is a huge honour. I look forward to getting started and adding to the group both on and off the field"
Highlanders Head Coach Clarke Dermody has welcomed the arrival of the experienced playmaker.
"Having a player of Freddie's calibre available to us in such a crucial position is a real boost for the squad. Last year we were exposed at 10 due to a run of injuries and while we covered the situation, we were asking a lot of Sam Gilbert and Vili Koroi who are not regular starting first-fives. Freddie's arrival will provide us with that extra insurance against that scenario playing out again in 2023".
Burns will be the second international back to be added to Dermody's 2023 squad with Argentinian outside back Martin Bogado also set to play in Highlanders colours.
ENDS
BLUES PRE-SEASON FIXTURES TO BE MOVED
The Blues, alongside Mahurangi Rugby Club have made the decision to move their pre-season event – Blues Fest '23 – away from Mahurangi Rugby Club due to the condition of the field.
The recent bad weather around the Blues region has meant ground staff haven't been able to work on the field and after a check last week the tough decision was made to move the two games and nib Blues open training session to a new venue.
A final decision on a new location for Blues Fest '23 is yet to be made.
Blues CEO, Andrew Hore, said the club were gutted to make the tough call.
"As a club we were getting excited to head north for the pre-season," said Hore.
"Unfortunately, the weather has conspired against us in recent weeks and when we met with Mahurangi Rugby Club on Friday, both parties agreed the field hadn't responded how we would've hoped, and the call was made to move the event."
Mahurangi Council of Clubs Delegate, Sam Ryburn, said the club were taking a philosophical view over the change.
"We were very much looking forward to hosting the Blues at Mahurangi for Blues Fest '23," said Ryburn.
"There's not a lot we can do, both The Blues and our club explored all the options before coming to this decision, but we're hoping to continue our relationship with the Blues and look at future options for hosting pre-season matches."
The Blues still intend to host the entire Blues Fest '23 programme including a 'Game of Three Halves' between North Harbour, Northland and Auckland development players, a nib Blues women open training session and the Blues men vs Hurricanes pre-season match.
A decision on where this will be held will be communicated in the coming days.
Richie Mo'unga to depart Crusaders after 2023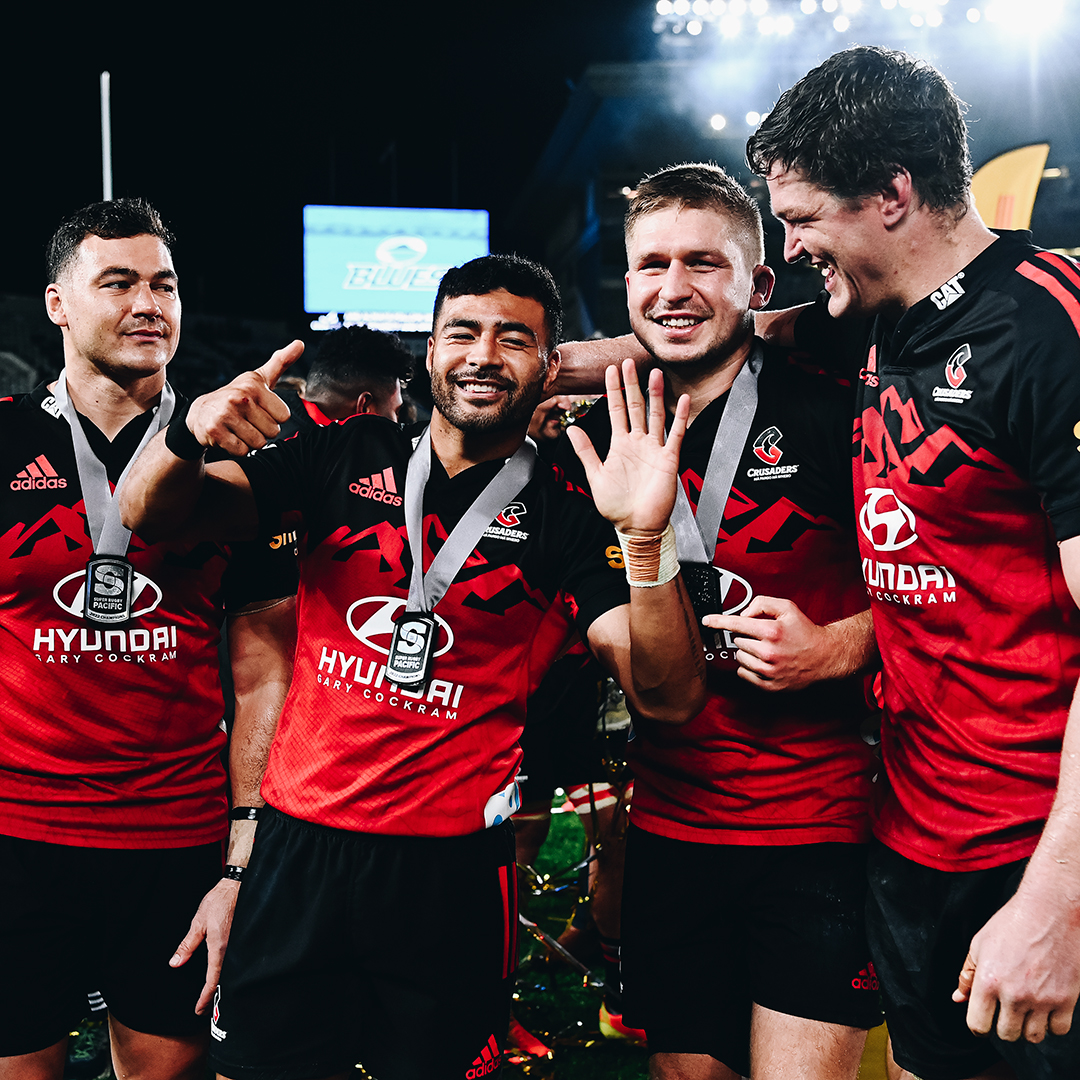 Mo'unga debuted for the Crusaders on 27 February 2016, facing the Chiefs at home and scoring 13 points. He made the starting line-up for the rest of the season.
"This team has given so much to me as a rugby player and as a person, and in return I've always wanted to give my everything to the team both on and off the field, to help us succeed, and to be the best environment for players," Mo'unga said.
Asked about his star first-five's departure after the 2023 season, Crusaders Head Coach Scott Robertson said Mo'unga was "a special man".
"If there's one player that continues to leave their mark on this team, that'd be Richie Mo'unga," Robertson said.
"Through his performances in the biggest games, the biggest moments – he stood up, which Crusaders do. He's a special man, a local boy, pride of the community, and there's no doubt about it – Richie can play.
"When Richie is on, the team is on. He brings out the best from all the players. For me, he is one of the most influential Super Rugby players ever – how he plays the game, his ability to score points consistently year after year in those crucial moments.
"The biggest thing for me with Richie is how much he cares about the team and the club, about the players he plays with and the people he plays for. He means a lot to the Crusaders and we wish him all the best. There'll be a time to properly say goodbye to him at the end of the season, but for now we're all focused on the job in front of us."
Richie Mo'unga and the Crusaders kick off their 2023 Super Rugby Pacific season against the Chiefs on 24 February at Orangetheory Stadium in Christchurch. Memberships are available now.