Will Jordan confirms Crusaders future
Dynamic outside back and All Black Will Jordan has signed on with the Crusaders for the 2023 season.
Jordan's explosive speed, vision and skill have propelled him to sitting among some of the best players in the world, being awarded World Rugby's Breakthrough Player of the Year for 2021.
Speaking of his meteoric rise, Jordan recounts what has been an incredibly successful Crusaders career so far, playing 4 seasons and winning 4 titles.
"I've been pretty fortunate to have a great run in the Crusaders jersey so far, I remember coming back into the team in 2018 initially and there were so many legends around at the time. I loved being around them and growing from them as much as I could."
"Over the last few years being able to play a little bit more and having a bit more of a say in the on-field stuff has been great. I've really loved my footy at the Crusaders and I'm looking forward to it continuing."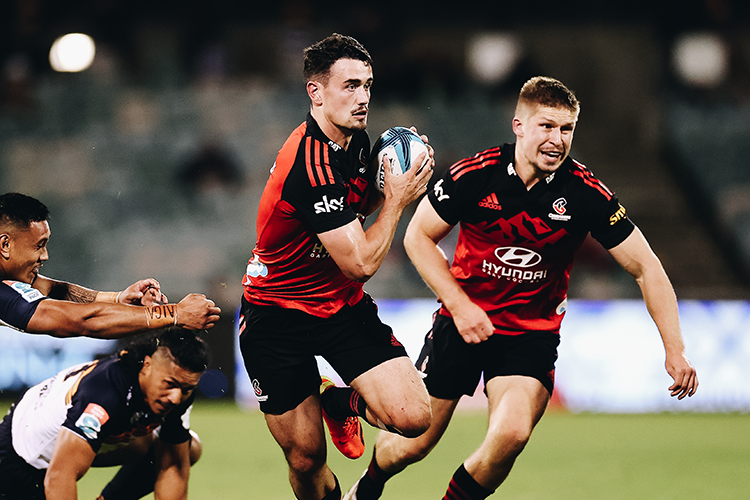 A Christchurch native, Jordan's love of his boyhood team stems not only from the on-field success, but from the people in the Crusaders environment.
"It's the people around you. I have a great bunch of mates here and we have a lot of laughs on and off the field – I love turning up every day and getting to do something I enjoy alongside them. It's been said a bit recently with guys like Jase [Ryan] and Goodie [Andrew Goodman] leaving, it's all they've mentioned is the people and the team."
When asked about his favourite memory in red and black, it's no surprise to hear one particular finals win comes to mind for Jordan,
"It's probably pretty hard to go past this year's final at Eden Park. It was a season that probably didn't go that smoothly the whole time, but the way we were able to bounce back and finish off the season at such a tough place to play up at Eden Park against the Blues and win the title again I'm sure is something we'll all remember."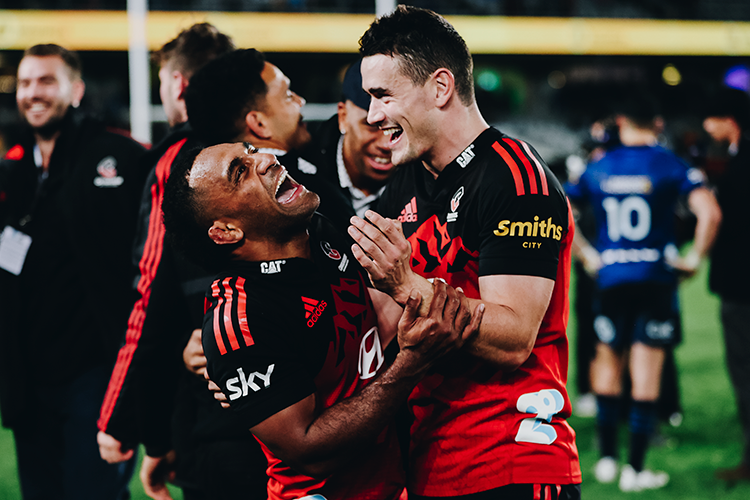 Looking back on his journey, Jordan acknowledges how he has developed as person during his time at the club.
"When I first came into this team I was a pretty young 19-year-old kid and over the years you mature a lot. I think being around guys who have been through the same pathway as you, they know what you're going through. Their ability to teach you little lessons along the way has been massive. I think, having been here for 5 or 6 years you start to feel a bit more comfortable in this space but there's always challenges and new things to deal with that continue to grow you."
Looking toward the upcoming season, Jordan is looking forward to seeing some new faces in the environment that he's made home.
"There are some exciting changes, some young boys coming through and like I said before some new coaches as well, so really pumped to get alongside them and take on their new ideas. With the new comp – the tarns-Tasman stuff, there were some great games last year particularly against those Aussie teams, so looking forward to growing that again and hopefully replicating some of our past success."
Jordan will join the Crusaders team in pre-season ahead of the Super Rugby 2023 competition.
Following an injury sustained towards the end of NPC 2022, Oli Jager has undergone surgery on his neck. 
The surgery was a success and he's progressing well with rehab, having recently returned to some gym-based training and conditioning. He will progress to contact and scrummaging once cleared by the specialist.
His return to play date is uncertain at this stage and will depend on his progress over the next weeks and months. Oli and the wider team are committed to him playing an active role in the team environment throughout the 2023 season
All Blacks halfback Folau Fakatava taking no chances in race to be fit for 2023 World Cup
"In rugby you can't control when you get injured," Fakatava told Newshub. "All you can do is come back stronger."
And with the World Cup kicking off in September, that's exactly what the two test All Black plans to do.
Fakatava got a taste of international rugby in 2022 – he was part of the All Blacks squad all year but was limited to just two appearances off the bench before his season ended.
"I was really hurt when I heard I'd torn my ACL," he continued. "But at the same time, you really can't do anything about it."
But as Fakatava chases one of three halfback spots in Ian Foster's World Cup squad, he's taken matters into his own hands.
"I've decided not to do the surgery," he revealed. "My goal this year is to be back out there for the World Cup."
A third ACL surgery would've ruled him out of contention for France, as a conversation with the All Blacks doctor James McGarvey reassured Fakatava avoiding surgery could work.
"He had a look at my other knee, and found out there's no ACL in that. 
"That gave me confidence to hopefully do that with my other one."
There are protections in place to ensure Fakatava is back on the field as close to the start of Super Rugby as possible.
Reds, Wild Knights partnership continues to provide opportunities for Queensland Rugby
The Queensland's Reds' partnership with the Saitama Panasonic Wild Knights continues to reap benefits, with Buildcorp Reds Academy Ryan Schultz travelling to Japan to undertake professional development under Wild Knights coach Robbie Deans.
Schultz, who coaches Queensland's U18 side and the Anglican Church Grammar School First XV outfit, spent 11-days immersed in the League One program, learning directly from Deans and his coaching group in Saitama.
Schultz was a part of two game days and a full training week, a unique and exclusive opportunity made possible by Queensland's relationship with their sister-state club.
"I was fully immersed in their training week," Schultz said. 
"I was involved in coaching meetings, player meetings, leadership meetings and their training sessions.
"Luckily enough they had a B's game on the Saturday, followed by Sunday where they played Toyota Verblitz so I got that full week experience of game to game."
Schultz relished the opportunity to learn from Deans, who has delivered the Wild Knights five premierships in his eight-year tenure.
"It was awesome to be able to see Robbie Deans as a head coach and leader," Schultz said.
"Seeing him operate behind the scenes, in the meeting rooms with coaches and players, and then on the training paddock was awesome.
"He's been there for eight seasons so it's a really well-established program and a real player-led environment.
"The field belongs to the players, so it was really good to see that in real-time and then how that's developed away from the training paddock."
Now back in Australia, Schultz will bring his learnings to Queensland's next generation of Reds with his role as head coach of the Reds U18s and Tier 2 Academy squad.
From the attacking focus of the Japanese game, to Deans' emphasis on core skills, Schultz has returned from his trip as a better coach.
"Robbie has a big philosophy around accuracy coming first – that technical skill development," Schultz said.
"Being able to execute skills under pressure is a big thing, so I think how we develop that in our training programs at the Reds will be really important.
"At the moment we're focusing a lot on technical skill development, so it really reinforced what we've been planning and implementing here.
"Japan play exciting, attacking footy over there, there's a lot less focus on kicking and more around attack.
"I was able to pick up a lot of detail around the attacking part of the game and the skillset.
Following Queensland's inaugural tour to Japan last October, Schultz's visit is another example of the partnership paying dividends for Queensland Rugby.
"It's an awesome partnership," Schultz said.
"I know the Reds squad really enjoyed their tour on November and being there and talking to the Panasonic staff about it, it was really beneficial to them.
"To be able to over and learn and grow, and then bring that back to our Academy is really exciting."