Queensland Rugby announce 2024 Reds coaching staff
Queensland Reds head coach Les Kiss has confirmed his coaching staff ahead of the 2024 Super Rugby Pacific season.
Kiss will work alongside former London Irish colleagues Brad Davis and Jonathan Fisher, Tonga assistant coach Zane Hilton and Reds Academy head coach Dale Roberson at Ballymore.
Overall it's an experienced and cohesive coaching team at the Reds with all four aligned to Kiss having signed through 2026.
"We're pleased to welcome Brad, Zane and Jonathan to the club," said Kiss.
"It's an integrated coaching group. All four bring great experience in their roles and while each has a technical lead, they will also work across different disciplines which will accelerate the process.
"Brad is a coach I've had the pleasure working alongside at London Irish. He delivered great results for our team and I'm sure he'll do the same at Ballymore.
"With his coaching experience, Zane has great knowledge of all levels of the game in Queensland including both club and Super Rugby. It's great to see him return to his home state armed with the lessons he's learnt over the years.
"Jonathan is one of the best coaching talents in English Rugby and I've enjoyed working alongside him over the last four years. It's exciting to have him on board at the Reds.
"I'm also looking forward to working closely with our Reds Academy head coach Dale Roberson. We've increased his scope and working alongside Paul Carozza, Dale's expertise in the Academy will drive the connection and align the principles of the 'Reds Way' between the Academy and our senior Reds program.
"I'd like to acknowledge Jim McKay, Phil Blake, Mick Heenan and Kane Hames for their service to Queensland Rugby. All have left the Reds in a better place and will leave a lasting impact on our squad into the future."
Like Kiss, Davis also played top-level rugby league, his playing career spanning more than 14-years and 200 games at several clubs in the United Kingdom.
Davis took to coaching in retirement, starting out at Bath Rugby in 2006. He remained at Bath for a decade, serving a number of roles including defence coach, specialist skills coach and as head of kicking strategy and attack.
Stints with Wasps and Ospreys in assistant coach roles followed, before Davis linked with Kiss at London Irish in 2019. Kiss and Davis led the club to fifth place in their most recent season, the Exiles' highest finish since 2008.
Hilton will bring coaching experience and success at grassroots, Super Rugby and International level to the Reds in 2024.
Hilton began his coaching career as a Queensland Rugby Union Development Officer, before serving as Regional College Manager for the QRU where he identified and developed the next generation of Queensland Rugby talent.
The Brisbane product then coached Brothers to a Hospital Cup title in his first year in charge in 2009, Hilton coming to Crosby Park after stints as a skills coach with Italian side Benneton and as an assistant coach with the University of Queensland.
Hilton took his talents to Japan for four years after finishing with Brothers in 2011, serving as head coach of Kyuden Voltex Rugby and Canon Eagles Rugby.
Hilton returned to Australia in 2014 to take up a role as forward coach at the Melbourne Rebels, with a similar role with the Samoan national side following in 2017.
The next year saw him take the role of General Manager of High Performance at Samoan Rugby Union, before returning to Kyuden Voltex as head coach in 2019. He led the side to promotion to Division 2 of Japanese Rugby this season.
The 42-year-old is currently working alongside Queensland great Toutai Kefu as an assistant coach with Tonga at the Rugby World Cup.
Another former London Irish employee, Fisher joins the Reds staff after an accomplished playing career in the English Premiership.
After representing the England U20s team, the backrower played more than 100 games at London Irish, Bedford, Northampton and Bristol between 2007 and 2017, before transitioning into the coaching world.
Fisher took on a role with the renowned London Irish Academy working with the forwards, before moving to the Premiership side to serve as an assistant alongside Kiss.
Roberson's current role as Reds Academy head coach has been enhanced under the new title of Reds Development coach.
Already boasting a strong resume with an emphasis on pathway development having coached Churchie's 1st XV, Queensland Reds U18s and assistant coach for Brothers Premier Grade side, Roberson will work closely with Kiss to drive closer connection with the Reds Academy and foster Queensland's best developing talent.
The Queensland Rugby Union (QRU) would like to thank assistant coaches Jim McKay, Phil Blake, Mick Heenan and Kane Hames for their contribution to the Reds during their time at Ballymore.
Queensland Rugby recognises each of their dedication to the club with Jim serving nine loyal years and 144 matches across two separate stints with Queensland, plus Phil, Mick and Kane for their service during the 2023 Super Rugby Pacific season.
The QRU wishes all four the very best for their future endeavours
Ben Mowen and John Ulugia join Safeguard Global ACT Brumbies coaching staff
The Safeguard Global ACT Brumbies are excited to announce Brumby #142 Ben Mowen and Brumby #96 John Ulugia will join the club's Super Rugby Pacific staff.
Mowen, the Brumbies most-capped captain, took his first steps into coaching after his retirement in 2020 with Easts Rugby Club in Brisbane, the former Wallaby captain having also held roles with the Australian U20s and Japan's Women's side during the 2021 Rugby World Cup.
Mowen joins as an assistant coach until the end of 2025 with a focus on defence, breakdown, and lineout.
Safeguard Global ACT Brumbies assistant coach, Ben Mowen said: "I am very excited to be joining the Brumbies as part of the coaching staff. I feel very indebted to the Brumbies culture for what it gave to me as a footballer, and I hope to deliver that same support and development to this next generation."
"I have loved being a part of the launch of our semi-professional era at Easts. We have created a lot of momentum and I believe this group has a window of opportunity in the coming seasons with great players and staff to capitalize on that."
"To link back up with Steve, a bloke I loved being coached by and to return to the great community of Canberra is an exciting opportunity for my family. We have so many great friends in Canberra and some unfinished business from over a decade ago. Knowing what coming up just short in a Super Rugby final feels like, I know I have a unique perspective on what championship minutes feel like and what loops we must close at training to achieve our goal. The responsibility of that is not lost on me."
Ulugia's Brumbies career spanned from 2006 to earlier this year where the experienced hooker came out of retirement for round one of Super Rugby.
A veteran of over 200 first-class professional games in Super Rugby and the French Top-14, Ulugia will bring valuable experience and knowledge Scrum coach role for the next two seasons, having already began his coaching journey with the Brumbies academy and the Tuggeranong Vikings.
Safeguard Global ACT Brumbies scrum coach, John Ulugia said: "I'm grateful to the Brumbies for welcoming me back to the club over the last year or so and I'm excited to continue my development as a coach over the next two years."
Mowen and Ulugia's appointment will add to the Brumbies continuity with both having spent time within the Brumbies environment this season, shadowing and working closely with assistant coach Rod Seib and head coach Stephen Larkham.
Safeguard Global ACT Brumbies head coach, Stephen Larkham said: "We're really pleased to be able to bring in two young and exciting coaches, and two people who know the club and what is expected as a Brumby."
"Ben's knowledge of the game and ability to transfer that knowledge as a player was elite, and his transition into coaching post-playing career has been really impressive so we feel he is someone who will only grow in this environment.
"John's experience as a player speaks for itself. He knows our system, has great respect within our group and has already demonstrated his ability to coach within our academy program, and with our senior group last season."
Queensland Reds sign All Blacks duo
The Queensland Rugby Union (QRU) is proud to announce former All Blacks Alex Hodgman and Jeffery Toomaga-Allen have signed with the Queensland Reds through 2025.
The pair bring more than 250 games of experience across Super Rugby, Premiership Rugby and the United Rugby Championship to the Reds squad, while both have represented New Zealand at Test level.   
Hodgman, 30, and Toomaga-Allen, 32, have both signed two-year deals and will join newly appointed head coach Les Kiss at Ballymore for the 2024 Super Rugby Pacific season.
Hodgman is also eligible to represent the Wallabies post Rugby World Cup through World Rugby's Regulation 8 eligibility law.
Hodgman said: "I'm looking forward to moving over to Australia with my family and starting new with the Reds. 
"Change is good but also comes with its challenges and that excites me. 
"A new facility, new coach and a playing group that has been together for a while allows me to bring my experience and just be me. 
"I'm blessed to be here and can't wait to get started."
Toomaga-Allen said: "I can't wait to join the club.
"I'm excited to be coming back to Super Rugby after being away for a few years and getting to know everyone at the Reds.
"I'm feeling really blessed to be able to be closer to family which is a big part of why I joined the organisation.
"When speaking to Les and Sam, we talked about the importance of family and how we as a team can keep growing as a unit on-and-off the field which was a big drawcard for me.
"I'm keen to get amongst the community in Queensland and looking forward to connecting with all the supporters around the state."
Kiss said: "We're pleased to welcome two props of the calibre of Alex and Jeffery to our squad.
"Both bring experience at the highest level and will strengthen our tight five on-and-off the field.
"There's been a strong culture of care and connection built at Ballymore over the past few years. After talking to both Alex and Jeff, they both have a team-first mentality and will only bolster these values over the next two seasons.
"In addition, having a player of Alex's ability qualifying for Wallaby selection in 2024 is great for Australian Rugby."
Loosehead prop Hodgman attended Auckland's Mount Albert Grammar School and was part of the Blues U18s program before representing Fiji at the U20s World Cup in 2012.
He switched allegiances to represent New Zealand in the same tournament the following year, before making the move to Canterbury.
After impressing in the National Provincial Championship (NPC), Hodgman debuted for the Crusaders in 2015 and went on to earn nine caps for the club.
He returned to Auckland in 2017 to take up a contract with the Blues and has since played 56 Super Rugby games for the franchise.
After an impressive Super Rugby Aotearoa campaign in 2020, Hodgman was named to make his All Blacks debut against Australia at Eden Park and featured off the bench in a 27-7 win over the Wallabies.
He went on to play a further three Tests over the next two seasons, while World Rugby's eligibility laws will see him available for the Wallabies this November.
Joining him in the Queensland frontrow will be Toomaga-Allen, who brings over a decade of experience both in Super Rugby and abroad.
Born in Wellington, the 192cm-tall tighthead debuted for the Hurricanes in 2012 after impressing at U20s level for New Zealand and in the NPC for his home city.
He made his All Blacks debut the following season, featuring in his sole Test against Japan in 2013.
Cemented in the Hurricanes lineup, Toomaga-Allen came off the bench in his side's losing 2015 Super Rugby Grand Final, before injury ruled him out of their title win against the Lions the next year.
Toomaga-Allen returned to the All Blacks squad in 2017, featuring against the Barbarians on the Spring Tour, and was again selected in the national squad once again the following season.
He notched his 100th Super Rugby cap for the Hurricanes in 2018, becoming just the 15th player to do so for the Wellington-based club.
2019 saw Toomaga-Allen take his talents to the Northern Hemisphere where he played 61 matches for Wasps in the English Premiership.
A move to Ulster followed in 2022, while the prop also made his debut for Samoa, playing three matches on their end of year tour.
Toomaga-Allen will play his Queensland club Rugby for Norths, while Hodgman has committed his services to Sunnybank.
The pair will join recently re-signed Fijian international Peni Ravai and new recruit Massimo De Lutiis alongside World Cup-bound Wallabies Matt Faessler and Zane Nonggorr in the Reds frontrow.
Alex Hodgman
Position: Prop
Height: 190cm
Weight: 122kg
Born: 16/07/1993
Place of birth: Auckland, New Zealand
School: Mount Albert Grammar School
Super Rugby debut: 28/02/2015 v Chiefs, Waikato Stadium (Crusaders)
Super Rugby caps: 65
All Blacks debut: 18/10/2020 v Australia, Eden Park, Auckland
All Blacks caps: 4
Jeffery Toomaga-Allen
Position: Prop
Height: 192cm
Weight: 125kg
Born: 19/11/1990
Place of birth: Wellington, New Zealand
School: Wellington College
Super Rugby debut: 25/02/2012 v Stormers, Cape Town (Hurricanes)
Super Rugby caps: 117
All Blacks debut: 02/11/2013 v Japan, Chichibunomiya Rugby Stadium, Tokyo
All Blacks caps: 1
Samoa debut: 05/11/2023 v Italy, Stadio Plebiscito, Padua
Samoa caps: 3
Jamie Joseph Returns to the Highlanders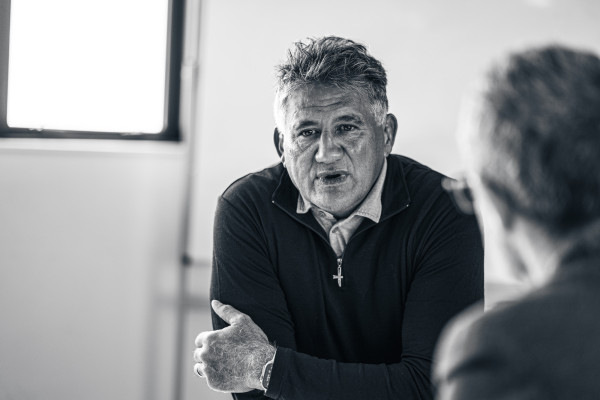 They say lightning never strikes in the same place twice, but that is exactly what the Highlanders will be hoping for as they welcome the return of former Head Coach, Jamie Joseph, to Highlanders' headquarters on a four-year deal.
In what is widely regarded as a something of a master stroke the storied former Highlanders coach will return to the Dunedin based club to take up a newly created position as Head of Rugby in the early part of 2024.
The role involves leading the entire Highlanders rugby programme, including recruitment and retention of players, supporting the coaching group and mentoring the Head Coach.
Joseph originally joined the club as Head Coach in 2011 from Wellington where he coached the capital city side to their first Ranfurly Shield win in twenty-six years. In 2015 he famously led the Highlanders to it's one and only championship victory, before moving to Japan to lead the Brave Blossoms World Cup programme in 2017.
The 2019 World Cup in Japan was a phenomenal success under his guidance and the home team captured the imagination of rugby followers around the world and ignited the tournament for the hosts. Playing a fast-paced, high-skilled style of rugby that delivered a quarterfinals spot for the first time in their history, while taking victories against Ireland and Scotland along the way, before falling to the eventual World Cup Champions, South Africa, in the quarter-final.
The appointment has been welcomed by the Highlanders Chairman Peter Kean.
"I think we can count ourselves as very fortunate to have attracted a candidate of the calibre of Jamie to the role. His accomplishments with the Highlanders and then in Japan have seen him become a sought-after coach in world rugby. His experience will no doubt be a significant boost to our rugby programme and young coaching team".
Joseph is looking forward to a return to his hometown.
"I view the role as a great opportunity to give back to the club and the region that means so much to me. I did my study at the University of Otago, played for Otago and my family have enjoyed being raised and schooled in Dunedin. I thoroughly enjoyed my time as Head Coach of the Highlanders, so I am genuinely excited about returning to the South to offer my services to the club in 2024".
Joseph will be able to draw on his past experiences of getting the best out of a playing group and coaching team.
"I guess there are some similarities between the Highlanders and Japan. When I first started with the Highlanders they were on a bit of a lean run but over time we were able to connect with the community and put together a successful team and coaching group. I can see no reason why that cannot be repeated. It was a bit the same when I first came to Japan, I knew we would have to galvanise the public behind the Brave Blossoms for the World Cup tournament to be a real success in Japan. The key to that was always going to be a lot of hard work and a team playing a brand of rugby that folks could be proud of and excited by."
Head Coach Clarke Dermody views the appointment as a step in the right direction.
"Whilst this a new position for the club it is common in other parts of the world.  I see enormous value in having a proven and experienced world class coach like Jamie leading the overall rugby programme. The advice and direction he will bring is exciting from my perspective, I believe this is a positive step by the club and I am looking forward to working with him again".
New Zealand Rugby Manager of Professional Rugby Simon Simmers said:                                                       
"To have someone of Jamie's vast experience not only return to New Zealand but commit long-term to the Highlanders and New Zealand Rugby is a real coup. His extended commitment is indicative of the immense passion and care he has for the wider Highlanders' region and his desire to see the club prosper. Jamie is widely recognised as one of the most astute coaching minds in the game and we have no doubt he will influence and enhance the strength of rugby down south and further connect the Highlanders to their passionate fan base."
ENDS