Q and A with Rebel 136, Quade Cooper
Test rugby superstars Quade Cooper and Sonny Bill Williams stopped by Melbourne yesterday to promote next month's Bledisloe Cup blockbuster to be held at Marvel Stadium on September 15.
For Cooper, it was a welcome return to a city he once called home, having represented the Melbourne Reebls in 2019 alongside current Wallabies' teammates Reece Hodge, Matt Philip, Rob Leota, Pone Fa'amausili and Marika Koroibete
Rebels Media caught up with Rebel 136 for an exclusive chat on all things Rebels, Victorian Rugby and the continued growth of our Burn Boys.
Rebels Media: Quade, Australia and New Zealand are fierce rivals on the field, how do you see Australia's chances getting one back over our Trans-Tasman rivals in Melbourne?
QC: We've been preparing for this one for a long time. Both teams are in the position where their backs are against the wall, so it will be a great opportunity for both teams, who are both relatively young and hungry to compete. In this city, I know it will be a great turnout, so I can't wait.
Rebels Media: You mentioned the Victorian rugby community is one of the most passionate communities you've encounterd so far in playing career. Touch on the growth you've see in rugby across our state since your time with the Rebels in 2019?
QC: With Victorian rugby, there's never been a question about the hunger there is for rugby. I came here in 2008 after a Reds season to do a presentation at one of the schools down here, and the rugby fraternity blew me away.
Everybody said there's not much rugby down here. When I got here, the reception and the support for rugby was incredible. To then be able to come down here and play for Melbourne was fantastic. It's a great place to bring a Bledisloe, so it's exciting to come here and see all the gold jerseys in the stands.
Rebels Media: Our Club is proud of all our Wallabies representatives, especially our homegrown players who have risen through the local pathway systems such as Pone and Rob. How have you see their personal development working so close with both boys?
QC: Talent – these boys have it in spades. Spending time with them in the Wallabies set up from last year and seeing their growth as men as they live their lives, has been great.
Pone now messages me say 'bro, are you still getting up early? Let's go have a swin before training.' So we'll get up at 5 am – me, Rob and a few of the boys – and we'll drive to the beach, so we're up and moving.
That shift in mentality and how they go about their days, there's no doubt in my mind that flows onto how they approach their training and why they've been successful as men and as leaders in the Wallabies.
That type of approach or mentality for a team is amazing for team culture and for a team that's looking to grow throughout it's journey.
If you get guys doing that everyday, that rubs off onto the next guy close to them. Before you know it, you've got 30 players out've 35 all moving in the same direction. That's the majority rather than the minoirty. If it's the other way around, now you're in a tough position.
That's where the shift I've noticed since being back in the Wallabies over the past 2 years has been. I'm excited about the future and having guys like Rob and Pone lead the way.
Rebels Media: What impact do you think hosting such a big Test match in Melbourne will have on the next generation of rugby players across our state?
If we can get a win, that will go a long way! Sonny and I were talking about that in the car park. Perception is reality. Two big teams coming together to a great city for a big game. I guarantee
there will be lot of kids that are playing AFL or who are playing rugby league, that are also rugby union supporters. With a strong performance we might be able to sway a few of them over and get them into the game and take advatange of the great opportunity that Melbourne has and the exciting decade ahead for Australian rugby.
Chay Fihaki Re-Signs with the Crusaders
Dynamic young utility back Chay Fihaki has re-signed with the Crusaders presenting exciting prospects for the team taking the field in the 2023 season.
Fihaki signed with the Crusaders in 2020 as a 19 year old and has since gone from strength to strength, playing seven matches in the red and black and showing great potential.
During his youth career, Fihaki played through the midfield, but as he has progressed through Canterbury and Crusaders' development pathways, he has nestled into a role at fullback.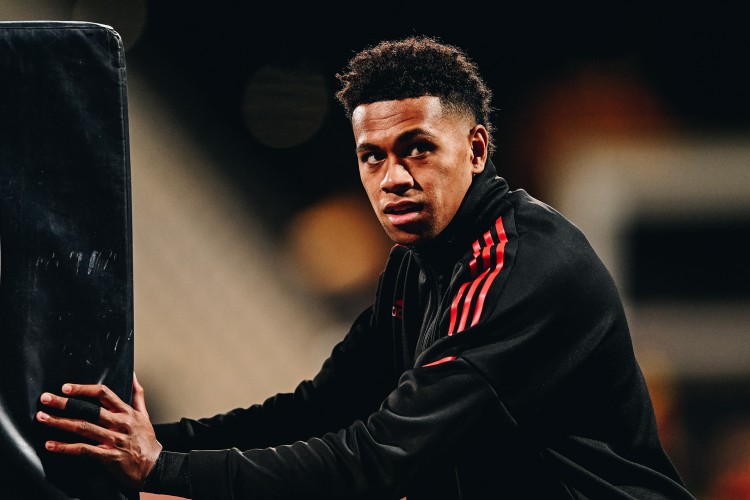 Fihaki's mission for 2023 will be to soak up as much knowledge as possible from some of his All Black teammates.
"I'm feeling excited about the season coming up. 2023 will be another year for me to grow, especially learning off the more senior players and All Blacks," Fihaki said.
"My focus will definitely be on being more confident and backing my skillset."
Fihaki's X-Factor has been outlined by Crusaders Head Coach Scott Robertson, who said, "Chay has a massive boot and the ability to create something from nothing".
Keep an eye out for Fihaki this season in the red and black!
NSW Waratahs secure schoolboy talent Max Jorgensen
The NSW Waratahs have secured the services of one of the brightest schoolboy rugby talents in Australia, signing Max Jorgensen.
Max Jorgensen, son of former Wallaby and NRL player Peter Jorgensen, is currently in Year 12 at St Joseph's College and has spent three years in the NSW system representing the Waratahs Academy at U15, U16, and U18 age levels.
The talented outside back spent time in Nathan Grey's Junior Wallabies program earlier this year and has been named in the Waratahs Development team to take on a Brumbies XV at St Edmunds College this Saturday in Canberra.
Max Jorgensen said: "I'm proud to be on board with the Waratahs, they have a terrific setup, and the new Centre of Excellence looks amazing.
"I am excited by the opportunities in rugby over the next few years and looking forward to playing high-quality rugby with some amazing players at the Waratahs.
"I'm focused on having a great pre-season and can't wait to learn from the coaching staff and experienced teammates."
Waratahs Head Coach, Darren Coleman said: "Securing Max is a positive outcome, not only for the Waratahs but for Australian rugby, as he is one of the elite schoolboys from the class of 2022 and highly sought after.
"It's great he has decided to remain at the Waratahs especially after spending the past three years in our academy.
"Max understands he has a long way to go and a lot of work to do before he can become a fully-fledged Super Rugby player, but we look forward to working with him and helping him develop his game."
ACT Brumbies sign Sevens star Ben O'Donnell
The ACT Brumbies are excited to announce the addition of outside-back Ben O'Donnell to the club's Super Rugby Pacific squad until the end of 2024.
The 26-year-old returns to Australia after a three-year stint in Ireland with Connacht, having previously represented Australia in Sevens on 95 occasions, winning Rugby Australia's coveted Shawn Mackay award for Sevens player of the year in 2018.
O'Donnell is in line to wear ACT colours for the first time in Saturday's practice match against a NSW Waratahs development side at St. Edmund's College.
ACT Brumbies outside-back, Ben O'Donnell said: "I'm excited to be back in Australia and to be joining such a highly respected club like the ACT Brumbies."
"Playing in Connacht was an unreal experience and I'm grateful for my time there and the mates I made but I'm looking forward to working every day with a world-class coaching staff and the boys here who have created a great culture from everything I have heard.
"Preseasons never get any easier but I'm excited for the hard work and especially looking forward to having a run around with my new teammates on Saturday."
ACT Brumbies head coach, Stephen Larkham said: "Ben will be a quality addition to our group."
"Ben was a very accomplished 7s player, and he's made a good transition to 15s, but we feel he's got a great chance to develop further in our environment.
"With his pace and feel for the game, Ben's an option across the backline and we're excited to see how he goes on Saturday."