Irish Prop Oli Jager has signed on with the Crusaders until 2024
The front rower has committed the next two years of his rugby career to the red and black after a hugely successful six years with the club, being part of 6 title winning squads in as many years.
Looking back on his Crusaders career so far, Jager said,
"I think I've become more mature as a player and a person. Growing with the team has been awesome. I've learnt a lot from some of the older guys, Sam Whitelock, Joe Moody, all those kind of guys who have been here since I started, also the guys who have gone. It's been a big learning curve but I'm just excited to get back into it and help out some of the younger boys coming through as well."
As a young kid growing up in Ireland, the thought of playing for the Crusaders seemed very out of reach,
"I grew up supporting Leinster but you always knew, after watching Super Rugby, the Crusaders were something special. To just have a chance to watch the Crusaders play live would have been something. The fact I've been able to come into the team and play for them – it's something I can't really describe, it's more than a dream come true, it's really something special and close to my heart. I love every time I step out on the field for them and these next couple of years is just an added cherry on top."
Jager made his way into the Crusaders squad in 2017 via the Crusaders International High Performance Unit after an impressive debut provincial season with Canterbury in 2016.
Head Coach Scott Robertson has been coaching Jager since his first season with Canterbury. Razor's influence on Jager cannot be overstated, according to the prop,
"He gave me my debut for Canterbury and Crusaders, there's a lot of admiration towards him. He's a great guy, a great coach and I've been really lucky to have him as my head coach for so long so I'm looking forward to doing it all again."
A few new faces in the coaching group for the upcoming season brings excitement for Jager,
"It's really exciting to see who's coming in and what they're going to do, the boys will get around them, we always back our players and coaches and trust each other, so whoever is coming in it's going to be really exciting to see what kind of dynamic they bring, how they fit into the team and as long as we all want to come out and play footy and go well on the pitch then we'll all get along."
Jager's adopted home of Christchurch is a place he has grown to love throughout his time here,
"I love the city, it's a home away from home. Thanks to all the fans, the people I've met at my club, everything to do with rugby in Christchurch has made my time here really special and long may it continue."
Jager will join the Crusaders during pre-season after Canterbury's NPC season finishes.
Chay Fihaki Re-Signs with the Crusaders
Dynamic young utility back Chay Fihaki has re-signed with the Crusaders presenting exciting prospects for the team taking the field in the 2023 season.
Fihaki signed with the Crusaders in 2020 as a 19 year old and has since gone from strength to strength, playing seven matches in the red and black and showing great potential.
During his youth career, Fihaki played through the midfield, but as he has progressed through Canterbury and Crusaders' development pathways, he has nestled into a role at fullback.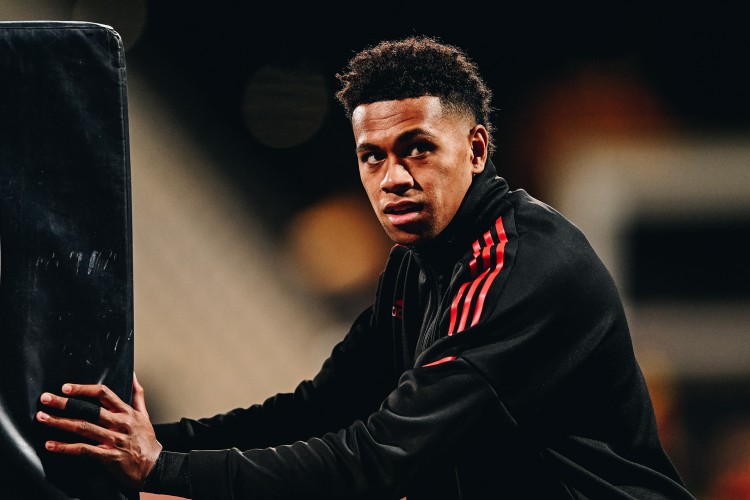 Fihaki's mission for 2023 will be to soak up as much knowledge as possible from some of his All Black teammates.
"I'm feeling excited about the season coming up. 2023 will be another year for me to grow, especially learning off the more senior players and All Blacks," Fihaki said.
"My focus will definitely be on being more confident and backing my skillset."
Fihaki's X-Factor has been outlined by Crusaders Head Coach Scott Robertson, who said, "Chay has a massive boot and the ability to create something from nothing".
Keep an eye out for Fihaki this season in the red and black!
NSW Waratahs secure schoolboy talent Max Jorgensen
The NSW Waratahs have secured the services of one of the brightest schoolboy rugby talents in Australia, signing Max Jorgensen.
Max Jorgensen, son of former Wallaby and NRL player Peter Jorgensen, is currently in Year 12 at St Joseph's College and has spent three years in the NSW system representing the Waratahs Academy at U15, U16, and U18 age levels.
The talented outside back spent time in Nathan Grey's Junior Wallabies program earlier this year and has been named in the Waratahs Development team to take on a Brumbies XV at St Edmunds College this Saturday in Canberra.
Max Jorgensen said: "I'm proud to be on board with the Waratahs, they have a terrific setup, and the new Centre of Excellence looks amazing.
"I am excited by the opportunities in rugby over the next few years and looking forward to playing high-quality rugby with some amazing players at the Waratahs.
"I'm focused on having a great pre-season and can't wait to learn from the coaching staff and experienced teammates."
Waratahs Head Coach, Darren Coleman said: "Securing Max is a positive outcome, not only for the Waratahs but for Australian rugby, as he is one of the elite schoolboys from the class of 2022 and highly sought after.
"It's great he has decided to remain at the Waratahs especially after spending the past three years in our academy.
"Max understands he has a long way to go and a lot of work to do before he can become a fully-fledged Super Rugby player, but we look forward to working with him and helping him develop his game."
ACT Brumbies sign Sevens star Ben O'Donnell
The ACT Brumbies are excited to announce the addition of outside-back Ben O'Donnell to the club's Super Rugby Pacific squad until the end of 2024.
The 26-year-old returns to Australia after a three-year stint in Ireland with Connacht, having previously represented Australia in Sevens on 95 occasions, winning Rugby Australia's coveted Shawn Mackay award for Sevens player of the year in 2018.
O'Donnell is in line to wear ACT colours for the first time in Saturday's practice match against a NSW Waratahs development side at St. Edmund's College.
ACT Brumbies outside-back, Ben O'Donnell said: "I'm excited to be back in Australia and to be joining such a highly respected club like the ACT Brumbies."
"Playing in Connacht was an unreal experience and I'm grateful for my time there and the mates I made but I'm looking forward to working every day with a world-class coaching staff and the boys here who have created a great culture from everything I have heard.
"Preseasons never get any easier but I'm excited for the hard work and especially looking forward to having a run around with my new teammates on Saturday."
ACT Brumbies head coach, Stephen Larkham said: "Ben will be a quality addition to our group."
"Ben was a very accomplished 7s player, and he's made a good transition to 15s, but we feel he's got a great chance to develop further in our environment.
"With his pace and feel for the game, Ben's an option across the backline and we're excited to see how he goes on Saturday."