Ma'a Nonu is Back and Ready to Fight
He's a man on a mission to get back into the All Black set-up
Former All Black is back for his third stint with the Blues and he is looking to get back into the international fold.
The Blues face the Crusaders in their opening match of the season and Nonu has been speaking ahead of the game.
"I think it's there on everyone's minds. For me it's trying to make the Blues team first, so one step at a time,"

he said when talking about an All Blacks return.
The two-time World Cup winner will join up with the likes of Sonny Bill Williams and Rieko Loane in a star-studded team and people wonder could this be the year that he lifts his first Super Rugby title.
"Yeah, I haven't won a Super Rugby title before, have come up short twice, and played in a lot of semi-finals for the Hurricanes. It's another driver this year,"
His time away from the league was spent in France with Toulon and he feels as though his time there has helped him.
"The Top 14 and Champions Cup is a brutal, brutal competition in Europe, so I've learned a few things about playing week-in, week-out,"
The 36-year-old is in great condition and many reports claim he is in career best shape adding to the expectation on him to perform.
When asked about having an eye on a ticket to Japan for his fourth World Cup he was very clear with where he stands.
"All I'm thinking about is lunch right now and this game this week, so I can't really tell you,"
For now, Blues fans will be delighted to see him back in Blue and hoping he can deliver a title tilt along with their other stars. However, fans all over the world will be hoping that he might return to play in black once more as this veteran is far from finished.
ACT Brumbies sign Sevens flyer Corey Toole
The ACT Brumbies have confirmed the signing of Sevens superstar Corey Toole on a two-year deal.
Toole is coming off one of the best debut seasons in Sevens history, winning the Impact Player of the Year, Rookie of the Year and selection in the Team of the Year.
Catch the Wallabies take on the All Blacks on Stan Sport. Start your Free Sport Trial Now
The Gungahlin outside back has come through the ACT pathways, representing the Brumbies at Schools, Under 19s and Runners level.
"I'm grateful for this opportunity and excited to be joining the club's Super Rugby squad full-time," Toole said in a statement.
"These last 12 months or so have been life-changing for me and to have earned this crack at a club that I've wanted to represent for a long-time is surreal and my job now is just to repay that faith and to continue to earn it every day at training.
"Obviously representing Australia in Sevens has been a massive honour and my focus now is transitioning back into 15s and having a good preseason."
Toole joins fellow Sevens star Ben O'Donnell and Jack Debreczeni in signing with the club over the past week, set to pull on the jersey on Saturday against a Waratahs development team.
Coach Stephen Larkham was thrilled to have Toole sign on as a full-time member, excited to unleash his blistering speed.
"Corey is a really exciting addition to our group," he added.
"He's made a name for himself in Sevens this year, but those in ACT rugby have been aware of his ability for some time and we believe he has all the tools to play Super Rugby.
"Corey's one of our own, from our region in Wagga Wagga and I've no doubt he'll be proud to represent the club and the ACT at the top level if and when he earns his chance."
Chay Fihaki Re-Signs with the Crusaders
Dynamic young utility back Chay Fihaki has re-signed with the Crusaders presenting exciting prospects for the team taking the field in the 2023 season.
Fihaki signed with the Crusaders in 2020 as a 19 year old and has since gone from strength to strength, playing seven matches in the red and black and showing great potential.
During his youth career, Fihaki played through the midfield, but as he has progressed through Canterbury and Crusaders' development pathways, he has nestled into a role at fullback.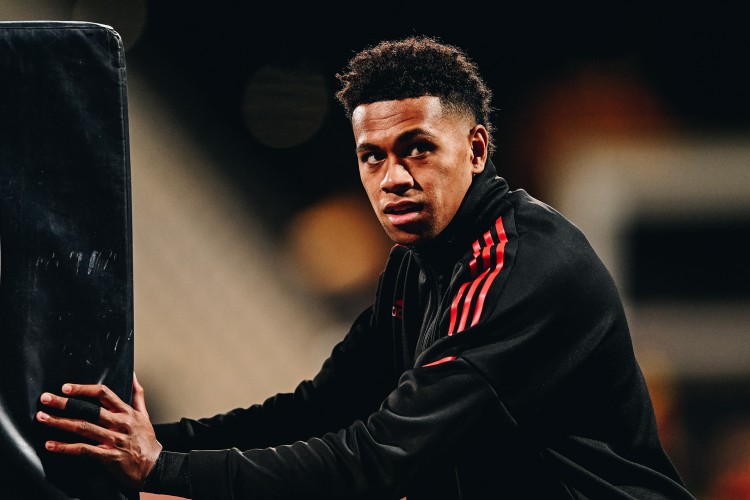 Fihaki's mission for 2023 will be to soak up as much knowledge as possible from some of his All Black teammates.
"I'm feeling excited about the season coming up. 2023 will be another year for me to grow, especially learning off the more senior players and All Blacks," Fihaki said.
"My focus will definitely be on being more confident and backing my skillset."
Fihaki's X-Factor has been outlined by Crusaders Head Coach Scott Robertson, who said, "Chay has a massive boot and the ability to create something from nothing".
Keep an eye out for Fihaki this season in the red and black!
NSW Waratahs secure schoolboy talent Max Jorgensen
The NSW Waratahs have secured the services of one of the brightest schoolboy rugby talents in Australia, signing Max Jorgensen.
Max Jorgensen, son of former Wallaby and NRL player Peter Jorgensen, is currently in Year 12 at St Joseph's College and has spent three years in the NSW system representing the Waratahs Academy at U15, U16, and U18 age levels.
The talented outside back spent time in Nathan Grey's Junior Wallabies program earlier this year and has been named in the Waratahs Development team to take on a Brumbies XV at St Edmunds College this Saturday in Canberra.
Max Jorgensen said: "I'm proud to be on board with the Waratahs, they have a terrific setup, and the new Centre of Excellence looks amazing.
"I am excited by the opportunities in rugby over the next few years and looking forward to playing high-quality rugby with some amazing players at the Waratahs.
"I'm focused on having a great pre-season and can't wait to learn from the coaching staff and experienced teammates."
Waratahs Head Coach, Darren Coleman said: "Securing Max is a positive outcome, not only for the Waratahs but for Australian rugby, as he is one of the elite schoolboys from the class of 2022 and highly sought after.
"It's great he has decided to remain at the Waratahs especially after spending the past three years in our academy.
"Max understands he has a long way to go and a lot of work to do before he can become a fully-fledged Super Rugby player, but we look forward to working with him and helping him develop his game."