Gatland Named Chiefs Head Coach
Less than 24 hours after it was announced that Colin Cooper would leave the club Warren Gatland has been confirmed as their new main man
Wales head coach Warren Gatland has been announced as the new head coach of New Zealand Super Rugby franchise the Chiefs.
The club confirmed on Friday that Gatland, who takes over from Colin Cooper, has signed a four-year deal which will begin following the conclusion of this year's Rugby World Cup in Japan.
Gatland previously managed Waikato Rugby Union and was a technical advisor at the Chiefs before his move to the international stage. The Six Nations most successful coach with four titles including an incredible three Grand Slams is delighted to have returned to home soil.
"I'm really excited about the opportunity to come back home. The opportunity to come back as head coach of the Chiefs is something that I am really looking forward to. The Chiefs are well known for the success they have had both on and off the field and the really loyal support they have from everyone within the Chiefs region. I'm excited to come back and be a part of the Chiefs community with the players, the fans, the sponsors, it's something I really look forward to," he said.
As well as all his Welsh success Gatland has also coached the British & Irish Lions in both Australia and New Zealand, securing a series win and draw respectively.
It was confirmed earlier this year that Gatland will lead the Lions on their 2021 tour of South Africa and his deal with the Chiefs accounts for a period of leave to accompany this.
New Zealand Rugby's head of professional rugby believes that the signing of Gatland is exciting for New Zealand Rugby as a whole.
"This is an outstanding appointment and a coup for the Chiefs, for Super Rugby and for the game in New Zealand generally. We are excited to have a coach of Warren's experience and international standing coming back into our environment," he said.
Meanwhile Chiefs CEO Michael Collins is excited about the prospect of Gatland's return, insisting he can build on the foundations left by Cooper.
"Warren is a world-class coach who boasts a proven track record. With a sound rugby background and his desire to return home to New Zealand and be involved in Super Rugby naturally made him a top choice for the role. Like Warren, we are excited for his return to the Chiefs environment. He will continue to build on the work Colin Cooper and his team management have achieved in maintaining a sustainable high-performance environment for the club," he said.
Gatland is also set to manage the Barbarians in a November test against current side Wales upon their return from the World Cup.
The question that many fans will wonder is if this is the final step before Gatland takes the reins at the All Blacks in a move that has been hinted at for some time, but we will have to wait and see.
Chay Fihaki Re-Signs with the Crusaders
Dynamic young utility back Chay Fihaki has re-signed with the Crusaders presenting exciting prospects for the team taking the field in the 2023 season.
Fihaki signed with the Crusaders in 2020 as a 19 year old and has since gone from strength to strength, playing seven matches in the red and black and showing great potential.
During his youth career, Fihaki played through the midfield, but as he has progressed through Canterbury and Crusaders' development pathways, he has nestled into a role at fullback.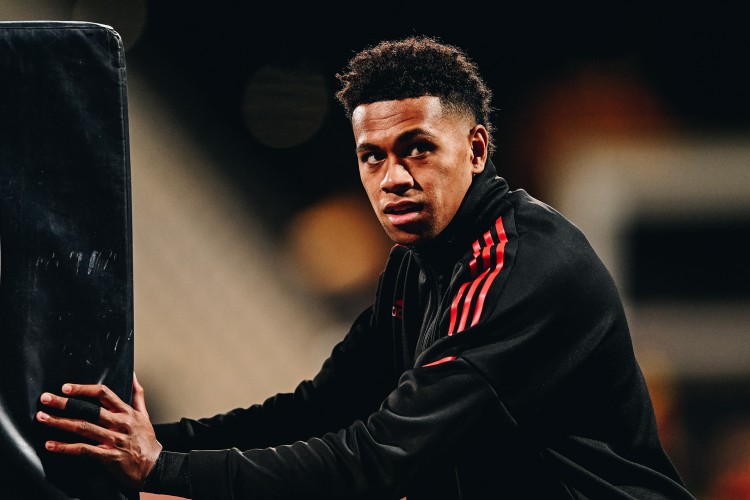 Fihaki's mission for 2023 will be to soak up as much knowledge as possible from some of his All Black teammates.
"I'm feeling excited about the season coming up. 2023 will be another year for me to grow, especially learning off the more senior players and All Blacks," Fihaki said.
"My focus will definitely be on being more confident and backing my skillset."
Fihaki's X-Factor has been outlined by Crusaders Head Coach Scott Robertson, who said, "Chay has a massive boot and the ability to create something from nothing".
Keep an eye out for Fihaki this season in the red and black!
NSW Waratahs secure schoolboy talent Max Jorgensen
The NSW Waratahs have secured the services of one of the brightest schoolboy rugby talents in Australia, signing Max Jorgensen.
Max Jorgensen, son of former Wallaby and NRL player Peter Jorgensen, is currently in Year 12 at St Joseph's College and has spent three years in the NSW system representing the Waratahs Academy at U15, U16, and U18 age levels.
The talented outside back spent time in Nathan Grey's Junior Wallabies program earlier this year and has been named in the Waratahs Development team to take on a Brumbies XV at St Edmunds College this Saturday in Canberra.
Max Jorgensen said: "I'm proud to be on board with the Waratahs, they have a terrific setup, and the new Centre of Excellence looks amazing.
"I am excited by the opportunities in rugby over the next few years and looking forward to playing high-quality rugby with some amazing players at the Waratahs.
"I'm focused on having a great pre-season and can't wait to learn from the coaching staff and experienced teammates."
Waratahs Head Coach, Darren Coleman said: "Securing Max is a positive outcome, not only for the Waratahs but for Australian rugby, as he is one of the elite schoolboys from the class of 2022 and highly sought after.
"It's great he has decided to remain at the Waratahs especially after spending the past three years in our academy.
"Max understands he has a long way to go and a lot of work to do before he can become a fully-fledged Super Rugby player, but we look forward to working with him and helping him develop his game."
ACT Brumbies sign Sevens star Ben O'Donnell
The ACT Brumbies are excited to announce the addition of outside-back Ben O'Donnell to the club's Super Rugby Pacific squad until the end of 2024.
The 26-year-old returns to Australia after a three-year stint in Ireland with Connacht, having previously represented Australia in Sevens on 95 occasions, winning Rugby Australia's coveted Shawn Mackay award for Sevens player of the year in 2018.
O'Donnell is in line to wear ACT colours for the first time in Saturday's practice match against a NSW Waratahs development side at St. Edmund's College.
ACT Brumbies outside-back, Ben O'Donnell said: "I'm excited to be back in Australia and to be joining such a highly respected club like the ACT Brumbies."
"Playing in Connacht was an unreal experience and I'm grateful for my time there and the mates I made but I'm looking forward to working every day with a world-class coaching staff and the boys here who have created a great culture from everything I have heard.
"Preseasons never get any easier but I'm excited for the hard work and especially looking forward to having a run around with my new teammates on Saturday."
ACT Brumbies head coach, Stephen Larkham said: "Ben will be a quality addition to our group."
"Ben was a very accomplished 7s player, and he's made a good transition to 15s, but we feel he's got a great chance to develop further in our environment.
"With his pace and feel for the game, Ben's an option across the backline and we're excited to see how he goes on Saturday."