Gatland Named Chiefs Head Coach
Less than 24 hours after it was announced that Colin Cooper would leave the club Warren Gatland has been confirmed as their new main man
Wales head coach Warren Gatland has been announced as the new head coach of New Zealand Super Rugby franchise the Chiefs.
The club confirmed on Friday that Gatland, who takes over from Colin Cooper, has signed a four-year deal which will begin following the conclusion of this year's Rugby World Cup in Japan.
Gatland previously managed Waikato Rugby Union and was a technical advisor at the Chiefs before his move to the international stage. The Six Nations most successful coach with four titles including an incredible three Grand Slams is delighted to have returned to home soil.
"I'm really excited about the opportunity to come back home. The opportunity to come back as head coach of the Chiefs is something that I am really looking forward to. The Chiefs are well known for the success they have had both on and off the field and the really loyal support they have from everyone within the Chiefs region. I'm excited to come back and be a part of the Chiefs community with the players, the fans, the sponsors, it's something I really look forward to," he said.
As well as all his Welsh success Gatland has also coached the British & Irish Lions in both Australia and New Zealand, securing a series win and draw respectively.
It was confirmed earlier this year that Gatland will lead the Lions on their 2021 tour of South Africa and his deal with the Chiefs accounts for a period of leave to accompany this.
New Zealand Rugby's head of professional rugby believes that the signing of Gatland is exciting for New Zealand Rugby as a whole.
"This is an outstanding appointment and a coup for the Chiefs, for Super Rugby and for the game in New Zealand generally. We are excited to have a coach of Warren's experience and international standing coming back into our environment," he said.
Meanwhile Chiefs CEO Michael Collins is excited about the prospect of Gatland's return, insisting he can build on the foundations left by Cooper.
"Warren is a world-class coach who boasts a proven track record. With a sound rugby background and his desire to return home to New Zealand and be involved in Super Rugby naturally made him a top choice for the role. Like Warren, we are excited for his return to the Chiefs environment. He will continue to build on the work Colin Cooper and his team management have achieved in maintaining a sustainable high-performance environment for the club," he said.
Gatland is also set to manage the Barbarians in a November test against current side Wales upon their return from the World Cup.
The question that many fans will wonder is if this is the final step before Gatland takes the reins at the All Blacks in a move that has been hinted at for some time, but we will have to wait and see.
Family the motivator for Whitelock's French move
The 2023 Super Rugby Pacific season will be Samuel Whitelock's last with the Crusaders.
The veteran Crusader and All Black has taken up a two-year deal with Section Pau in the South of France, where he'll link up with younger brother Luke Whitelock who joined the Top 14 club in 2019.
"Hannah, the kids and myself are going to head to France to play with my little brother Luke," Whitelock said.
"I've had the privilege of playing with family for Canterbury, the Crusaders and the All Blacks at different stages and this opportunity was too good to pass up."
Whitelock debuted for Canterbury in 2008 and the Crusaders in 2010. He is Crusader #142 and has currently played 176 games for the franchise – second only to Wyatt Crockett (203). He's been a part of six championship campaigns and captained the side for several seasons.
"I want to say thank you to everyone for their support through the years, it's been absolutely immense," Whitelock said.
You've helped me grow, you've helped me develop as a player", but most importantly as a person."
There are few players in Crusaders history who have made a mark like Sam Whitelock. A mainstay for generations of fans, his presence on the field brought confidence to both the playing group and the fans.
The same could be said for his impact on the All Blacks, having earned many All Blacks caps as captain and respect across the globe as a rugby role model.
Scott Robertson, Crusaders Head Coach, said Whitelock was an "iconic rugby player" who had taught him a lot throughout his coaching career.
"He's iconic because of his consistency in form at all levels, spanning three decades and being at the top of his game throughout that time," Robertson said.
He said Whitelock's game understanding and "his ability to win big moments in big games" set him apart.
"He has an innate ability to connect the group and know what needs to be said at the right time on and off the field."
"He's a great mate and a pleasure to coach."
"If there's one player who lives the Crusaders culture it's him, through consistency, his daily habits and his leadership."
Whitelock will join Pau after the Rugby World Cup.
Team Naming: Whitelock Back for Waratahs Game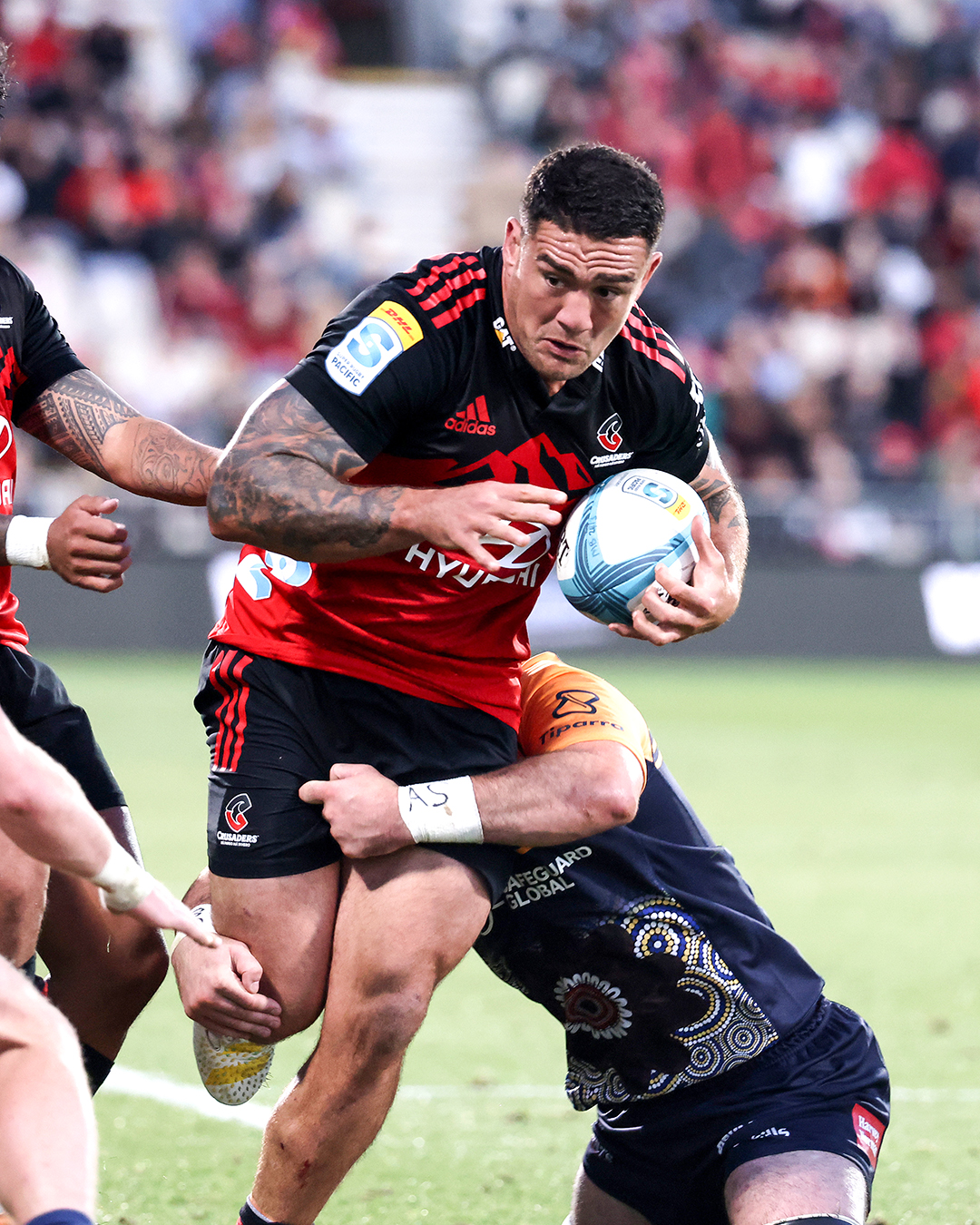 The Crusaders have named their side to face the Waratahs in Round 14 of Super Rugby Pacific '23.
It's the team's last home game of the regular season before we get into finals. Kick off is Saturday at 4.35pm.
Codie Taylor takes up captaincy with Scott Barrett making the most of a rest week before some big showdowns. He's joined in the front row by Kershawl Sykes-Martin and Tamaiti Williams.
Sam Whitelock returns this week, itching to take the field after a few weeks sidelined by injury. Both Codie Taylor and Scott Robertson spoke on Thursday morning about looking forward to having his leadership and wisdom back on the grass.
The dynamic duo of Mitch Drummond and Richie Mo'unga return at halfback and first five, their routine well-polished by now.
Look for some antics and acrobatics from Leicester Fainga'anuku and Dallas McLeod on the left and right wings, and a safe pair of hands at the rear with Fergus Burke as fullback.
Reuben O'Neill is set to make his Crusaders debut off the bench this week, the current Taranaki and former Chiefs player bolstering the front row stocks. He's slotted in well with the team during trainings, Robertson saying he was "familiar to us" and helped relieve the burden on a front row depleted by injury. Brodie McAlister and Seb Calder make up the rest of the replacement front row.
The Crusaders go into this one second on the table, the Waratahs in sixth. There's no discounting an Aussie side still within reach of a home quarter if the cards fall right for them. Expect a big contest.
The Highlanders will use the last home game of the year against the Reds on Friday 26th May to farewell Aaron Smith – their most capped player ever. All things going to plan Smith should play his 184th game against the Reds.
Smith joined the club in 2011 at the behest of the then new Highlander's coach, Jamie Joseph, having previously been in the Blues wider training group, the rest as they say is history.
Widely recognised as one of the best halfbacks in the game his performances over the years have left fans, fellow players and the media in awe of his consistency, energy, skill level and competitiveness.
However, all good things come to an end and on Friday 26th May at 7.05pm Smith will suit up in his Highlanders jersey and run out of the stadium tunnel to be greeted by a home crowd for the last time, from next year he is signed to play in the Japanese League.
Highlanders CEO Roger Clark appreciates it will be a significant moment in the club's history.
"Aaron has given so much to the club and rugby public in this region. Saying good-bye is not a moment that many will be looking forward to, but he so richly deserves this one last opportunity to sign off an amazing Highlanders career in front of his home crowd.  No doubt It will be a very special occasion for Aaron, Teagan and his children Luka and Leo, we hope it will be a night to remember for all."
Head Coach Clarke Dermody acknowledges it will be an extra special night for his All-Black halfback.
"He's been leading our team around the park for the last decade or so and he epitomises everything that a professional player should be – always prepared, highly skilled, competitive, and passionate about his team. He deserves all the recognition he gets, and he has worked very hard for it. Knowing Aaron, he will treat it like any other week, go through his routines, preparing accurately and give it his best on the night. I know I won't be alone in reflecting on his enormous contribution to rugby in our region as his last home game comes to an end."
Fans will have another opportunity to watch the master in action when the Highlanders take on the Rebels this Saturday at 4.35pm.
Book your seat to witness history here 
ENDS