Richie McCaw on how New Zealand can stop the exodus.
"You've just got to make it really hard for guys to make that decision to go overseas."
New Zealand Rugby legend Richie McCaw has admitted that the exodus of top talent from the Rugby club is concerning.
McCaw never quite thought of heading abroad during his illustrious Rugby career. These days the Rugby landscape is different and many players leave. In some cases, it is done in order to play in a less demanding environment and thus prolong their Rugby careers. In other cases, it is motivated by financial incentives.
Brodie Retallick, Beauden Barrett, Kieran Read, Ben Smith &Nehe Milner-Skudder are just a few of the New Zealand Rugby players who have either confirmed that they will be leaving New Zealand following the World Cup or who have been linked with moves away.
McCaw feels that the current situation is "unfortunate".
"I think it's always been a challenge,"
"It has been for a while and it's always going to be. It's just unfortunate the things you have to deal with as New Zealand Rugby. I think we're probably never going to compete dollar-for-dollar for what's on offer for some of these guys up in the Northern Hemisphere."You've just got to make it really hard for guys to make that decision to go overseas."
The solution which McCaw put forward to the issue is simple. He feels that nothing can beat getting the opportunity to wear the jersey of the All Blacks.
"We've always said having an environment that's really enjoyable and fulfilling, [where] you get looked after, and the chance to play for the All Blacks, that's the things that we've got in our favour as New Zealand Rugby.
"And some will [leave], and rightly so if that's the right thing for them. But if we keep the environment good and the All Blacks successful, it's quite a hard team – when you've had a taste of it – to turn your back on.
"They're the things that you can control and if you do that, then hopefully we encourage a good number to stay behind and stay here and keep playing. But I think it's always going to be a challenge and we'll be talking about it for a long time but we've just got to keep hopefully inspiring people that want to perform in the black jersey because I think it's a pretty big carrot to stay here."
Emerging Ireland Squad: Meet the Players
The Emerging Ireland squad that will compete in the Toyota Challenge in Bloemfontein over the next two weeks features a host of players that have starred for Ireland at underage level and on the world stage for the Ireland Sevens. Fourteen were part of the IRFU's National Talent Squad programme and the majority have already made a breakthrough at senior level for their Provinces.
The Capped Players
Max Deegan was named Player of the Tournament after helping the Ireland U20s to the final of the 2016 U20 World Rugby Championships. He was capped by Ireland against Wales in the 2020 Six Nations Championships and despite some serious injury setbacks, has amassed 85 senior caps for Leinster.
Shane Daly has two caps for Ireland, making his senior debut against Georgia in the 2020 Autumn Nations Cup. A former Ireland Sevens international, he has 49 senior caps for Munster.
Robert Baloucoune is another former Ireland Sevens international who has two senior international caps having made his debut against the USA in July 2021. The winger has 47 senior caps for Ulster.
Ahead of their departure for South Africa, the #EmergingIreland squad completed their three-day camp in Dublin with a visit to Clontarf Baths 🏊‍♂️#TeamOfUs | #IrishRugby pic.twitter.com/y2Ne3NE6tc

— Irish Rugby (@IrishRugby) September 26, 2022
The Maori Crew
Cian Prendergast played in both games against the Maori All Blacks during the summer. He played for the Ireland U20s in 2020 and has made 32 senior appearances for Connacht.
Joe McCarthy also played in both fixtures against the Maori All Blacks on the 2022 New Zealand Tour and played Ireland U20s with Prendergast in 2020. The second row has made 13 senior appearances for Leinster.
The Development Brief
Both Tom Ahern and Jamie Osborne trained with the Ireland squad as Development Players ahead of the 2021 Autumn Nations Series. Ahern was an Ireland U20 international in 2019 and 2020 missing the Grand Slam campaign through injury. He has made 21 senior appearances for Munster
Osborne represented the Ireland U20s in 2021 but had already made his senior Leinster debut at that stage. He has made 20 senior appearances for Leinster.
Proven Provincials
Stewart Moore, Calvin Nash and Diarmuid Barron have all established themselves as senior Provincial players. All three represented Ireland at U20 World Rugby Championships.
Since making his senior debut for Ulster in December 2019, Moore has accumulated 32 senior appearances. Nash has played 38 senior games for Munster, while Barron has 36 senior Munster caps.
The Class of 2019
John Hodnett, Scott Penny, David McCann, Dylan Tierney-Martin, Brian Deeny, Jake Flannery, Thomas Clarkson, Michael Milne, Callum Reid and Josh Wycherley were all part of Ireland's U20 Six Nations Grand Slam winning squad in 2019.
At Munster, Hodnett and Wycherley have made 22 and 29 senior provincial appearances respectively while Flannery made six senior appearances for Munster before making the switch to Ulster this season. McCann, who captained the U20s the following year, has made 15 senior appearances for Ulster with Reid clocking 11 appearances to date.
Tierney-Martin has made eight senior appearances for Connacht and scored a try against the Stormers at the weekend. Penny has made the most senior appearances for Leinster with 42 with Milne (18), Clarkson (18) and Deeny (3) also making the breakthrough at senior level for Leo Cullen's side.
The Sevens Boys
Baloucoune and Daly are not the only two players in the Emerging Ireland squad that have benefitted from exposure to the Ireland Sevens programme.
Andrew Smith and Chay Mullins both won bronze medals at the recent Rugby World Cup Sevens in Cape Town while Cormac Izuchukwu won two Ireland Sevens caps before clocking nine senior appearances for Ulster.
Smith also won the Energia AIL title with Clontarf earlier this year and has made two senior appearances for Leinster. Mullins has joined the Connacht Academy this season having also helped the Ireland U20s to a 2022 Six Nations Grand Slam.
The 2020 Triple Crowners
The 2020 U20 Six Nations was cut short by the Covid pandemic but after three games the Ireland U20 squad had secured wins over Scotland, Wales and England, claiming an unofficial Triple Crown. Ethan McIlroy, Jack Crowley, Tom Stewart and Ben Murphy were in that squad alongside the aforementioned Smith, McCann, Prendergast, Ahern and McCarthy.
McIlroy has made 37 senior appearances for Ulster while Stewart's progress has been hampered by injury but he claimed an impressive try against Connacht in the first round of this season's URC.
Out-half Crowley has notched up 16 senior appearances for Munster including a start in the Champions Cup against Castres. Murphy has also made his senior debut for Leinster having gone on loan to Munster during the 2021/22 season.
The Class of 2021
In 2021, the U20 Six Nations took place in the summer months of June and July as the global pandemic continued to disrupt the rugby calender. Osborne featured strongly for the Richie Murphy's side but so too did Nathan Doak, Cathal Forde and Sam Illo.
Doak has already made a big impact at senior provincial level with Ulster clocking up 24 appearances since making his debut against Munster in December 2020. Forde has made two senior appearances for Connacht while Illo has featured three times since switching from the Leinster age grade system.
International IQ Rugby
There are three players in the squad that have come through the Irish qualified player pathway. Mullins came via the Bristol Academy and the IRFU's IQ programme in the UK.
Michael McDonald was born in Ireland but represented Australia U20s at the 2019 U20 World Rugby Championship having emigrated down under with his family at the age of 13. He joined Ulster at the start of the current season.
Antoine Frisch was born in France but qualifies for Ireland via his grandmother. He joined Munster this season from Premiership side Bristol Bears and made his Munster debut against Cardiff in the opening URC fixture of the 2022/23 season.
Roman Salanoa was born in Hawaii but has qualified to play for Ireland through residency. He represented the USA at the 2016 U20 World Rugby Championship. Originally part of the Leinster development programme, Salanoa subsequently joined Munster and has made 10 senior appearances to date.
New Kid on the Block
James Culhane is yet to make his senior debut for Leinster but the powerful number eight left his mark on the 2022 U20 Six Nations. He was named Player of the Tournament as Ireland secured a memorable Grand Slam.
Images & Content from Irish Rugby & Images © Inpho Photography
DHL Super Rugby Pacific 2023 draw announced
DHL Super Rugby Pacific's full potential will be unleashed in 2023 with the announcement of a schedule that will ignite trans-Tasman and Pasifika rivalries like never before.
The defending DHL Super Rugby Pacific champion Crusaders will kick the competition off against the Chiefs during an opening round that focuses on traditional rivalries, while also breaking new ground as the Waratahs christen the brand new Allianz Stadium in Sydney against the Brumbies.
Opening weekend will also see Pasifika pride on the line as Moana Pasifika host the Fijian Drua at Mt Smart Stadium in Auckland in what will be the start of historic campaigns for last year's two competition newcomers. The Drua will play six home matches in Fiji, while Moana Pasifika will take a home match to Apia in what will be the second* Super Rugby game in Samoa and a first for Moana Pasifika.
The final fixtures of the opening weekend will see the Highlanders host the Blues at Forsyth Barr Stadium in Dunedin, the Hurricanes travel to Brisbane to play the Reds, and the Force host the Rebels in Perth.
THE FULL DHL SUPER RUGBY PACIFIC DRAW CAN BE VIEWED HERE
Round 2 is the previously announced Super Round at AAMI Park in Melbourne where all 12 teams will gather for a high-stakes festival of rugby.
The 2023 draw will see all 12 teams play a total of 14 matches during the regular season, 11 round-robin fixtures plus three additional rivalry matches which will see each team play a home and away series against three other teams. Family friendly afternoon kick-offs are a feature of the draw with 24 daytime matches in total with all 91 matches live and exclusive on Sky, including the eight-team finals series, which kicks off in the second weekend of June.
New Zealand Rugby General Manager Professional Rugby and Performance, Chris Lendrum said:
"There is a real feeling that DHL Super Rugby Pacific is ready for take-off after a successful, but COVID disrupted inaugural season. We saw massive potential on the field in 2022, but also some huge challenges off it, so to have a fully integrated and uninterrupted draw in 2023 is great news for the players and the fans. I think we are going to see one of Super Rugby's most competitive seasons."
Rugby Australia Chief Executive Andy Marinos said:
"Being able to play regularly in front of home fans, and to travel across the Tasman and around the Pacific is massive for the competition, especially for fans, who can support their teams through a full home schedule. Everyone saw what Super Rugby Pacific had to offer in its first season and all 12 clubs have taken that excitement into the off-season and will be primed for a shot at the title in 2023."
Key features of the 2023 DHL Super Rugby Pacific draw:
·        Each team plays 14 regular season matches
·        Round 1 features traditional rivalry fixtures
·        The Waratahs will host the Brumbies in the first ever fixture at the new Allianz Stadium in Sydney
·        Round 2 is the Super Round in Melbourne
·        All teams play all other teams in the competition
·        All teams play three extra 'rivalry' games which create home and away mini-series
·        All teams will have their byes between Rounds 7, 8 & 9
·        Top eight teams reach the finals
DHL SUPER RUGBY PACIFIC AT A GLANCE
Season opener: Crusaders v Chiefs at Orangetheory Stadium, Christchurch.
Format: 12 teams: Moana Pasifika, Fijian Drua, Blues, Chiefs, Hurricanes, Crusaders, Highlanders, Waratahs, Reds, Force, Brumbies, Rebels
14 regular season matches = 11 round-robin matches + 3 rivalry matches
One bye round per team (all byes in Rounds 7, 8 & 9)
Season Length: 18 weeks = 15-week regular season + three-week eight-team playoff series
Total Matches: 91
Super Round: Round 2, Friday-Sunday 3-5 March @ AAMI Park Melbourne.
Rivalry matches: Each team plays three teams twice (one at home match, one away match per rivalry)
·        Blues: Rivalry opponents are the Hurricanes, Highlanders and Crusaders  
·        Chiefs: Rivalry opponents are the Crusaders, Hurricanes and Highlanders
·        Crusaders: Rivalry opponents are the Blues, Chiefs and Moana Pasifika
·        Highlanders: Rivalry opponents are the Blues, Force and Chiefs
·        Hurricanes: Blues, Chiefs and Moana Pasifika
·        Moana Pasifika: Hurricanes, Highlanders and Fijian Drua
·        Fijian Drua: Moana Pasifika, Reds and Waratahs
·        Force: Highlanders, Reds and Rebels
·        Reds: Fijian Drua, Force and Brumbies
·        Rebels: Force, Waratahs and Brumbies
·        Waratahs: Fijian Drua, Rebels and Brumbies
·        Brumbies: Reds, Rebels and Waratahs
* The Blues played the Reds in Apia in 2017, as part of the Super Rugby competition.
Boks win but come up short in title chase in Durban
The Springboks finished the Castle Lager Rugby Championship like they started it, with a win – this time by 38-21 (halftime 17-7) over Argentina – but they failed to score the points needed to dethrone New Zealand as champions of the Southern Hemisphere, in front of a packed house of 45982 people at Hollywoodbets Kings Park in Durban.
After the All Blacks beat the Wallabies by 40-14 in Auckland on Saturday morning, the Boks had to win with a bonus point and a points' difference of at least 39, and they failed on both accounts, but still finished the competition with four wins from six games, the same as New Zealand.
The Boks dominated the first half and built up a well-deserved 17-7 lead but Argentina never allowed the home side to run away with proceedings and managed to stay in the fight throughout, although their discipline got the better of them as illustrated by the four yellow cards dished out to the visitors for an assortment of transgressions, while the Boks had two men sent to the sin bin in a stop-start affair that was played in tricky conditions.
Experienced lock Eben Etzebeth thought he had scored when he went over in the 10th minute, however, he received the ball from an offside position in the maul and the try was ruled out.
Not long thereafter, Pumas flank Marcos Kremer was yellow carded for offside play with the Boks on the attack. The green and gold jerseys finally got onto the scoreboard through hard-working No 8 Jasper Wiese, who had the simple task to dot the ball down from a powerful Bok scrum.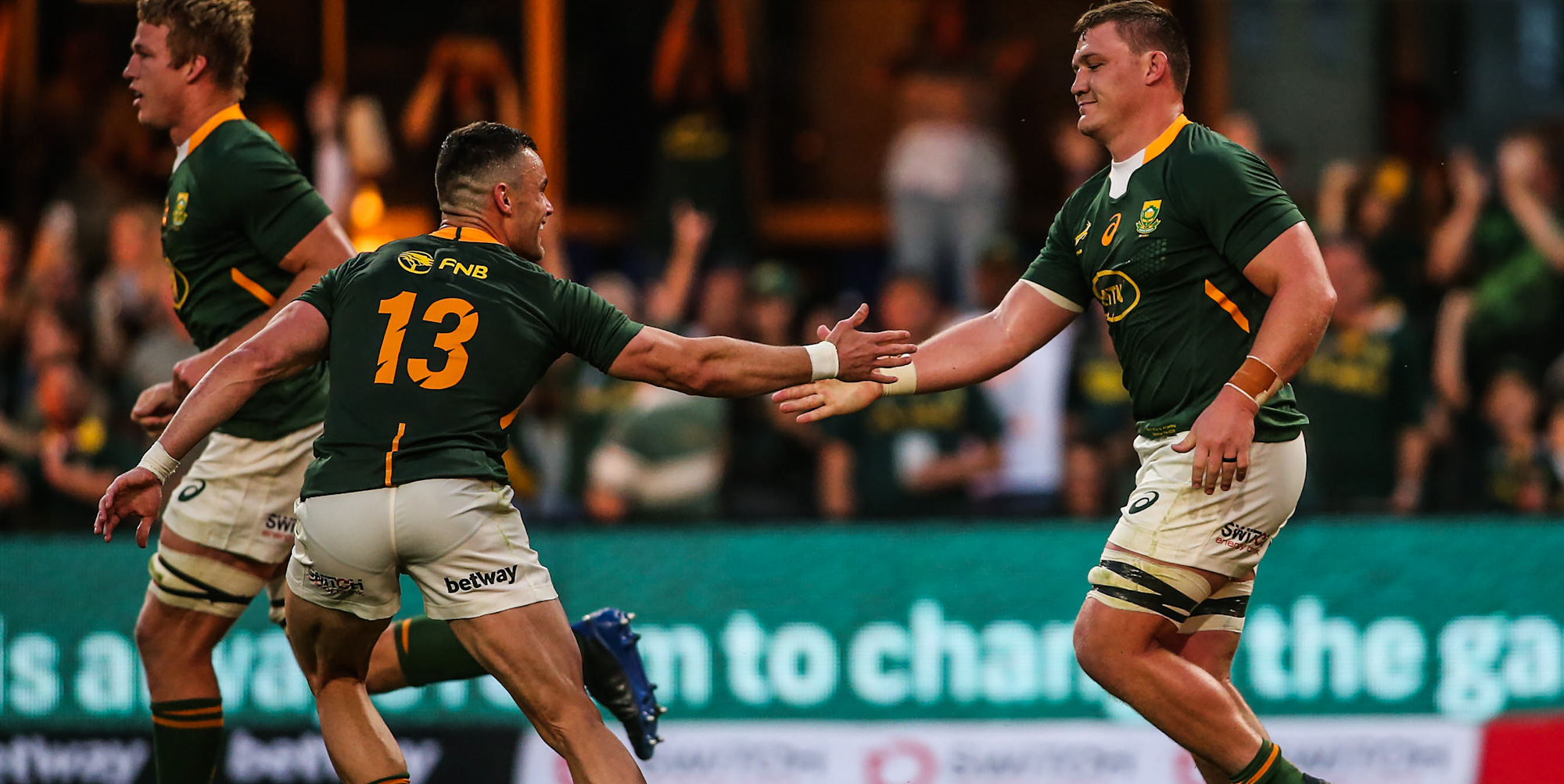 Steyn's conversion handed the home side a well-deserved 7-0 lead at the halfway mark of the opening half. With the Boks making Argentina sweat on defence and piling on the pressure upfront, Juan Martin Gonzalez was also sent to the sin bin for repeated offsides, while Willie le Roux was held up on the whitewash in the next movement.
However, the South Africans kept piling on the pressure and it was no surprise when skipper Siya Kolisi went over following another powerful lineout maul to hand his side a 14-0 lead.
Steyn, playing at flyhalf for the Boks for the first time since 2008, then slotted a long range penalty kick to make it 17-0.
However, the South Americans scored their first try on the stroke of halftime through scrumhalf Gonzalo Bertranou, which Emiliano Boffelli converted to make the score at the break 17-7.
The Pumas came back strongly in the second half and Juan Martín González got their second try seven minutes after the restart as he raced past Le Roux to score out wide. When Boffelli slotted the difficult conversion, he narrowed the deficit to 17-14.
Both teams then made numerous changes, with the Springboks sending on Duane Vermeulen and Kwagga Smith, amongst others, in an effort to continue their dominance upfront. The Bok forwards then forced their first penalty try as they mauled powerfully towards the Argentine goal line, and Jeronimo de la Fuente was issued a yellow card his indiscretion during that movement.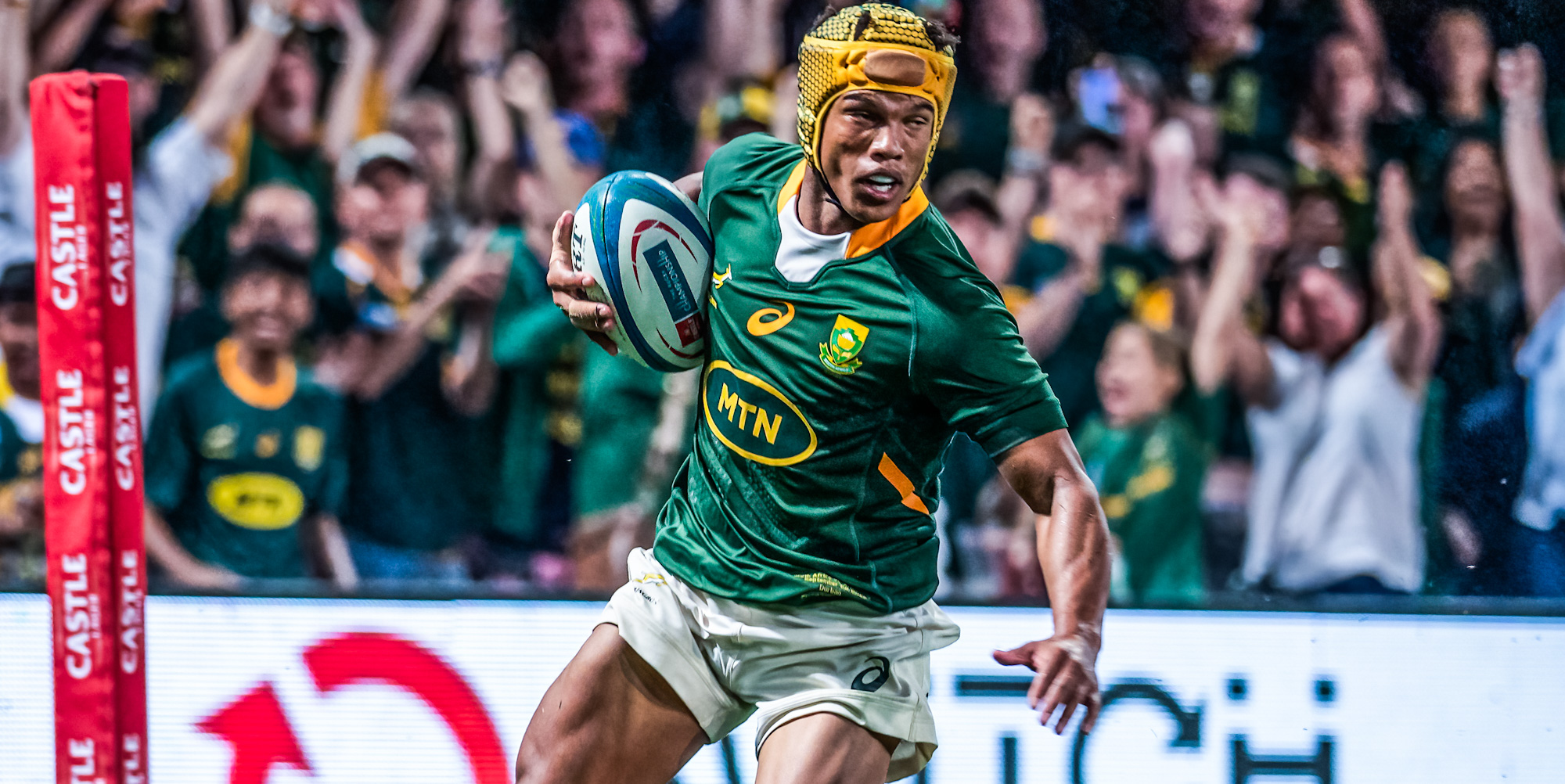 Etzebeth was then yellow carded for dangerous play, with both sides now playing with 14 men and with rain falling down, the Boks had to fight hard to keep their 24-14 lead intact.
However, the Boks were then down to 13 men when replacement scrumhalf Faf de Klerk was shown yellow for a cynical offence, which stopped a goal-bound Argentine maul.  
Matias Moroni then scored out side, with Boffelli's conversion pulling the Pumas back to within three points and time running out on the clock, but the Boks still had some gas left in the tank and got themselves into a strong field position.
Launching yet another maul at the Argentinean tryline, Pumas reserve prop Joel Sclavi also got his marching orders after trying to stop a maul illegally, and the Boks were awarded a second penalty try in the process, which allowed the South Africans some breathing space with the score now 31-21 in their favour and less than 10 minutes left on the clock.  
With time up, replacement wing Kurt-Lee Arendse was sent over for the Boks' fifth try – and his second in only his third Test – with speedsters Makazole Mapimpi and Canan Moodie both featuring prominently. Steyn added the extras for the Springboks to record their fourth win of the campaign.
Scorers:
Springboks 38 (17) – Tries: Jasper Wiese, Siya Kolisi, Penalty tries (2), Kurt-Lee Arendse. Conversions: Frans Steyn (3). Penalty goal: Steyn.
Argentina 21 (7) – Tries: Gonzalo Bertranou, Juan Martín González, Matías Moroni. Conversions: Emiliano Boffelli (3).