Rennie savages Wallabies after dominant Argentina defeat
Wallabies coach Dave Rennie has expressed his frustration after a record defeat to Argentina in San Juan.
The visitors were dominated from siren to siren as Los Pumas cruised to a 48-17 win, looking like a side properly dealing with life without Michael Hooper and a near full XV of players.
Purchase your tickets for the O'Reilly Cup and the Rugby Championship
It caps off a fortnight that has seen multiple late changes and season-ending injuries to the likes of Quade Cooper and Samu Kerevi as Rennie lambasted their inability to shut down the high ball.
"Massive disappointment. That's not good enough," coach Dave Rennie said after the match.
"We conceded four tries with kicks in-between us and got dominated in the collision area. We created plenty of opportunities but we have to be patient and our rucks not a disaster.
"We just weren't clinical enough…we definitely lacked cohesion with a few changes. We'll look at the footage but we're better than that.
"It's a massive disappointment. We want to earn the respect of the country but you don't do it with performances like that."
Captain James Slipper echoed these thoughts, giving credit to an Argentina side that were clinical with ball in hand as dominant in every facet of the game.
"Off the back of a good performance last week, we really wanted to back it up and we fell short of standards today," captain James Slipper added.
"I thought the Argentineans were good today and got the momentum behind them from the crowd, they were a tough team to play catch-up footy against so full credit to them.
"We're excited to get home, it's been a really tough tour for us so we have the South Africans twice at home now which we're really looking forward to and being back in front of our home fans."
Rennie refused to use the growing injury list as an excuse as they were outclassed.
"We would (like to have a consistent team list) but we had a good enough side to do the job," he believes.
"We gave them a few soft points early on and fought our way back into it. We have to better and we'll get a few players back. Whoever puts the jersey on has to front but we weren't good enough."
Springboks get the job done and now wait
The Springboks all but guaranteed their place in the Rugby World Cup quarter-finals – barring a mathematical miracle for Scotland – by edging their way to a 49-18 victory (halftime 21-8) over a feisty Tonga on a balmy evening at the Stade de Marseille on Sunday night.
The Boks' 31-point margin of victory ­– allied to a bonus point for scoring four tries – means that for Scotland and Ireland to go through at the Boks' expense, the former needs to beat the latter by 21 points while Ireland score four tries in defeat.
In that scenario all three teams would have 15 log points; Scotland would progress with the best points difference, while Ireland would oust the Boks by virtue of having won the head-to-head match.
As Scotland have lost their last seven matches against their celtic rivals it is preposterous to think that they might now achieve such a result after the Boks eventually took care of business by claiming the bonus point in the 49th minute as they racked up seven tries in total.
But it was not easy in front of a Tonga-favouring crowd of 60 387. The ghosts of Lens haunted the opening quarter as Tonga dominated possession to recall the nail-biting affair of the 2007 tournament when the Boks escaped by the skin of their teeth with a 30-25 victory.
The Pacific Islanders opened the scoring with a penalty by flyhalf William Havili in the third minute after a shaky start by the Boks who missed the kick off to set an unhappy tone.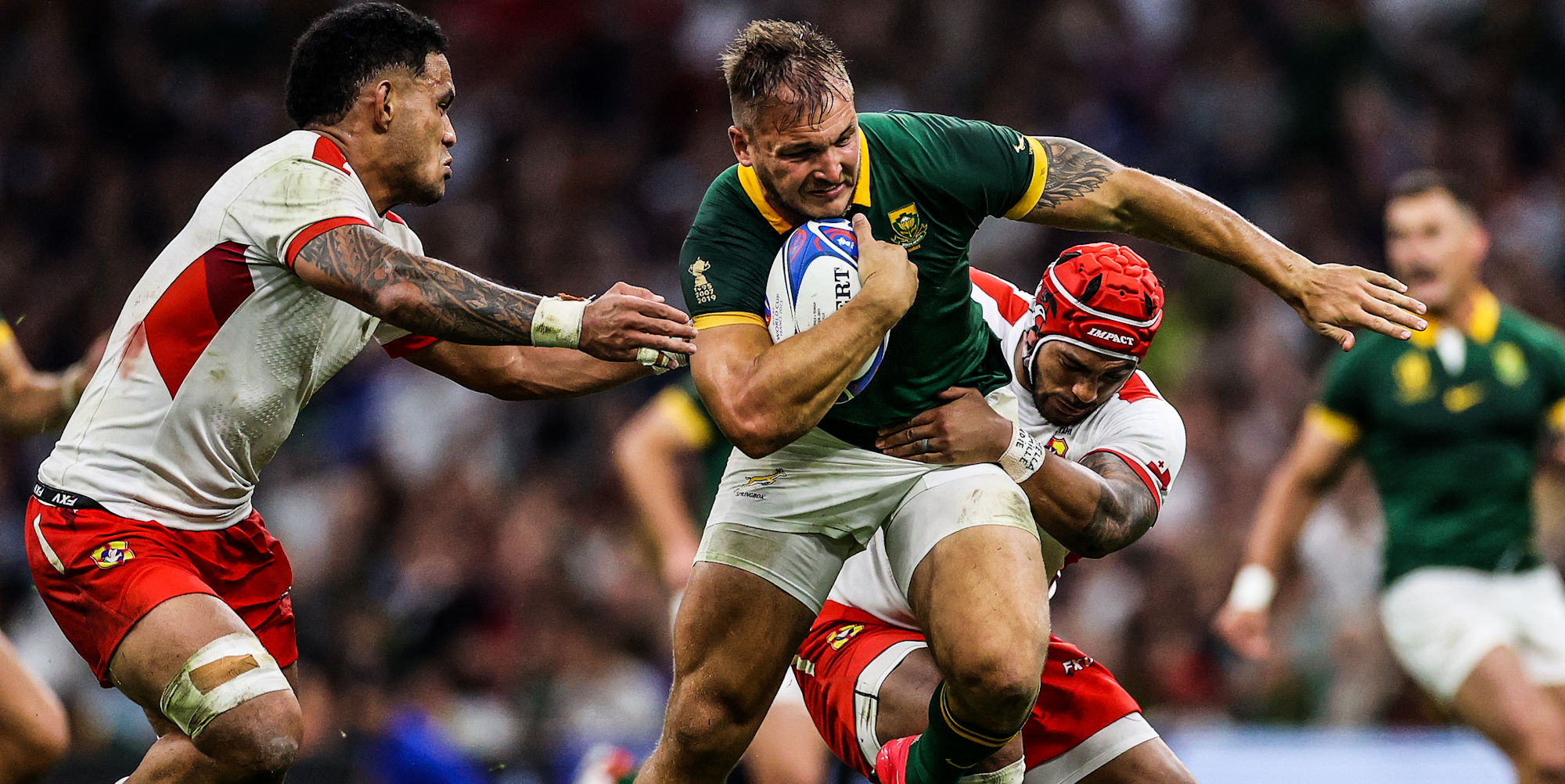 The Boks hit back in the fifth minute from their only visit to the Tongan 22 in the opening quarter, when the ever alert scrumhalf Cobus Reinach took a quick tap at a five-metre penalty and ran in in the corner.
Their next visit was only 15 minutes later after repeated Tongan attacks from a succession of penalties had been repulsed. Centre Andre Esterhuizen made one of several tackle busting runs to give field position but a try for centre Canan Moodie owed much to good fortune. Handre Pollard's pass bounced forward off the shoulder of prop Vincent Koch for Moodie to collect the loose ball and elegantly swerve past the last line of defence.
The Boks were now beginning to assert a measure of control and Deon Fourie claimed a second Springbok try at the back of a driven maul as the Tongan pack began to falter. Pollard converted all three – two from wide out on the right – to give the Boks a 21-3 lead before Tonga were let back into the game.
A penalty for offside as a Tongan attack was broken up by offensive defence on halfway was turned into a lineout five metres out and after half a dozen phases 151kg prop Ben Tameifuna flopped over the line from barely a metre.
The more dynamic Jesse Kriel – on as a replacement for wing Makazole Mapimpi following a head clash in which Tongan scrumhalf Augustine Pulu was lucky to escape a yellow card – drove in from close range after a succession of drives had exhausted Tonga's defence.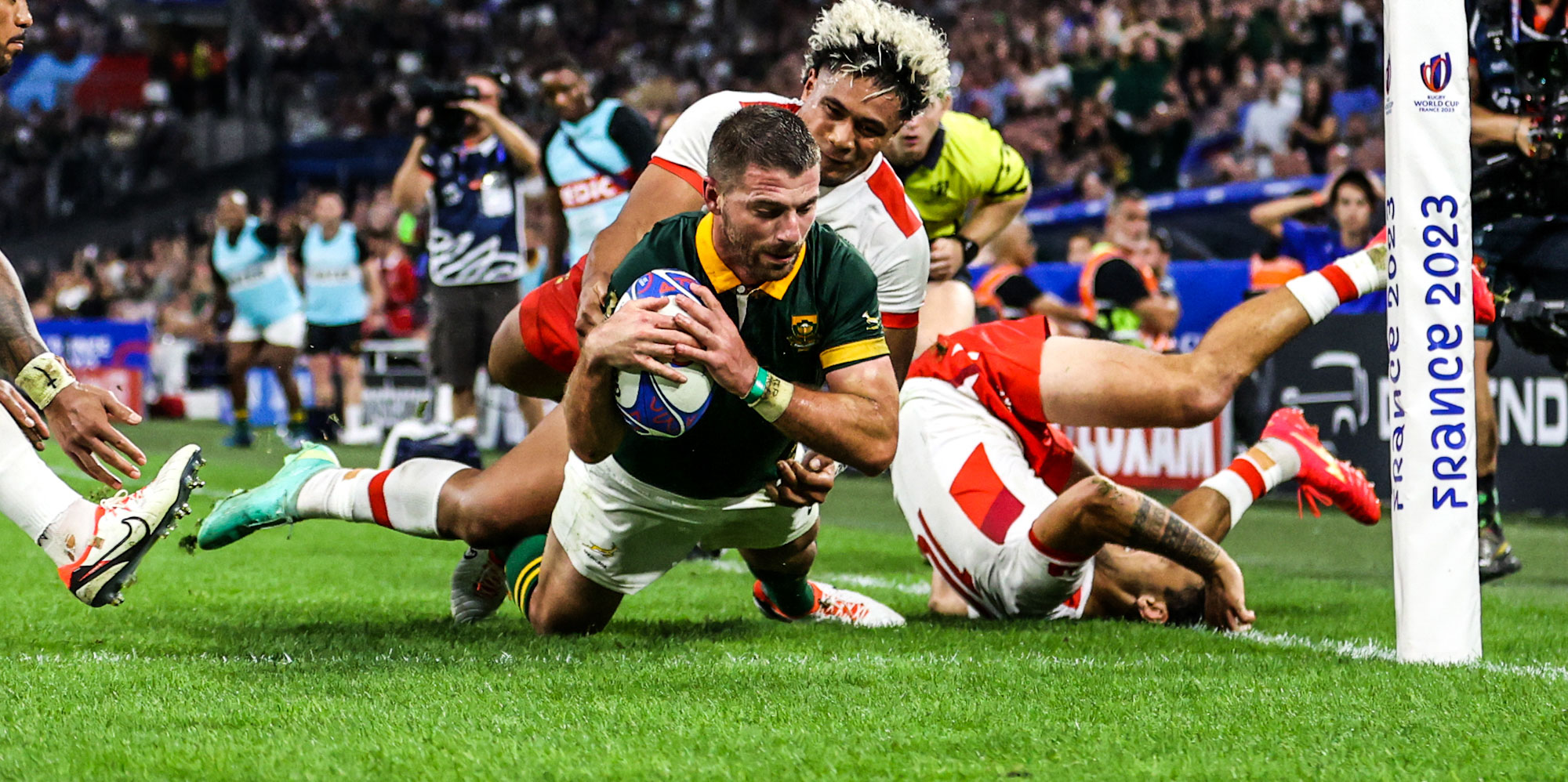 Tongan right wing Fini Inese crossed in the corner from a long looping pass after repeated attempts to beat down the front door from more drives had failed.
The Boks responded in the left hand corner through Willie le Roux from Moodie's pass after Manie Libbok – on for Pollard – had dislodged the ball in a tackle as Tonga tried to run out of defence.
Hooker replacement Marco van Staden added the sixth in similar style as the match entered the final quarter and the Boks three times looked on the verge of claiming a seventh – once through Esterhuizen and twice through wing Grant Williams – before a break out from their own half by replacement flyhalf Patrick Pellegrini ended in a third for Tonga.
The seventh finally arrived in the final minute when Kwagga Smith's all action play was rewarded with a try under the cross bar. Libbok landed his third conversion from three attempts to round off a challenging but ultimately successful night.
Scorers:
Springboks 49 (21) – Tries: Cobus Reinach, Canan Moodie, Deon Fourie, Jesse Kriel, Willie le Roux, Marco van Staden, Kwagga Smith. Conversions: Handre Pollard (4), Manie Libbok (3)
Tonga 18 (8) – Tries: Ben Tameifuna, Fine Inisi, Patrick Pellegrini. Penalty goal: William Havili.
Cane cautious yet optimistic following Italy victory
All Blacks captain Sam Cane said they would not be getting ahead of themselves based on one big win [96-17] over Italy at the Rugby World Cup.
Cane, who came off the bench for his first appearance in the tournament after recovering from a back injury, said there was always the memory of their loss to France in their opening game to keep them on the straight and narrow.
But, he said, he felt like the side was 'building nicely' with a shorter week before they play Uruguay on Friday (NZT).
"There will absolutely be areas where we will pat ourselves on the back and we executed things well [against Italy], but knowing our coaches, they will be looking through things with a fine tooth comb and highlight things that we may have done or probably won't get away with against better teams."
Cane said sitting on the sideline through the first three games had been frustrating, especially the tournament opener against France.
"I'd been looking forward to that game for a long time.
"Back troubles can kind of pop up out of nowhere sometimes and it can be quite frustrating. Sometimes they can come right quickly and other times they can linger and cause issues. Unfortunately for me, it was just lingering and as I would increase my training load it would flare up a little bit again. Never really badly but enough to be frustrating."
"The night before, we were watching the Samoa game, and I just thought 'Man, I can't wait to get out there'. The excitement levels were a wee bit higher than normal. [There's] Nothing like having a few games off to make you appreciate how good it is out there.
"To come through unscathed is a bonus as well."
Hooker Dane Coles scored two tries after coming on as a substitute and said, "It's always good to play with a bit of a free spirit and have run, have a jam and play what we see. You can always take a lot of confidence out of that.
"There will be a bit of a spring in the step with the lads, but this has been two weeks of preparation. We put a lot of hard work in.
"It was nice to score a meat pie [try] down the sideline, I was pretty stoked."
Coles said the team had celebrated with his long-time teammate lock Sam Whitelock for his achievement in reaching 149 Test caps, the most by an All Black.
"Bloody old mate, didn't smile all week. Nah, it was good. He's not one for the spotlight, so he was in his own little world during the week. Even on the bench, I was trying to get a laugh out of him, but not much was going on.
"We did a special presentation in the sheds with him. I actually had a whisky. I'm not a big spirit drinker; I don't really drink, but I said, 'Mate, I'll have a drink with you'.
"We just sat down with a few lads and tried to finish these whiskies. It was good. He's a good man, and we're stoked for him.
"He was in the gym this morning on the watty (watt bike) and straight back in."
Kolisi honoured to lead the Boks for the 50th time
Siya Kolisi was honoured to be selected to lead the Springboks for the 50th time in Sunday's final Rugby World Cup pool match against Tonga and said it was a milestone he never thought he would achieve.
Kolisi explained his rugby journey and gave credit to those who made this achievement possible at a media conference at the team hotel outside Toulon and Friday.
"I never dreamed of this," he said. "I started playing rugby because I enjoyed it, it kept me out of trouble and my friends played the sport. But I certainly didn't think I'd be sitting here now."
"It was not an easy road because I was always the joker and the naughty guy in a team. At the Boks it was difficult at first, but there is no greater honour (than being the Bok captain).
"Being the first black captain made it tough too, but I would never have made it to this point if it was not for my team-mates, as well as coach Rassie (Erasmus, Director of Rugby) and coach Jacques (Nienaber). They put structures in place around me to assist me, and thanks to them it made my job easier."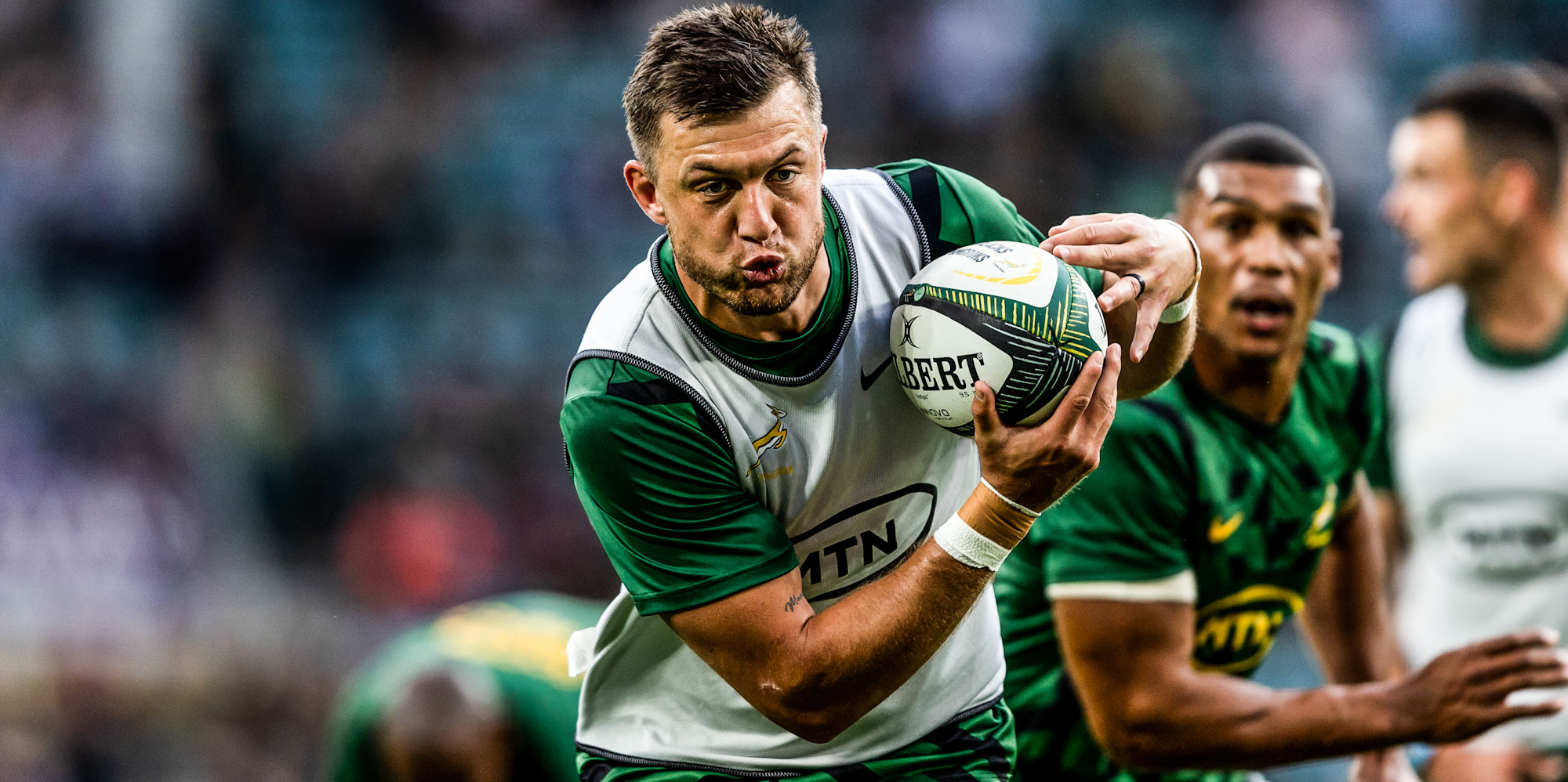 Sunday's match will not only be a big one for Kolisi and the team, it will also be an important match for flyhalf Handre Pollard, who makes his return to the side for the first time since August last year following calf and knee injuries – a challenge the player adopted with a realistic mindset.
"It's unbelievable to be back in the team and in this environment, and I'm trying to enjoy every day," said Pollard.
"The calf injury I suffered was supposed to keep me out for four weeks and it ended up being three months.
"Not being selected for the World Cup squad was tough, but such is life. The coaches told us to remain positive and I was lucky to get the call."
Commenting about his expectations in his first game back, Pollard said: "I'm realistic about this weekend. Playing 30 minutes of club rugby is very different to playing in a World Cup. I just want to express myself, although I know it won't be perfect."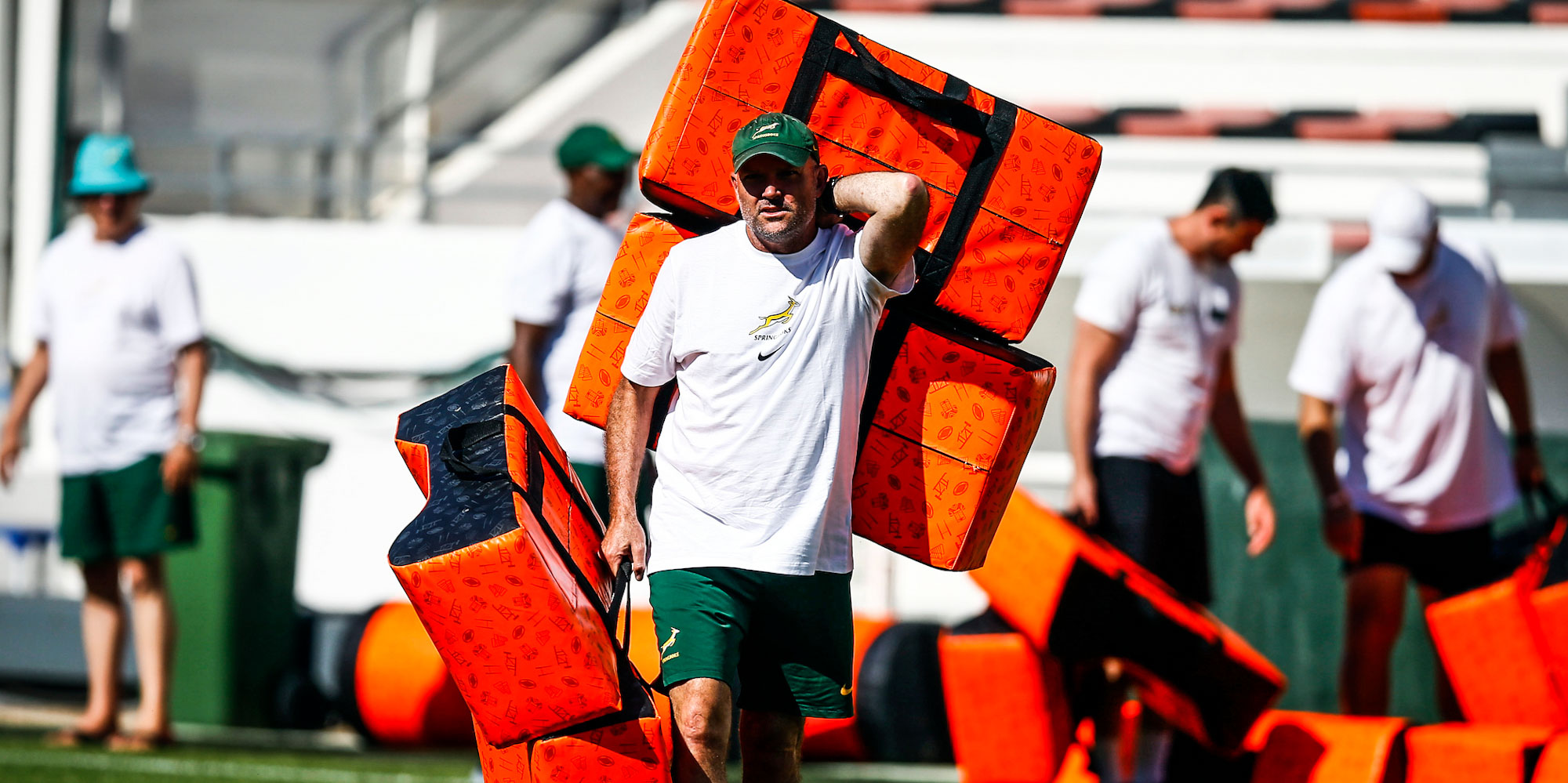 Kolisi also welcomed his team-mate back with open arms and said they would try to make his job as easy as possible on Sunday: "I'm looking forward to working with Handre again. He's experienced, he has a strong personality and he's a general at No 10. We all want him to enjoy himself and not have to play under too much pressure, and we'll try to put him in a position to do so."
Looking forward to the match against Tonga, Nienaber said it was vital to improve a few areas of their game to book a quarter-final spot and attempt to defend their title.
"We obviously have goals if you take the results out of the way," said Nienaber.
"Firstly, we need a win, then a bonus point and a good points difference, and then there are things that we need to rectify which we didn't get right against Ireland. We need to get our foundations right to get to the quarter-final and onward otherwise we won't make it through."
Sunday's match at Stade de Marseille kicks off at 21h00 and will be broadcast live on SuperSport.