Nienaber opts for continuity v All Blacks as Marx strikes 50
Springbok coach Jacques Nienaber made three changes to his starting team that ran out for their final Test against Wales for their opening Castle Lager Rugby Championship fixture against New Zealand in Nelspruit on Saturday, where Malcolm Marx will earn his 50th Test cap.
Marx will run out at hooker in place of Bongi Mbonambi, while Faf de Klerk comes in at scrumhalf in a rotational switch with Jaden Hendrikse. The only injury-enforced change is on the right wing, where Kurt-Lee Arendse will earn his second Test cap in place of Cheslin Kolbe, who is recovering from a broken jaw.
Both Mbonambi and Hendrikse will play off the replacements bench, where the only other change is the inclusion of Salmaan Moerat (lock) in the place of Elrigh Louw (loose forward).
"One of the changes to the starting team were injury-enforced with Kurt-Lee coming in for Cheslin, and with Malcolm, we feel it is a big occasion to play one's 50th Test so it will be good for him to start, while we believe Faf's experience and style of play will complement our game against the All Blacks," said Nienaber.
"These changes resulted in direct swaps to the bench for Bongi and Jaden, and with Salmaan covering lock we can either use Franco (Mostert) at lock or flanker, and we have Kwagga (Smith) who can also provide cover in the loose trio and even on the wing if needs be."
Nienaber added: "We played two Tests with a similar team in the Castle Lager Incoming Series, and we feel this is the right squad for this specific challenge against New Zealand.
"The All Blacks are strong all around and they will come to Nelspruit desperate to avenge their series defeat against Ireland and to prove that they remain one of the powerhouses in world rugby, so we believe experience and physicality will be vital in this Test."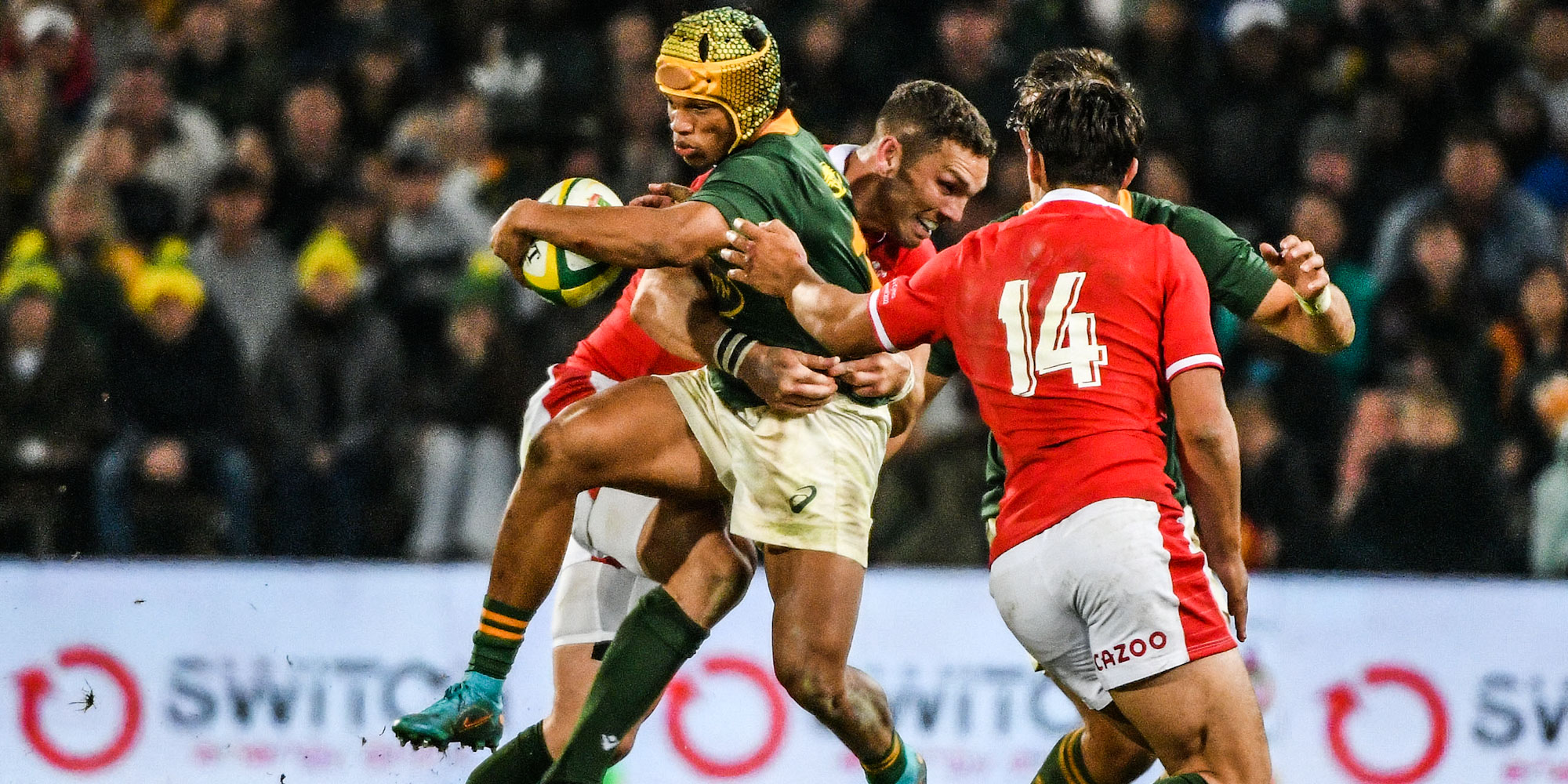 Nienaber spoke highly of Marx as he faces the important career milestone of 50 Test caps: "We are very proud of Malcolm's achievement, and we wish him all the best for the game. He is a true warrior, and he epitomises what we stand for as the Springboks.
"But as we said with the recent milestones of Eben (Etzebeth) and Bongi (Mbonambi), we are preparing for a challenging Test which will be vital in setting the tone for our Castle Lager Rugby Championship campaign this year and that is our focus.
"The occasion will be so much more special for Malcolm if we win the Test, and the entire team need to do their best so that he can look back at this occasion with good memories."
Nienaber anticipates the All Blacks to come out guns blazing in their opening two matches at the Mbombela Stadium (Saturday, 6 August) and at Emirates Airline Park in Johannesburg (13 August) and said they are expecting an equally big onslaught to that which they faced against them in the past.
"The Springboks and All Blacks have a unique rivalry, and we always bring the best out of one another," said Nienaber.
"They will play a different style of rugby to Wales, and we have been preparing for that, and like many of the northern hemisphere teams, their set pieces are strong, and they have fantastic skills in their backline, so we'll have to be at our best to register a win.
"That said, we had our review of the Wales Tests and we know where we need to improve, and last week's training camp in Hazyview allowed us to focus on those areas of our game.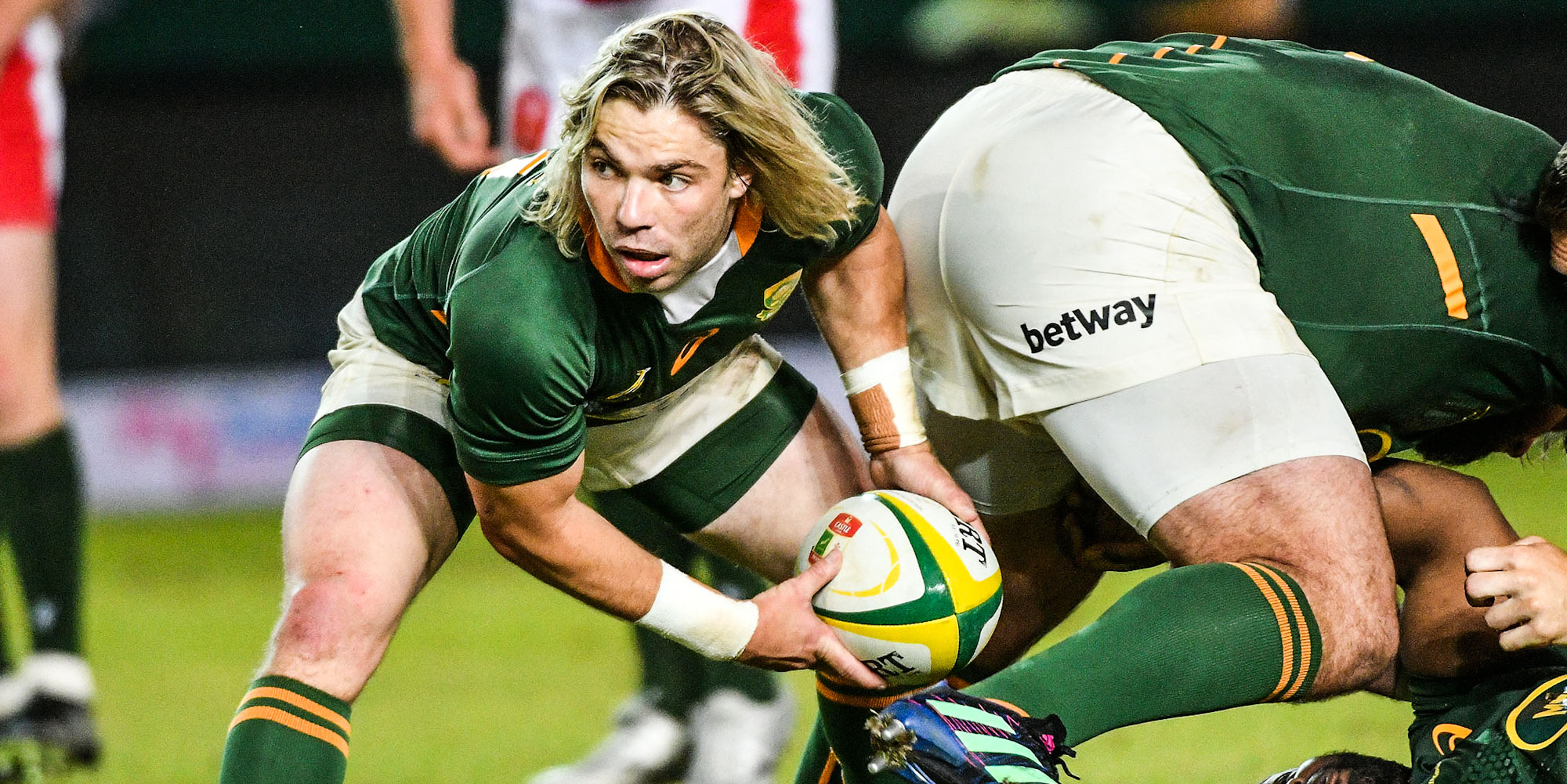 "This week our focus is more on New Zealand and the areas of the game that we feel will be vital to give us the best possible chance to start the series on a positive note, and we've been working hard on that, and we will continue doing so in the build-up to the match.
"New Zealand have always tested us to the limit, and it will be no different in the next two weeks."
Springbok team to face New Zealand in Nelspruit:
15 – Damian Willemse (DHL Stormers) – 18 caps, 12 pts (1t, 2c, 1p)
14 – Kurt-Lee Arendse (Vodacom Bulls) – 1 cap, 0 pts
13 – Lukhanyo Am (Cell C Sharks) – 28 caps, 25 pts (5t)
12 – Damian de Allende (Wild Knights) – 60 caps, 35 pts (7t)
11 – Makazole Mapimpi (Cell C Sharks) – 27 caps, 100 pts (20t)
10 – Handre Pollard (Leicester Tigers) – 62 caps, 633 pts (7t, 86c, 138p, 4d)
9 – Faf de Klerk (Canon Eagles) – 38 caps, 25pts (5t)
8 – Jasper Wiese (Leicester Tigers) – 13 caps, 0 pts
7 – Pieter-Steph du Toit (Toyota Verblitz) – 60 caps, 25 pts (5t)
6 – Siya Kolisi (captain, Cell C Sharks) – 65 caps, 35 pts (7t)
5 – Lood de Jager (Wild Knights) – 58 caps, 25 pts (5t)
4 – Eben Etzebeth (Cell C Sharks) – 100 caps, 15 pts (3t)
3 – Frans Malherbe (DHL Stormers) – 48 caps, 5pts (1t)
2 – Malcolm Marx (Kubota Spears) – 49 caps, 55 pts (11t)
1 – Trevor Nyakane (Racing 92) – 56 caps, 5pts (1t)
Replacements:
16 – Bongi Mbonambi (Cell C Sharks) – 50 caps, 55 pts (11t)
17 – Steven Kitshoff (DHL Stormers) – 61 caps, 5pts (1t)
18 – Vincent Koch (Wasps) – 34 caps, 0 pts
19 – Salmaan Moerat (DHL Stormers) – 1 cap, 0 pts
20 – Franco Mostert (Honda Heat) – 53 caps, 5pts (1t)
21 – Kwagga Smith (Shizuoka Blue Revs) – 21 caps, 5 pts (1t)
22 – Jaden Hendrikse (Cell C Sharks) – 4 caps, 5 pts (1t)
23 – Willie le Roux (Toyota Verblitz) – 74 caps, 60 pts (12t)
Springbok record against New Zealand:
Played 101; Won 37; Lost 60; Drawn 4; Points for: 1625; Points against: 2098, Tries scored 156; Tries conceded 229; Highest score 46-40 in Johannesburg (2000); Biggest win 17-0 in Durban, 1928. Win % 36%.
Milestones:
Only three Tests have previously been played at the Mbombela Stadium in Nelspruit – 2013 against Scotland, 2014 against Wales and 2016 against Argentina.
To date, the All Blacks have played in 50 Test matches on South African soil.
Handre Pollard is the second highest point scorer against New Zealand with 120 points in 12 Test matches – only 19 points fewer than Morné Steyn, with 139 points in 13 Test matches.
Beauden Barrett is third on the All Blacks vs South Africa points-scoring list with 102 points in 15 Test matches.
The following could be a unique record if achieved: the three Barrett brothers need to score 38 points to reach a 1000 points in Test matches. Their contributions are currently: Beauden Barrett (708 points), Jordie Barrett (229 points) and Scott Barrett (25 points).
Miscellaneous:
The total Test caps for the Springbok starting line-up is
There are 234 caps in the backline with 449 caps amongst the forwards. On the bench there are a further 298
The average caps per player in the backline are 33, the forwards 55, while the players on the bench average 37.
Content & Images from – South Africa Rugby
Springboks name 34-man squad for Australian tour
Springbok coach Jacques Nienaber on Monday named a 34-man squad for the Australian leg of the Castle Lager Rugby Championship, with the uncapped Canan Moodie earning a call-up for his first tour in a settled national squad.
Nienaber said the touring squad, which features a good mix of youth and experience, was in line with the standard travelling squad for the Rugby World Cup and he believed that they were the right group of players to achieve what they set out to do in the two Tests against Australia in Adelaide (Saturday, 27 August) and Sydney (Saturday, 3 September).
Nienaber said he would make changes to the squad for the two Tests against Argentina in Buenos Aires and Durban as he looks to give his expanded group of players a chance to prove themselves with an eye on the Rugby World Cup which will be hosted in France next year.
"We have been working with a large group of players for the last few months and we believe this will pay off in the long run as we look to expand our depth for the Rugby World Cup and beyond," said Nienaber.
"Since we are going on tour, however, we will take a group of players that is more in line with the size of a Rugby World Cup squad, and our thought process is that we will have two groups of players – one who will participate in the Australian leg of the competition and another for the Argentina matches.
"This way we can manage the players as well as possible on tour, while at the same time ensuring we continue to develop our depth and give the players opportunities to prove themselves with a little over a year to go before the Rugby World Cup kicks off."
Moodie, who was called up to the squad as utility back cover following the suspension handed to wing Kurt-Lee Arendse for a dangerous tackle, is the only uncapped player in the group and will travel with the Springboks for the first time, providing cover at wing and fullback. His presence also fills the void left by Cheslin Kolbe, who is on the road to recovery from a broken jaw, which will see him only return for the last Test against Argentina.
With Bongi Mbonambi (hooker) ruled out for four weeks after suffering a knee injury at training last week, Deon Fourie will serve as back-up to Malcolm Marx and Joseph Dweba, while Damian Willemse's versatility in the backline will see provide cover at flyhalf, centre and fullback.
"Bongi has been ruled out for four weeks, but Deon, who is an experienced hooker and flank, has been practicing his lineout throws with us, so we are confident that he will be able to fill that void for us in these matches," said Nienaber.
"We are also excited to see how Canan slots in during the next few weeks and to see how he adapts to our structures and systems, and we believe he has the skills to slot in for Kurt-Lee and Cheslin.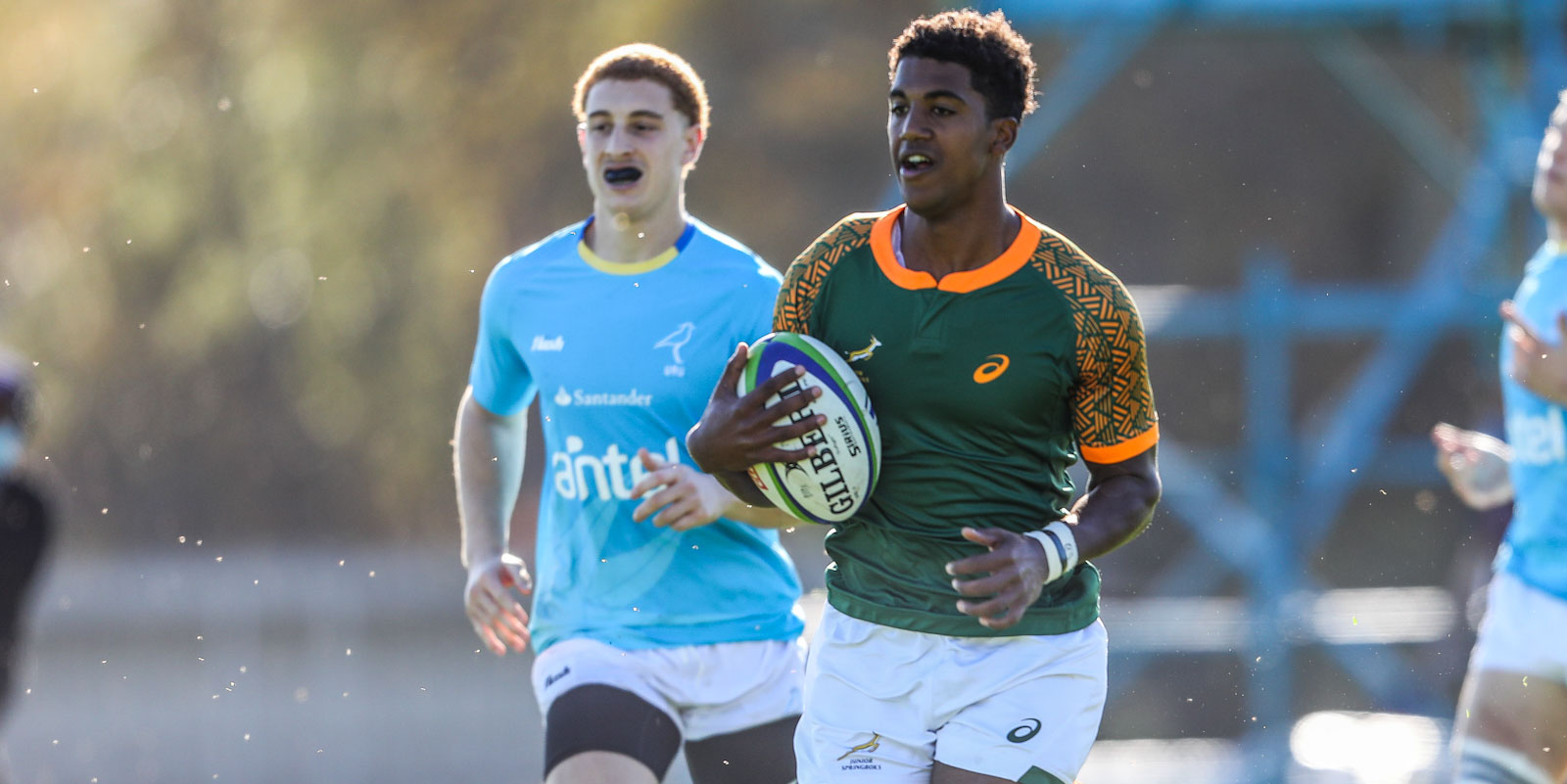 "This is a settled group of players and includes a wide spread of experience and young players who have made their presence felt, and we believe that they have what it takes to guide us back on track in the Castle Lager Rugby Championship in the matches against Australia."
The Springboks are currently on a short break and will depart on Thursday for the tour to Australia and Argentina.
"We are bitterly disappointed about the defeat against New Zealand last weekend, and we know that we have to be at our best to fight back in the next four matches of the competition to keep us in contention to win the tournament," said Nienaber.
"We saw what Australia are capable at home last year and we know that we will be tested thoroughly.
"The last time we beat the Wallabies in Australia was in 2013, so we have a big mountain to climb over there, but that said, we have looked at our game against New Zealand and we know what areas we need to improve on, and we will put in the hard work on the field to iron out those aspects when we arrive in Australia.
"It is going to be a tough tour, but we know what our players are capable of, and we are determined to make our nation proud."
Springbok touring squad:
Props: Steven Kitshoff (DHL Stormers), Vincent Koch (Wasps), Frans Malherbe (DHL Stormers), Ox Nche (Cell C Sharks), Trevor Nyakane (Racing 92)
Hookers: Joseph Dweba (DHL Stormers), Malcolm Marx (Kubota Spears)
Locks: Eben Etzebeth (Cell C Sharks), Lood de Jager (Wild Knights), Salmaan Moerat (DHL Stormers)
Loose forwards: Pieter-Steph du Toit (Toyota Verblitz), Siya Kolisi (Cell C Sharks), Elrigh Louw (Vodacom Bulls), Kwagga Smith (Shizuoka Blue Revs), Jasper Wiese (Leicester Tigers), Duane Vermeulen (Ulster)
Utility forwards: Deon Fourie (DHL Stormers), Franco Mostert (Honda Heat)
Scrumhalves: Faf de Klerk (Canon Eagles), Jaden Hendrikse (Cell C Sharks), Herschel Jantjies (DHL Stormers), Cobus Reinach (Montpellier)
Flyhalves: Elton Jantjies (NTT Docomo Red Hurricanes), Handre Pollard (Leicester Tigers)
Midfielders: Lukhanyo Am (Cell C Sharks), Damian de Allende (Wild Knights), Andre Esterhuizen (Harlequins)
Outside backs: Makazole Mapimpi (Cell C Sharks), Willie le Roux (Toyota Verblitz), Canan Moodie (Vodacom Bulls), Warrick Gelant (Racing 92)
Utility Backs: Damian Willemse (DHL Stormers), Jesse Kriel (Canon Eagles), Frans Steyn (Toyota Cheetahs)
Content & Images from – South Africa Rugby
Win over South Africa a 'launching pad' – Foster
Argentina's record win over Australia on Sunday in the Lipovitan-D Rugby Championship ensured the All Blacks could not afford to lower their sights or expectations.
Coach Ian Foster left the All Blacks' post-Ellis Park celebrations to watch the second half of the Pumas-Wallabies Test and said Argentina looked good.
The All Blacks arrive home on Tuesday and have a break until the weekend before assembling in Christchurch to prepare for Argentina.
But they knew their win over South Africa was a starting point.
Foster said, "I was pleased with the way we dealt with the challenge. I'm pleased the team is growing through a bit of adversity.
"We wish the road was smooth all the time but, unfortunately, life does throw you a few curve balls. But, it's how you respond to that, and so we're working hard and [we] got some rewards."
Foster said he was proud of the Johannesburg performance.
"You always know you are going to get some obstacles here. You look at three [losses] in a row, and that's a bit of adversity that a lot of this group haven't had, including me.
"But we have to fix it. Our mindset is about trying to move on and grow the team.
"We've got an absolute goal for a Rugby World Cup at the end of next year, and in many ways, this needs to be the launching pad for that.
"I'm not resentful about anything that has happened in the last three weeks. I'm disappointed we lost, but I also think that we're using it the right way to fuel a team that's united, and has a growth mindset, and just wants to play for this country."
Foster had a sense of unfinished business with the team.
The win was not just about last week but about what they had done since getting together again after the Ireland series and working on clarifying aspects of their game.
"There's no doubt we had to move some aspects of our game. We've been pretty open in sharing that. But, rest assured, we work hard at trying to improve.
"I know we got told what we're doing wrong, but we're working hard inside our camp to improve.
"We're very proud at being part of this team, so the work we got last night was a reflection of a growth in a whole lot of aspects."
Foster said he expected to receive feedback after the trip and would assemble with the team in Christchurch.
Reflecting on the public and media pressure in the coaching role, he said it was something you got used to, but that was sad.
"I get used to the personal side, but that's the nature of the job. They're the distractions that I ask the players to put to one side."
It was the same when running out to play in front of a big crowd or when referees' decisions went against them. The players had to put those types of things to one side too.
"In all honesty, I think the playing group has probably been demanding that of me. 'Stop sulking, get on with it and do your job.' Sometimes, the answer is in the simplicity of that."
Foster said there was no manual for the coaching job. It was a case of trusting himself and the people he worked with and being open to all the ideas received while developing a plan.
He had done that while undergoing massive growth in the role.
"I'm a different coach to what I was 12 months ago. You've got to remember last year, we won 12 out of 13 games in a row, and no one was talking about us.
"So, what this team learns is when things go wrong you certainly hear it. It's how we deal with that."
Foster said the pressure on the side's midfield had been a concentration for the selectors since the start of the campaign, partly because of the need to establish combinations while also coping in the absence of players like Jack Goodhue and Anton Lienert-Brown.
They had introduced players in the front row in Saturday's win.
Forward coaches Greg Feek and Jason Ryan deserved pats on the backs for their work, and so did the forwards.
"When forwards don't get what they want in a Test match they are normally not nice to talk to for the next couple of days, and that's because they take it personal, and we've got massive quality in that pack but it needed to lift and it has lifted."
Content & Images from – New Zealand Rugby
Rennie savages Wallabies after dominant Argentina defeat
Wallabies coach Dave Rennie has expressed his frustration after a record defeat to Argentina in San Juan.
The visitors were dominated from siren to siren as Los Pumas cruised to a 48-17 win, looking like a side properly dealing with life without Michael Hooper and a near full XV of players.
Purchase your tickets for the O'Reilly Cup and the Rugby Championship
It caps off a fortnight that has seen multiple late changes and season-ending injuries to the likes of Quade Cooper and Samu Kerevi as Rennie lambasted their inability to shut down the high ball.
"Massive disappointment. That's not good enough," coach Dave Rennie said after the match.
"We conceded four tries with kicks in-between us and got dominated in the collision area. We created plenty of opportunities but we have to be patient and our rucks not a disaster.
"We just weren't clinical enough…we definitely lacked cohesion with a few changes. We'll look at the footage but we're better than that.
"It's a massive disappointment. We want to earn the respect of the country but you don't do it with performances like that."
Captain James Slipper echoed these thoughts, giving credit to an Argentina side that were clinical with ball in hand as dominant in every facet of the game.
"Off the back of a good performance last week, we really wanted to back it up and we fell short of standards today," captain James Slipper added.
"I thought the Argentineans were good today and got the momentum behind them from the crowd, they were a tough team to play catch-up footy against so full credit to them.
"We're excited to get home, it's been a really tough tour for us so we have the South Africans twice at home now which we're really looking forward to and being back in front of our home fans."
Rennie refused to use the growing injury list as an excuse as they were outclassed.
"We would (like to have a consistent team list) but we had a good enough side to do the job," he believes.
"We gave them a few soft points early on and fought our way back into it. We have to better and we'll get a few players back. Whoever puts the jersey on has to front but we weren't good enough."
Content & Images from – Australia Rugby