Minozzi Returns to Italy Squad
Italy's World Cup warm-up campaign is looking a lot brighter after long-term absentee Matteo Minozzi has returned to action
Italy's 2018 break-through star Matteo Minozzi has been named in the nations squad for their upcoming warm-up games against Ireland and Russia.
It comes as much-needed good news for the Italians who confirmed star centre Tommaso Castello would miss the World Cup earlier in the week. 
Minozzi returns following almost a whole season on the side-lines following a ruptured ACL while playing for Zebre last year. This was after he made a massive impression in the 2018 Six Nations where he was nominated for player of the tournament, scoring four tries across the five games.
His talent and room for improvement saw Wasps swoop in and sign him, however, he has been unable to play a single game for them this campaign due to the injury.
Speaking in June the full-back discussed his goal was to be back in time to help his country at the World Cup in Japan, but it was proving a tough task.
"My objective was to be back for this but I had no idea if I would make it. It was a really hard journey, and it's new for me. I'd got to the level I achieved up to then thanks to my talent but I'd never had to work as hard, to take as much care of myself," he said.
As well as Minozzi's return there are call-ups for three uncapped players in Benetton front-rows Marco Riccioni and Engjel Makelara along with Gloucester scrum-half Callum Braley, who qualifies to represent the Azzurri due to his grandparents.
Makelara has been included due to the absence of centurion Leonardo Ghiraldini, who has been out injured since rupturing his knee ligaments in March but is trying to make it back for the World Cup.
Head coach Conor O'Shea is looking forward to testing his side in the coming weeks and noted how hard it will be for Minozzi to come straight back in to test rugby.
"These matches are crucial for achieving the objectives that we set ourselves for the Rugby World Cup," Italy coach Conor O'Shea said of the upcoming fixtures. It is not an easy task for any player to start the season with a test match, but it is the challenge that all teams are facing. The boys have worked incredibly hard in the summer and now are ready for the matches," he said.
The Azzurri start their warm-up games against Ireland next Saturday, August 10th, before playing Russia a week later, after which the squad will be reassessed and announced for their final matches before heading to Japan for the World Cup.
Check Out the Full Squad Below.
Forwards:
Simone Ferrari (Benetton Rugby, 22 caps)
Andrea Lovotti (Zebre Rugby Club, 34 caps)
Tiziano Pasquali (Benetton Rugby, 18 caps)
Nicola Quaglio (Benetton Rugby, 9 caps)
Marco Riccioni (Benetton Rugby, 0 caps)
Federico Zani (Benetton Rugby 7 caps)
Luca Bigi (Zebre Rugby Club, 19 caps)
Oliviero Fabiani (Zebre Rugby Club, 7 caps)
Engjel Makelara (Benetton Rugby, 0 caps)
Dean Budd (Benetton Rugby, 20 caps)
Marco Lazzaroni (Benetton Rugby, 3 caps)
Federico Ruzza (Benetton Rugby, 12 caps)
David Sisi (Zebre Rugby Club, 5 caps)
Alessandro Zanni (Benetton Rugby, 111 caps)
Renato Giammarioli (Zebre Rugby Club, 3 caps)
Giovanni Licata (Zebre Rugby Club, 7 caps)
Maxime Mbanda (Zebre Rugby Club, 16 caps)
Sebastian Negri (Benetton Rugby, 16 caps)
Sergio Parisse (Tolone, 138 caps)
Jake Polledri (Gloucester, 8 caps)
Abraham Steyn (Benetton Rugby, 30 caps)
Jimmy Tuivaiti (Zebre Rugby Club, 3 caps)
Backs:
Callum Braley (Gloucester, 0 caps)
Guglielmo Palazzani (Zebre Rugby Club, 31 caps)
Tito Tebaldi (Benetton Rugby, 32 caps)
Tommaso Allan (Benetton Rugby, 48 caps)
Carlo Canna (Zebre Rugby Club, 32 caps)
Ian McKinley (Benetton Rugby, 8 caps)
Tommaso Benvenuti (Benetton Rugby, 56 caps)
Michele Campagnaro (Harlequins, 42 caps)
Luca Morisi (Benetton Rugby, 25 caps)
Marco Zanon (Benetton Rugby, 1 cap)
Mattia Bellini (Zebre Rugby Club, 17 caps)
Giulio Bisegni (Zebre Rugby Club, 11 caps)
Angelo Esposito (Benetton Rugby, 20 caps)
Jayden Hayward (Benetton Rugby, 17 caps)
Matteo Minozzi (Wasps, 10 caps)
Edoardo Padovani (Zebre Rugby Club, 20 caps)
A fertile breeding ground for international players
One of the significant features to come out of the Springboks' Castle Lager Outgoing Tour this month – and the November international series in general – was how it underlined the role played by the Vodacom United Rugby Championship in breeding players for successful roles in their national teams.
Indeed, while Springbok coach Jacques Nienaber was initially criticised for ignoring home based players who'd made their names in the Vodacom URC, by the end of the calendar year that had changed, with several newcomers who either first captured the eye in the 16-team cross-hemisphere competition or grew their game there, making an indelible mark.
Understandably, the 2021/22 finalists, the eventual champions DHL Stormers and the Vodacom Bulls, led the way when it came to providing breakout opportunities for players within their system.
Kurt-Lee Arendse, who scored the thrilling try that had Twickenham aghast and even England supporters marvelling at his pace and skill, was one such player.
Arendse made his debut for the Boks in the second Test against Wales in Bloemfontein in July, but it was after France-based Cheslin Kolbe was injured in the third and deciding game against the Welsh that Arendse got his chance to show that he could transfer his sublime form for the Bulls in the Vodacom URC onto the international stage.
He turned in a stellar performance in his first outing against the All Blacks in Nelspruit in August, with his pace and his mastery in the air being a constant thorn to the New Zealanders and he capped it with the opening try of the game.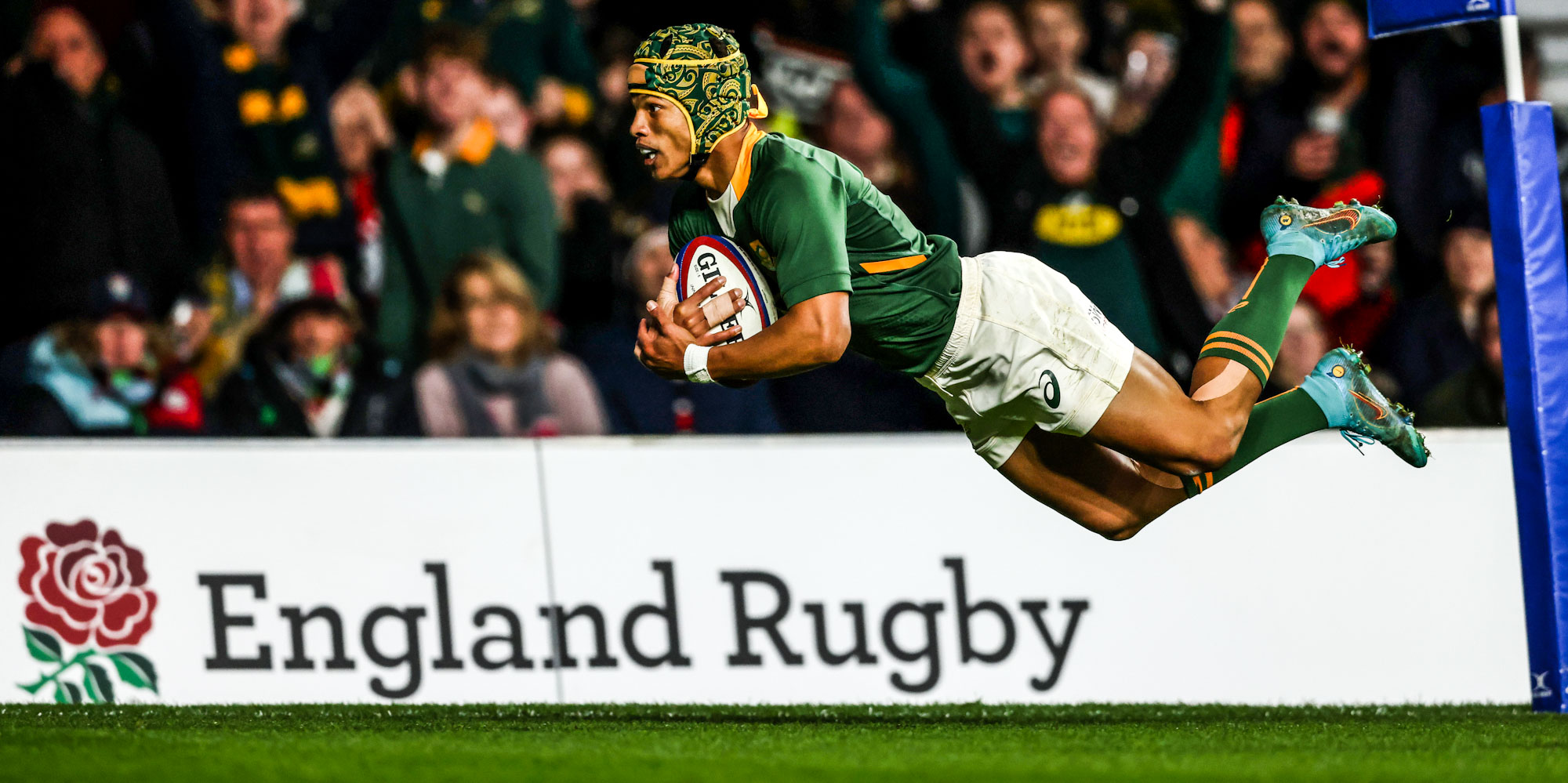 Unfortunately, Arendse blotted his copybook when red carded following an unfortunate clash with an airborne Beauden Barrett and the injury sustained in that incident, plus the subsequent suspension, prevented him from playing for much of the rest of the Boks' Castle Lager Rugby Championship campaign.
He did return though for the final game against Argentina in Durban as a replacement and in no time at all after he came on, Arendse scored one of his trademark tries, running it in from near the Pumas 10 metre line, off the last move of the game.
The Boks didn't hit target in that game, and ended second in the Rugby Championship, but Arendse's star shone, as it did again on the end of season tour.
Arendse was a big contributor to the great Bok counter-attacking that appeared to stun the French in Marseille, his opening try and then the follow up to complete the brace was a talking point when Italy were laid to the sword in Genoa, and then came the Twickenham highlight to the tour.
Arendse is being talked about as a special player, and it was in the Vodacom URC that he first got experience of playing against overseas players and overseas conditions.
Ditto his young Vodacom Bulls team-mate Canan Moodie, who made his Test debut at the age of just 19 as Arendse's replacement during the international season. His excellent try, plucking a kick out of the air and then running 30 metres to score, was the turning point in the Boks' favour against the Wallabies in Sydney and will be part of any end of year highlights package.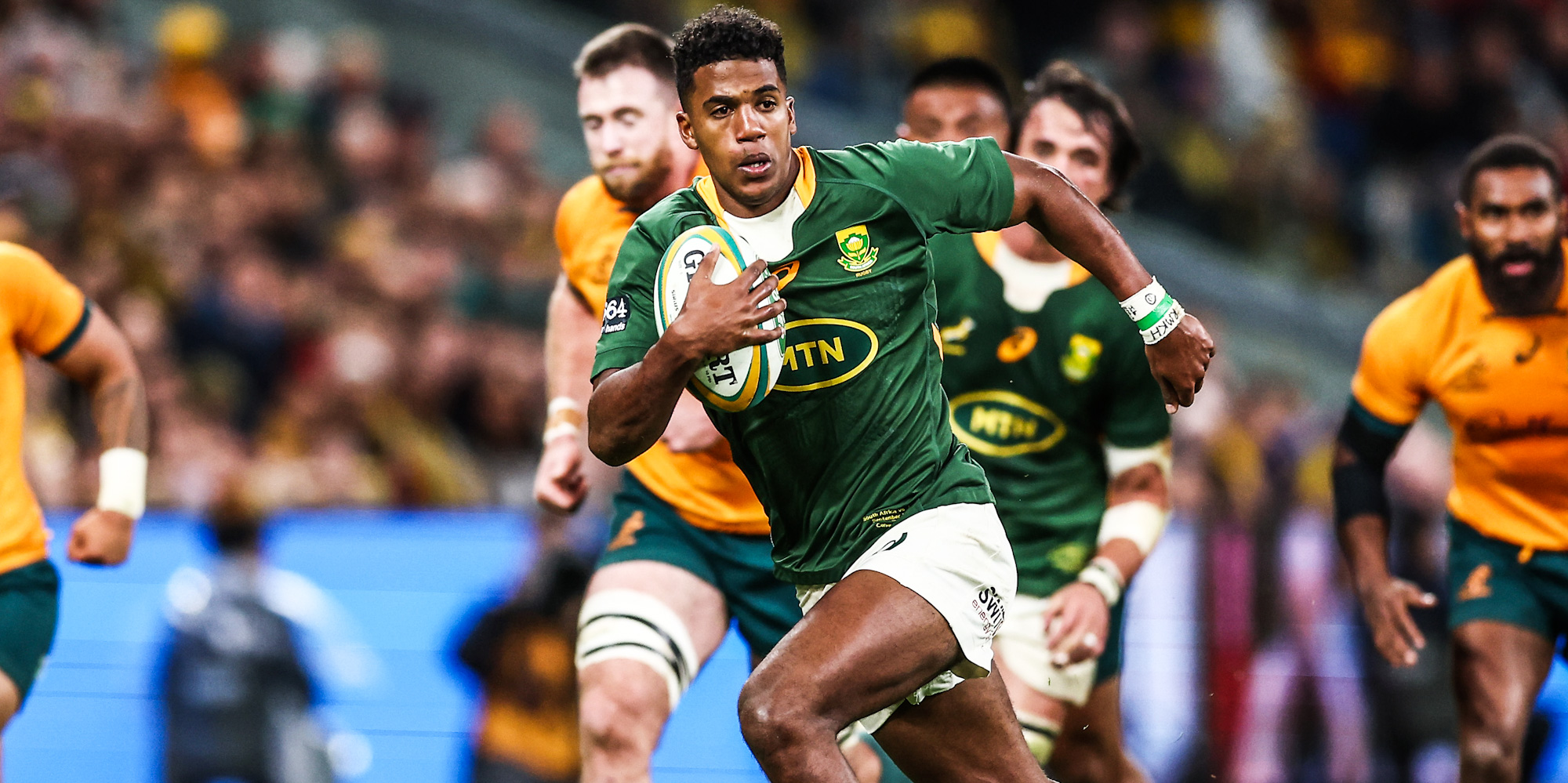 Moodie started the 2022 calendar year playing Currie Cup rugby for the Bulls, and made a big statement in his debut against DHL Western Province before quickly being elevated into the Vodacom URC team, where his potential was picked up by the national coaches.
Elrigh Louw was another Bulls player who has used the Vodacom URC as a platform to bid for national honours, and he played in the competition in its previous guise as the PRO14 when he was at the Southern Kings.
That was where Louw was first spotted by South Africa's Director of Rugby Rassie Erasmus, probably on the recommendation of the then Kings DOR Robbie Kempson.
Louw played for the SA 'A' team in November, but in his absence the 2021/22 Vodacom URC Player of the Year and Players' Player of the Year, Evan Roos, made full use of his opportunity.
With only the one cap earned in the second Test against Wales to his credit before the tour, Roos played off the bench in the destruction of Italy before transferring his Vodacom URC form to the international stage in London a week later. In that game, fellow DHL Stormers player Marvin Orie also showed he belongs at international level.
Although Orie had played for the Boks before, and was first capped while still at the Emirates Lions, this was his breakout year at international and he confirmed it at Twickenham, where no doubt his experience of being part of the winning Stormers effort in the Vodacom URC final helped his confidence.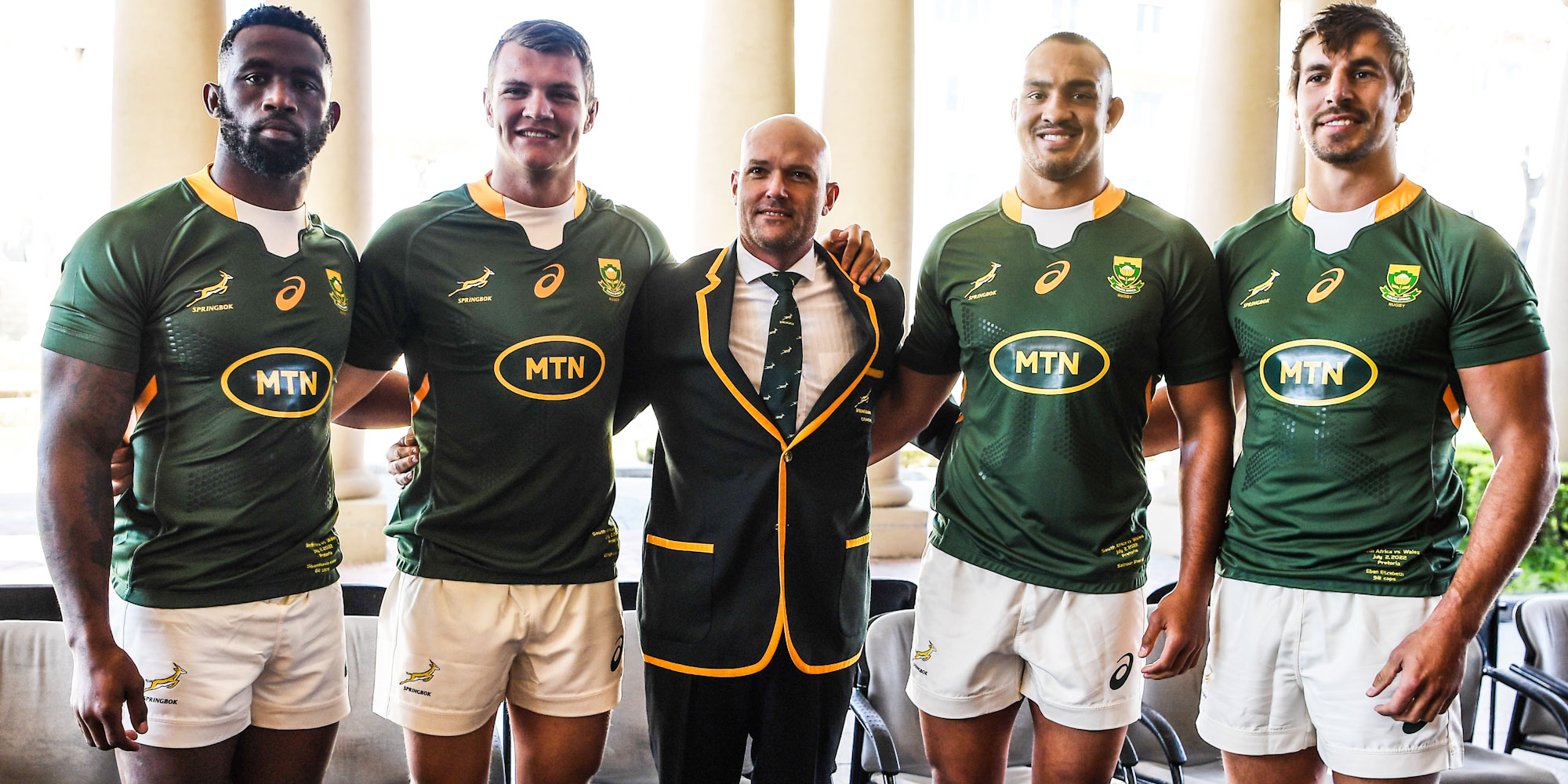 His Stormers teammate Salmaan Moerat would have added more Bok appearances in 2022 were he not playing behind arguably the world's finest lock, Eben Etzebeth, who will grace the Vodacom URC in the colours of the Cell C Sharks going forward.
Deon Fourie and Manie Libbok were two other DHL Stormers players who joined Roos and Moerat in making their Bok debuts this year, with Libbok looking the part as a replacement in Genoa.
Libbok is one of the Vodacom URC's biggest success stories – not long ago he was struggling to establish himself in the starting teams of the Bulls and Sharks, but thanks to the platform given to him by the Stormers, he has grown into a genuine international quality player.
Which of course is exactly what Damian Willemse is now. The utility back had also played for the Boks before this year, and was with them as a replacement at the Rugby World Cup in Japan in 2019.
But it was off the back of his Vodacom URC form, and the experience of being in the winning team, that Willemse took the bit properly between his teeth in the international season and made the graduation from fringe international player to the world class player he ended the year as.
And then there is Junior Springbok captain Sacha Feinberg-Mngomezulu, who we first saw when he played as a replacement in last season's quarter-final, was selected to tour but didn't play.
With Italy beating Australia for the first time, and Ireland going through the autumn internationals unbeaten, plus Scotland pushing New Zealand all the way before thumping Argentina and being unlucky not to beat the Wallabies at the start of this phase, it could be argued that the success of the Vodacom URC, and the impetus given to the competition by South African participation, was writ large.
Spencer looking to bring innovation to Sky Super Rugby Aupiki
Former All Blacks and Blues first five-eighths Carlos Spencer hopes to pass on the sort of rugby that marked his career as a backs coach for the Blues women's side in Sky Super Rugby Aupiki in 2023.
The 99-time Blues' pivot played 44 Tests for the All Blacks and 89 games for Auckland during his career spanning the turn of the century. He also played for Northampton and Gloucester in the English Premiership.
Since building his coaching record after completing his rugby-playing career in South Africa in Gauteng, he has coached in the Republic, the United States and the Hurricanes in Wellington.
Now he has taken the chance to join head coach Willie Walker and fellow assistant coach Linda Itunu with the Blues.
Spencer, 47, said: "When I was playing, I always liked to bring a bit of innovation and 'out-of-the-box' thinking to the table. Now, as a coach, I want to encourage and help grow those same traits in our Blues wahine."
Like most of New Zealand, he was caught up in the Black Ferns' World Cup success, and he anticipates there will be a follow-on effect in Sky Super Rugby Aupiki.
"You've seen the rise of women's rugby and the way the public got right in behind the Black Ferns.
"We're at an exciting juncture for the sport, and I'm looking forward to getting involved and doing what I can to help grow and support women's rugby."
"I've known Willie [Walker] for a while. We've thrown the touch ball around and have a good relationship. He's done some fantastic work with the Auckland Storm in the Farah Palmer Cup, and I'm looking forward to exchanging ideas and getting the backline humming.
"I don't know Linda, but have seen her exploits on the field for many years with the Black Ferns – she was an enforcer on the field,"
Blues chief executive Andrew Hore said having Spencer on board with the Blues organisation was special, and was an example of harnessing the resources available within the franchise's region.
Constructive talks between World Rugby, Erasmus
World Rugby CEO Alan Gilpin and World Rugby Director of Rugby Phil Davies met with South Africa Director of Rugby Rassie Erasmus on Thursday and held positive discussions regarding recent events and match official communications in general.
Views were exchanged resulting in a better understanding of the respective positions.
There was agreement that further dialogue was needed in terms of enhancing the process that operates between teams and match officials to ensure all can play their part in creating great spectacles and avoid frustration but in a way that underpins the respect for match officials, coaches and players.
Further dialogue will continue after today's final Springbok test of the year.