Du Toit on France clash: "There is pressure on both teams"
The Springboks are expecting a tough onslaught from France in their Castle Lager Outgoing Tour match at Stade Velodrome in Marseille on Saturday, but said they were ready for the challenge.
The Boks had their last field training session on Wednesday before Friday's traditional captains run, and experienced flanker Pieter Steph du Toit and exciting wing Kurt-Lee Arendse – who addressed the media from the team's base in Toulon, in the south of France – said the players were raring to go against the second ranked team in the world.
"They have an extremely good record having won 11 games in a row, so it is going to be tough to match them," said Du Toit.
"They have the heaviest pack of forwards, so as a team we'll make our plans for the weekend."
Du Toit said they have been putting in the work on and off the field in all facets of play, one of which was the mauls.
"We've have been working hard to improve our mauls," he said.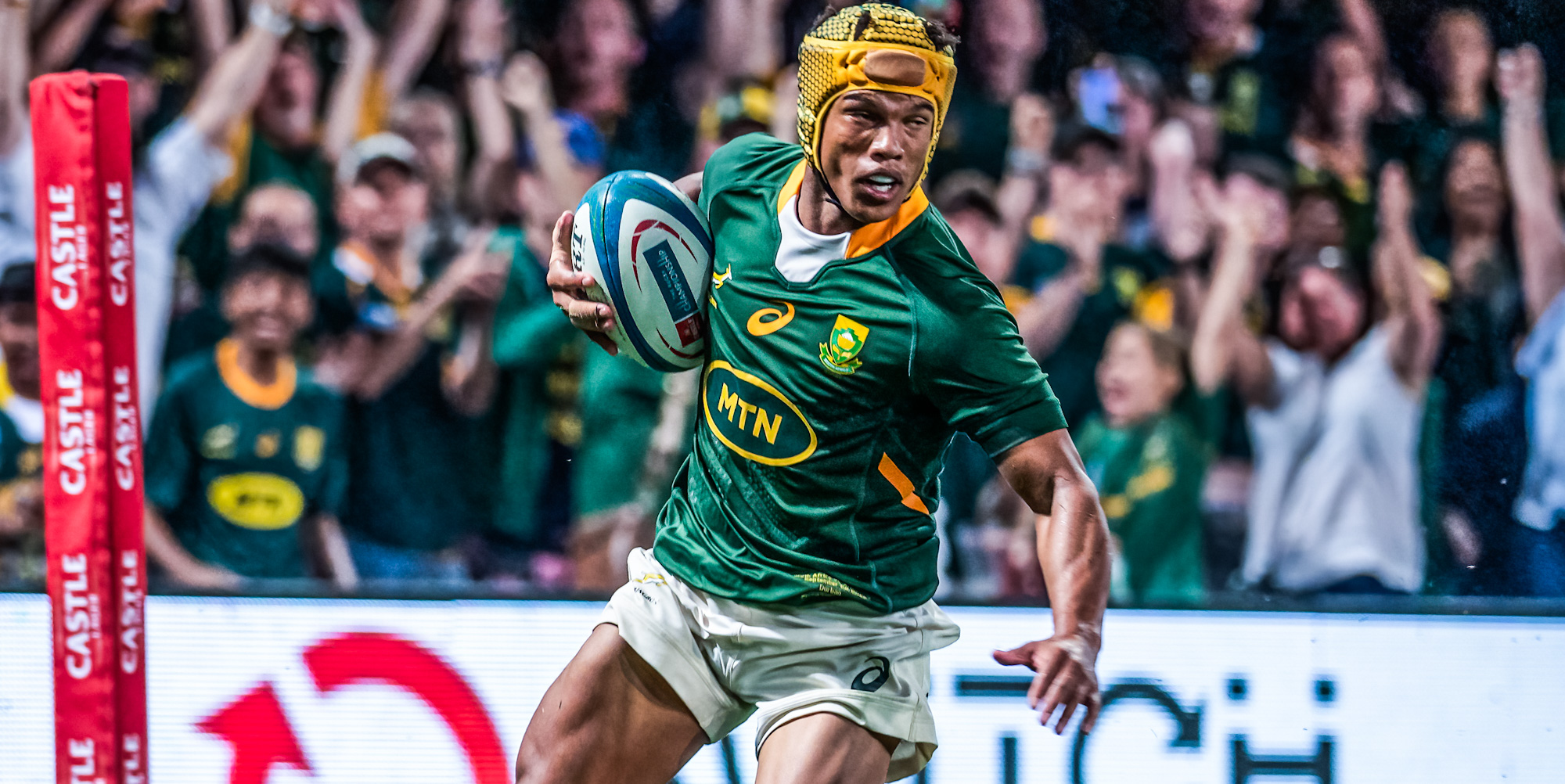 "Opposition teams always come up with new tricks against us and the more we experience that, the better it will be as it allows us to learn to adapt."
Arendse expected an equally big challenge from the French backs and said: "We've been preparing well for the match. We know they kick a lot, so we are expecting that from them. Willie (le Roux) and Cheslin (Kolbe), with the experience they have, have been helping me so much. We are prepared so we must just take it to France."
Arendse added: "We will try to look for the running option and try to exploit them on the outside."
Of France's renowned kicking game, Arendse said: "We will handle it. We also have a good kicking game plan. Things might change on the day, but we must be up for whatever France decides to bring. We must be ready to adapt and handle it."
Asked if there was pressure on the team to win this weekend after suffering a defeat against Ireland, Du Toit said: "We didn't use the opportunities we created last week, but I would say there is pressure on both sides to do well this weekend. They are ranked second in the world, and we know we have to be up for the challenge mentally and physically."
Constructive talks between World Rugby, Erasmus
World Rugby CEO Alan Gilpin and World Rugby Director of Rugby Phil Davies met with South Africa Director of Rugby Rassie Erasmus on Thursday and held positive discussions regarding recent events and match official communications in general.
Views were exchanged resulting in a better understanding of the respective positions.
There was agreement that further dialogue was needed in terms of enhancing the process that operates between teams and match officials to ensure all can play their part in creating great spectacles and avoid frustration but in a way that underpins the respect for match officials, coaches and players.
Further dialogue will continue after today's final Springbok test of the year.
Nienaber, Kolisi praise Boks for special win
Springbok coach Jacques Nienaber and captain Siya Kolisi praised the team for their brave effort to earn their first win over England at Twickenham since 2014, and their first personal victories in London as they registered a rewarding 27-13 victory on Saturday.
The Boks built up an encouraging 14-3 halftime lead and managed to stretch it to 27-6 in the 57th minute before being reduced to 14 men for the last 20 minutes after replacement prop Thomas du Toit received a red card for a dangerous tackle. Despite this, the team hung on as if their lives depended on it to snatch the memorable victory.
The result saw the Boks win two of their four matches on the Castle Lager Outgoing Tour – with the two narrow defeats being against the first and second ranked teams in the world in Ireland and France.
"We've had a couple of special results as a team, but this was the first win for Siya and I at Twickenham, so it's very special to us," said Nienaber.
"The forwards were outstanding and created a good platform for our backs to attack, so all-in-all, it was a fantastic team effort."
Kolisi echoed lauded the entire team for their efforts to make the victory possible.
"Sometimes we take it for granted what a special environment one is in and the great coaching team we have," said Kolisi.
"When we got together with most of this coaching team in 2018, we all bought into the plans and the synergy and the way we work together is really special in this group."
Nienaber was delighted with the way some of the young players rose to the occasion and said: "With this match being outside of the international Test window there were a whole lot of players who were not available for selection, but we have a lot of players knocking on the door and it was great to give those guys an opportunity tonight.
"It's always good to give those players a chance under such pressure in front of a packed Twickenham, which can be pretty hostile, and they stood up today."
Asked what he had told his players when they were reduced to 14 men, Kolisi said: "We actually said last week there is nothing we haven't faced together as a group year. We've even been in situation when we had a red card, so the players knew what to do.
"Everyone knew they had to work harder to make up for the extra man, and the way the forwards played was great, and everyone did their bit to get the result."
Wrapping up the tour, Nienaber said: "This was one of the most enjoyable four weeks we've had had even though we only got a 50% win record. The way the team, coaches, management and the game drivers made plans and worked tightly together with it was great, and we can take a lot from this going forward."
The team will make their journey back to South Africa on Sunday and arrive on their home soil on Monday.
Brilliant Boks outclass England at Twickenham
Fourteen-man South Africa produced a commanding performance at Twickenham to end the Castle Lager Outgoing tour on a high note with a 27-13 (halftime 14-3) victory over an outclassed England on Saturday.
Replacement prop Thomas du Toit was sent off for a high tackle with 20 minutes remaining to suggest that the game might be back in the melting pot. Although the Boks led 27-6 at that point, England had come back from a 19-point deficit to draw with the All Blacks seven days earlier.
But there was to be no 'miracle' for the home team this time; no last-minute disappointment as was suffered here a year ago or by a 14-man Boks in Marseille three weeks ago. It was a massive statement of depth and intent as a mix-and-match combination showed resolve and great composure to close out the game against an ultimately confounded home team.
A Springbok team shorn of backline regulars Handre Pollard, Lukhanyo Am and Cheslin Kolbe as well as pack stalwarts Lood de Jager and Pieter-Steph du Toit – and featuring their third-choice goal kicker in Faf de Klerk – ultimately commanded Twickenham after beginning cautiously but growing into the game with increasing confidence.
They scored two tries through the outstanding wing Kurt-Lee Arendse – scoring in a fifth successive test – and lock Eben Etzebeth to one from Henry Slade, while flyhalf Damian Willemse dropped two goals with Faf de Klerk kicking a conversion and three penalties.
South Africa's Rugby World Cup dominance of the English pack resurfaced as scrum and maul were dominant with free-kick and penalties arriving as early as the first two scrums. De Klerk was wide with his first shot at goal from the penalty and England took the lead in the 11th minute when centre Owen Farrell was successful with his second kick at goal. Unbelievably his first attempt had gone wide from straight in front.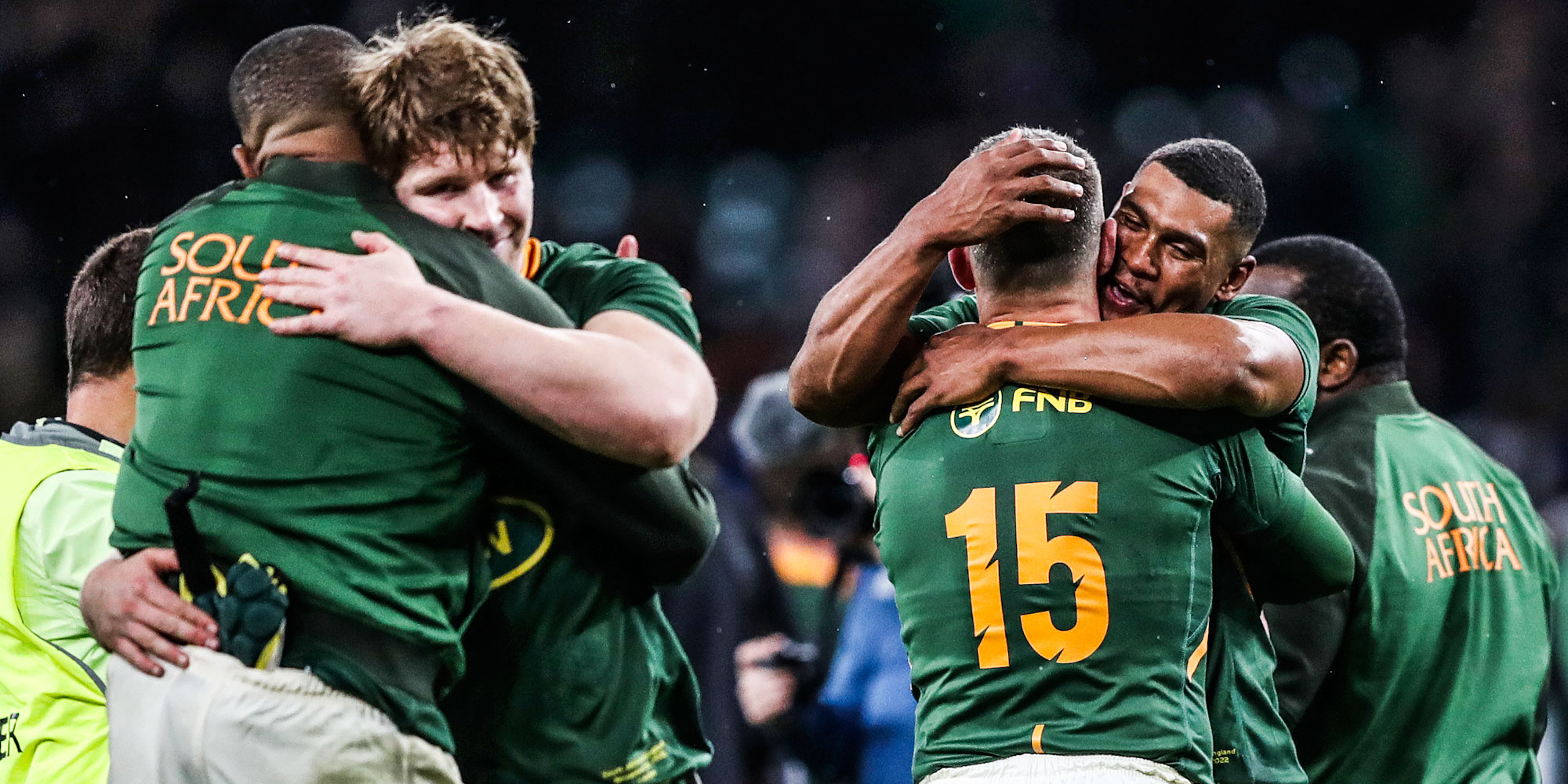 A neck tackle on No 8 Evan Roos presented De Klerk with an easier opportunity to level the scores mid0way through the half before Farrell – to general astonishment – missed another straightforward opportunity a couple of minutes later.
But that was to be England's last sniff of first-half points as the Springboks dominated the second quarter.
A succession of lineout drives put the England pack on a warning and one from one such drive Siya Kolisi was held up over the line (Roos did manage to ground half a second after the whistle had gone).
England's defence was resolute however and it rook a cool 30-metre drop goal from Willemse – his first for the Springboks – to edge his team into the lead for the first time on the half hour.
Three minutes later the game burst to life.
England had kicked frequently and from one such bomb on to Willemse just inside his own 22 the Bok backs cut England to pieces. The Bok flyhalf evaded the chasing Freddie Steward, fed the ever-alert Willie le Roux on his inside who in turn passed to Arendse on the right-hand touchline 40 metres out. The flying wing had Marcus Smith in front of him, but an inside-outside swerve saw him speed past the flat-footed defender without being touched.
Straight from the restart South Africa again broke from deep – dummying the box kick and breaking away through Willemse and Arendse – and although it didn't lead to points the half ended on top with De Klerk kicking his second penalty to give his team an 11-point lead (14-3).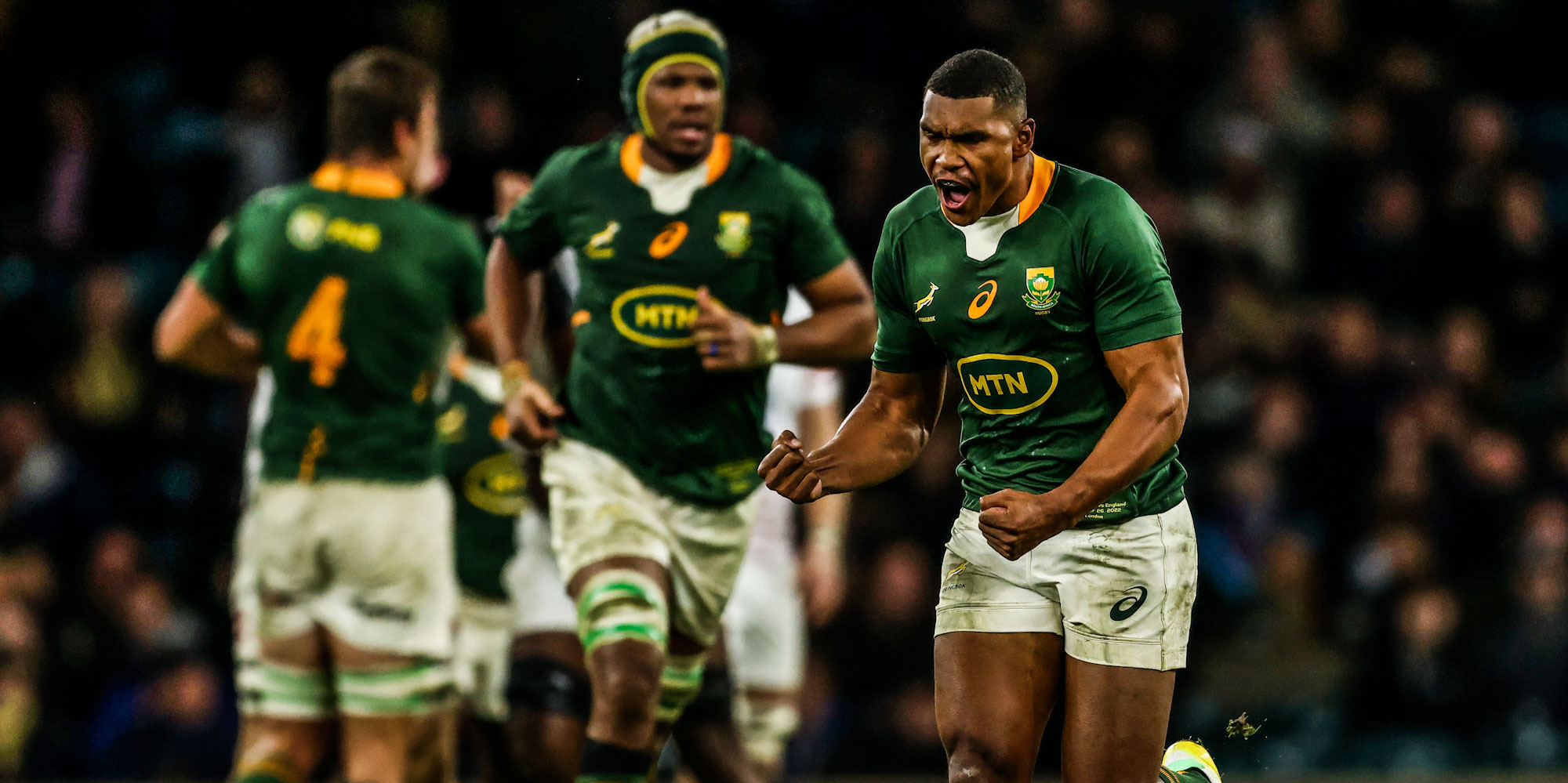 Willemse's comfort in the No 10 jersey was writ large when he landed a second drop two minutes into the new half with cool assurance.
Farrell cancelled it out with his second successful penalty from in front after De Klerk strayed offside, but it was a rare moment of success for England as they started clearing their bench early to try and cancel out the Boks' firepower up front.
It di not work initially as the building pressure from a succession of lineout drives led to a yellow card for not rolling away at a ruck by loosefoward Tom Curry. Two minutes later the numerical advantage was rewarded for the Boks. England were forced onto their goal-line and the outstanding Eben Etzebeth scored under the cross bar from a metre out.
De Klerk converted and then added a fabulous penalty  from 50 metres to give the Springboks a three-score lead at 27-6. But the Springboks' fortunes were about to change.
The Bomb Squad's impact had been apparent with the new front row of Malcom Marx, Steven Kitshoff and Thomas du Toit extracting more scrum penalties from the English front row.
But Du Toit's stay was short-lived as he was ed carded with 20 minutes to go for entering a tackle in an upright position and driving with his head and shoulder into England hooker Luke Cowan-Dickie.
That set up a tense final 20 minutes but the resolute, scrambling Bok defence was not to suffer the same fate as the All Blacks' a week before at Twickenham.  
Centre Henry Slade managed to cross in the period, but it was the only sighting the tryline England could manufacture as they trudged from the field, baffled, and beaten.
Scorers:
England 13 (3) – Try: Hery Slade. Conversion: Owen Farrell. Penalty goals: Farrell (2).
Springboks 27 (14) – Tries: Kurt-Lee Arendse, Eben Etzebeth. Conversion: Faf De Klerk. Penalty goals: De Klerk (3). Drop goals: Damian Willemse (2).