Daunting challenge awaits the Boks in Durban
The Springboks are expecting a daunting challenge against Argentina at Hollywoodbets Kings Park in Durban on Saturday where they will attempt to clinch the Castle Lager Rugby Championship trophy in what marks the final match of the competition.
The Springboks are level on 14 log points with New Zealand on the Castle Lager Rugby Championship table and trail the All Blacks by 13 net points on points' difference, but with New Zealand facing Australia in their final pool match earlier in the day on Saturday, they will have the luxury of knowing exactly what they need to do to win the competition when the teams line up in Durban.
"Argentina have a chance to win the competition as well if Australia beat New Zealand, so their mind-set is that of a team that could make history by becoming the first Argentinean team to win the competition," said De Jager.
"It's a big game. We haven't won a full Rugby Championship tournament in a long time. But it's a privilege to contest for the title, and it's like a Rugby World Cup for us. As a child one simulates playing in a World Cup and Rugby Championship, so hopefully we can go out and do the country proud."
De Jager added: "Argentina are a tough team, and they play for the full 80 minutes. They are also proud of their nation and always play with passion. So, it is vital that we maintain our concentration for the entire match, and not have any soft moments."
Mbonambi was thrilled to be back in action in the green and gold after suffering a knee injury at training in the lead-up to the Test against the All Blacks in Johannesburg earlier in the competition and said: "I'm fortunate to be back with the Boks and we are using every opportunity available to prepare well. We're looking forward to the weekend.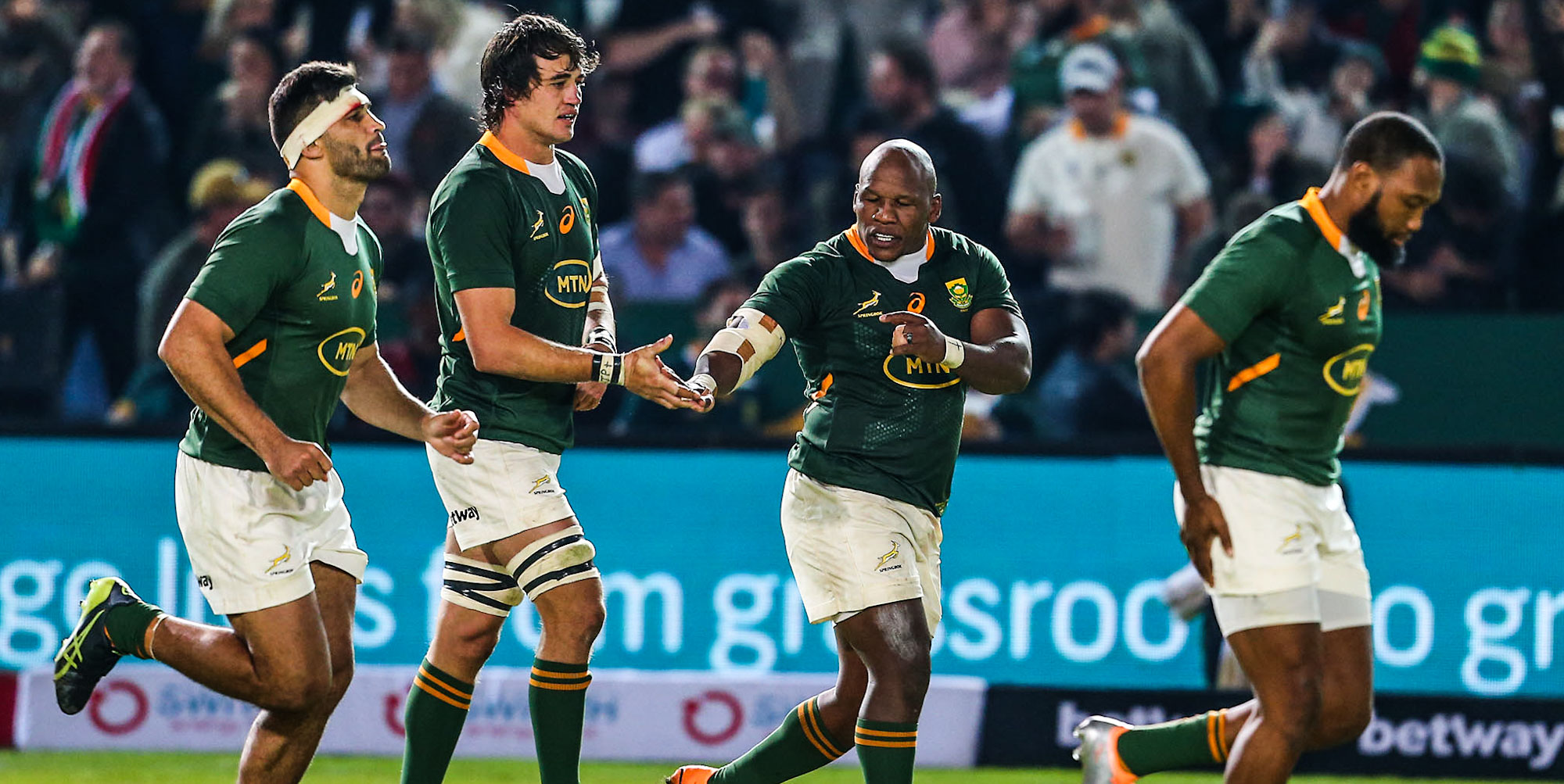 "I've done my rehabilitation and completed my return to training protocol, so it's great to be back. Malcolm is playing really well and the competition in the squad is tight, but it's really great to be back."
Mbonambi added: "It's important for us to win the Castle Lager Rugby Championship. We are ticking all the boxes at training, and we'll do everything we can to win it at home."
De Jager and Mbonambi spoke highly of the Pumas pack, with Mbonambi saying: "Argentina have a good front row and pack. They also have a player like Agustine Creevy, who is a good player, and he knows all the tricks in the scrums."
Zoning in on the set pieces De Jager said: "They have good lineout jumpers, and we expect the nothing different from them this week. We looked at our scrum and we want to apply pressure in that department. As a team that is a big pressure point for us."
De Jager added that while the Castle Lager Rugby Championship was a different competition to the Rugby World Cup, it would serve as good preparation for the international spectacle that will be hosted in France next season.
"We don't necessarily see this as preparation for the World Rugby Cup, for us it is about winning the Rugby Championship," said De Jager. "But that said it will be good to expose us to high-pressure games that could be compared to a World Cup knock-out game."
Marshall primed for Crusaders coaching opportunity
James Marshall couldn't escape rugby's draw after retiring from playing and failed in his promised avoidance of the coaching ranks.
The former Super Rugby title winner with the Hurricanes has fitted into coaching so well that he will spend 2023 as backs coach for the Crusaders in Super Rugby Pacific.
Auckland-born Marshall started his rugby career with Tasman, but when missing a place in the Super Rugby structure, in a team or wider training group, he had a chance as a 20-year-old to play in Italy with Zebre.
It proved a stimulating experience in coping with playing a different style of rugby at a different level.
He returned to New Zealand six months later for another three seasons with Tasman before getting a chance in the Hurricanes' wider squad. He had spent four years trying to get a place in the Crusaders.
"I could never crack it as a player but I'm here now as a coach," he said.
"It is surreal to be here now. When I finished rugby, I promised my wife I wouldn't get into coaching. We had moved around so many times during my career, even when I was playing for the Hurricanes moving to Taranaki every six months.
"We worked it out there were well over 20 houses we lived in throughout my career so when I got to the end of it I did say I wouldn't be chasing the coaching dream, and I wouldn't be moving the family around any more."
However, back in Nelson, he got the chance to work with Andrew Goodman and Shane Christie, which gave him coaching work where he had decided to settle.
"Then a couple of years later,, I get a call from Razor [Scott Robertson] and it really throws a spanner in the works for my wife and when I got the opportunity, it was a no brainer. It's such a good opportunity for me to learn and see where coaching can now take me."
He contacted David Havili to see if he felt Marshall could do the job asked of him as backs coach and to see if he would have the backing of the players.
Havili got back in touch to say how much he thought Marshall could add to the environment. He also contacted some of his Hurricanes contacts and admitted being surprised at how supportive they were.
The Crusaders were one of the most successful sides in the sport's history, and looking from the outside while playing, he had always wondered what went on and how they did it.
"It's been impressive. It's a well-run ship. Razor does a great job. Scotty Hansen, the detail he has on the rugby programme. Tamati Ellison, some of his coaching, it's all world-class.
"It's been awesome for me as a young coach to witness these guys at work and try and learn as much as I can off them.
"There's also the players. It's a pretty impressive squad when you look at it on paper and the chance to work with some world-class athletes and try and teach them as much as I can, but also try and learn from them," he said.
RTÉ And Virgin Media Confirm Details Of Free-To-Air Six Nations Coverage
RTÉ and Virgin Media Television today announced details of its joint Guinness Six Nations coverage, where the action will be free-to-air for supporters in the Republic of Ireland.
Kicking off on Friday, 3 February, this year's Six Nations coverage will include all fixtures from Ireland's Men's, Women's and U20 tournaments.
The partnership will see all games equally aired across both broadcasters again this year.
The 2023 Men's Six Nations will open with Ireland v Wales on Virgin Media One, followed by England v Scotland on RTÉ2. Ireland will then take on current champions France on Saturday, 11 February.
The TikTok Women's Six Nations will begin on Sunday, 26 March with Wales v Ireland.
Speaking at this morning's launch at the Aviva Stadium, presenters Jacqui Hurley and Joe Molloy were joined on stage by members of their broadcast teams this year including pundits Rob Kearney, Fiona Hayes (Virgin Media Television), and RTÉ's Jamie Heaslip and Hannah Tyrrell.
RTÉ also confirmed that Irish international and Munster player Simon Zebo will be joining their punditry team.
Commenting, Head of RTÉ Sport, Declan McBennett said: "With this being a great year for rugby, there is added excitement about this year's Six Nations which RTÉ is once again bringing to sports fans all over the country free-to-air along with Virgin Media Ireland as part of our historic partnership which we launched last year.
"It's going to be a huge year for Irish rugby and we're really looking forward to it."
Images & Content from Irish Rugby & Images © Inpho Photography
Statement on behalf of Dave Rennie
Following Monday's announcement Dave Rennie has issued the following statement.
"Firstly, I'd like to thank all of those who have reached out to Steph and I over the past 48 hours or so.
"The support has been immense and much appreciated from the more than 500 messages I've received from current and former players, coaches, administrators and friends both here and abroad.
"I've loved my time with the team. They're outstanding young men who are keen to learn and prepared to work hard.
"The staff I worked with during my time with the Wallabies are some of the best in the world and they played a massive role in creating a quality environment and developing the depth of the playing group.
"I'd like to particularly thank those in the Australian Rugby community for their support of the team over the past three years and for all the words of encouragement when we have crossed paths in schools, on the training field or in airports around the country.
"I'm disappointed I won't be able to see out my contract in the way I agreed to back in 2019 but leave knowing I had the full support of the playing group and the staff.
"I certainly felt we have made massive shifts over the past three years both on and off the field, which is off the back of a hell of a lot of hard work put in by good people.
"I wish Eddie, the staff and the team all the best in what's a massive year, with the Rugby World Cup less than nine months away."