Connection, Combinations and Captaincy: Eddie Jones speaks ahead of Wallabies return
Incoming Wallabies coach Eddie Jones is looking to galvanise Rugby supporters as he prepares to return to the role he held almost two decades ago.
Jones sat down with the media on Thursday for half an hour to discuss a variety of hot topics ahead of his return to Australia.
HSBC SYDNEY SEVENS TICKET FINAL RELEASE: GET YOUR TICKETS TO RUGBY'S BIGGEST PARTY NOW!
Connection and cohesion were key themes throughout the discussions as Jones prepares to start in the role at the end of the month.
Having got a first-hand taste of it last July, Jones was quick to stress the importance of building the relationship across all levels of the sport ahead of a crucial period for the game.
"That's the challenge, firstly you've got to play good rugby and to everyone is different," he explained. 
"We've got to develop that Australian style of game that everyone buys into, which is a combination of quality set-piece, an aggressive attacking mindset, and wanting to get the ball quickly when we don't have it.
"If we can play some good rugby, people will want to watch us play. And if we win, then we'll be in a better position in the media, so this 15 people we've got now [on the Zoom call] will be 30 people…So the task is relatively simple, but the process is the difficult part.
"Everyone knows what we want to do, I've heard guys who I've coached, they tell me their sons don't watch Rugby anymore. That happens when you're not connected with your fans, and part of that is the winning process and part of that is how we conduct ourselves.
"There's a clear message; we've got to try to become a team of the rugby community, and that's hard in the professional era where you need to have good training camps, and you can't spend the amount of time in the public as you used to.
"But we're going to have to find a way to do that, it's maybe a slight change in direction in how the team operates, having good training camps but also spending time at a school, at a local rugby club, doing some training in that environment so the young kids see their stars, and they have a conversation with a Tate McDermott or [Len] Ikitau, or Jed Holloway or James Slipper, and that conversation they have will make them want to play Rugby."
Eddie delivered a typical Eddie press conference.
He gave fascinating insights on a number of pressing issues mixed in with cheeky anecdotes about media sparring partner Peter V'Landys being 'in the TAB too long' to appreciate Super Rugby and using his experience as a principal to help solve the discipline issue that plagued the Wallabies in 2022.
A key topic the former Reds and Brumbies boss will have to deal with is the overseas policy or 'Giteau Law'
"In terms of the Giteau Law at the moment, it is what it is at the moment and that's certainly something that I'll discuss a little bit further down the track," he believes. 
"At the end of the day, we'd like to have our best players available and if some of those best players are playing overseas, we'd like to find a way for them to be available."
One of the key selection battles this pertains to surrounds flyhalf, arguably the most important and still up-for-grabs position in the Wallabies set-up.
Jones stressed the importance of deciding his combinations early, laying greater importance on Super Rugby Pacific this season, starting with a battle between local contenders Noah Lolesio and a combination of Ben Donaldson and Take Edmed on February 24.
"I am looking for a ten who can play tough in that position, particularly in terms of decision making and be really smart about how he plays the game," he said
"I was lucky enough to see those two young tens play live when Randwick played Eastwood post the tour, so [Tane] Edmed and [Ben] Donaldson. I have seen both of those guys play for Australia A and saw Donaldson saw in the November Test matches. So they're both young guys who are coming through.
"You have the experience of [Bernard] Foley, I have just watched him play recently live, he still has a good command of the game, you have the young guy at the Brumbies, [Noah] Lolesio, who has played a number of Tests. 
"There is good competition there but again it will be who comes through at Super Rugby that is going to have the first opportunity for Australia.
"Having said that, and it seems like a contradiction, we are also going to have to decide quite quickly who we think are the best nines and tens and 12s, particularly, to try and build up that cohesion."
James O'Connor and Quade Cooper remain firmly on the radar, with Jones eager to see how they rebound from their respective injuries.
He will have limited time to get the Wallabies firing, with just five Tests before the opener against Georgia in September.
Jones also remained coy about who will lead the side into the future.
James Slipper and Allan Alaalatoa were amongst those who stepped up in Michael Hooper's absence but with the inspirational flanker back and firing, the 62-year-old was eager to interview his potential candidates.
"That's going to be really important," he added.
"We need to find a captain who can galvanize the team. Whenever you change coaches or change the team environment, as what's happened, the captaincy becomes even more important.
"We need someone who can quickly galvanise the troops (and) work closely with me because every captain and every coach combination is different. So the right captain for a particular coach is not necessarily the right captain for another coach.
"It's a bit of appraisal. I have just got to walk the floor initially, find out about each of the players, meet with them face to face. I have started having some preliminary phone calls, talk to the players and then we will make hopefully an educated decision."
Kolisi honoured to lead the Boks for the 50th time
Siya Kolisi was honoured to be selected to lead the Springboks for the 50th time in Sunday's final Rugby World Cup pool match against Tonga and said it was a milestone he never thought he would achieve.
Kolisi explained his rugby journey and gave credit to those who made this achievement possible at a media conference at the team hotel outside Toulon and Friday.
"I never dreamed of this," he said. "I started playing rugby because I enjoyed it, it kept me out of trouble and my friends played the sport. But I certainly didn't think I'd be sitting here now."
"It was not an easy road because I was always the joker and the naughty guy in a team. At the Boks it was difficult at first, but there is no greater honour (than being the Bok captain).
"Being the first black captain made it tough too, but I would never have made it to this point if it was not for my team-mates, as well as coach Rassie (Erasmus, Director of Rugby) and coach Jacques (Nienaber). They put structures in place around me to assist me, and thanks to them it made my job easier."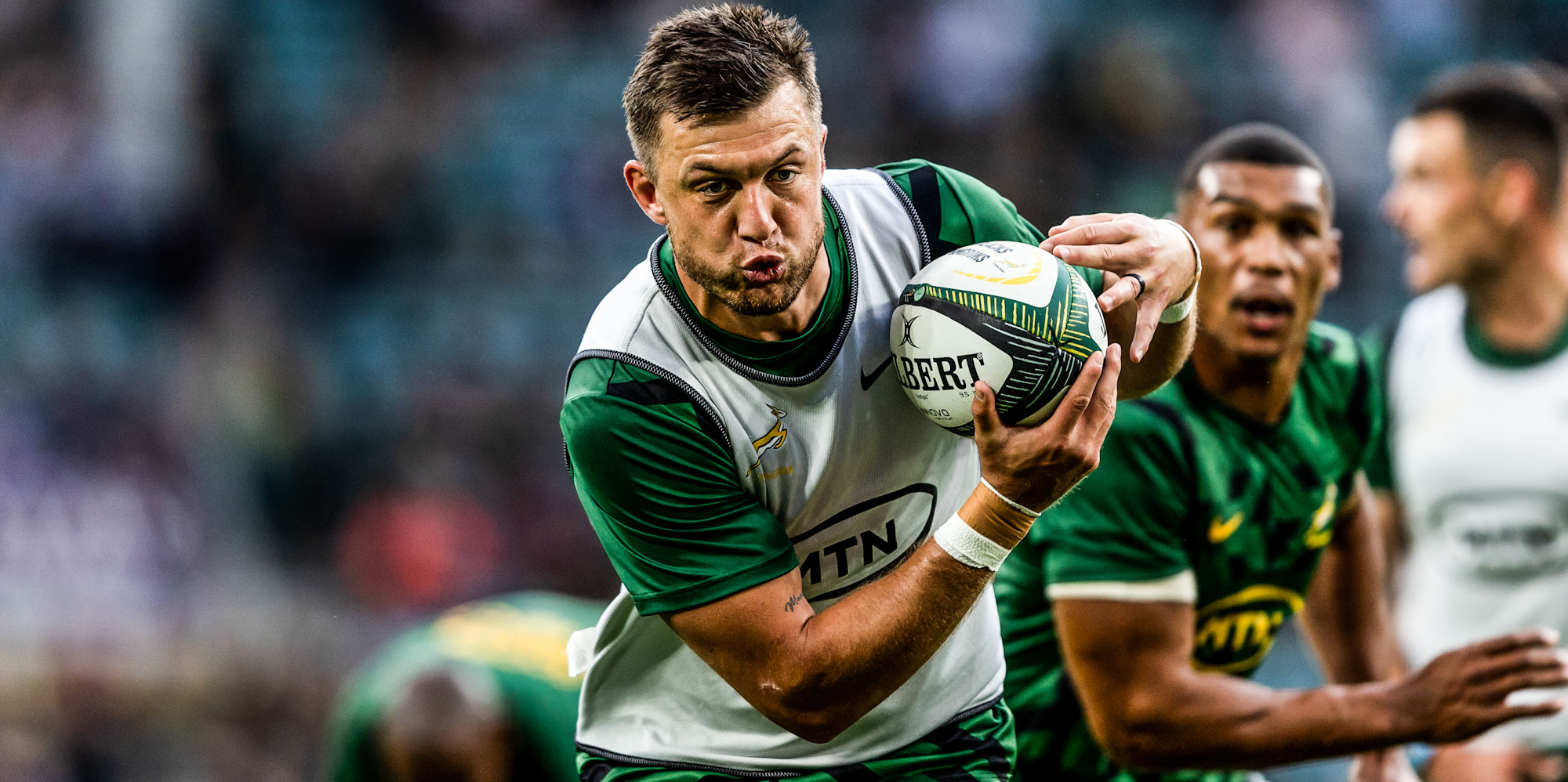 Sunday's match will not only be a big one for Kolisi and the team, it will also be an important match for flyhalf Handre Pollard, who makes his return to the side for the first time since August last year following calf and knee injuries – a challenge the player adopted with a realistic mindset.
"It's unbelievable to be back in the team and in this environment, and I'm trying to enjoy every day," said Pollard.
"The calf injury I suffered was supposed to keep me out for four weeks and it ended up being three months.
"Not being selected for the World Cup squad was tough, but such is life. The coaches told us to remain positive and I was lucky to get the call."
Commenting about his expectations in his first game back, Pollard said: "I'm realistic about this weekend. Playing 30 minutes of club rugby is very different to playing in a World Cup. I just want to express myself, although I know it won't be perfect."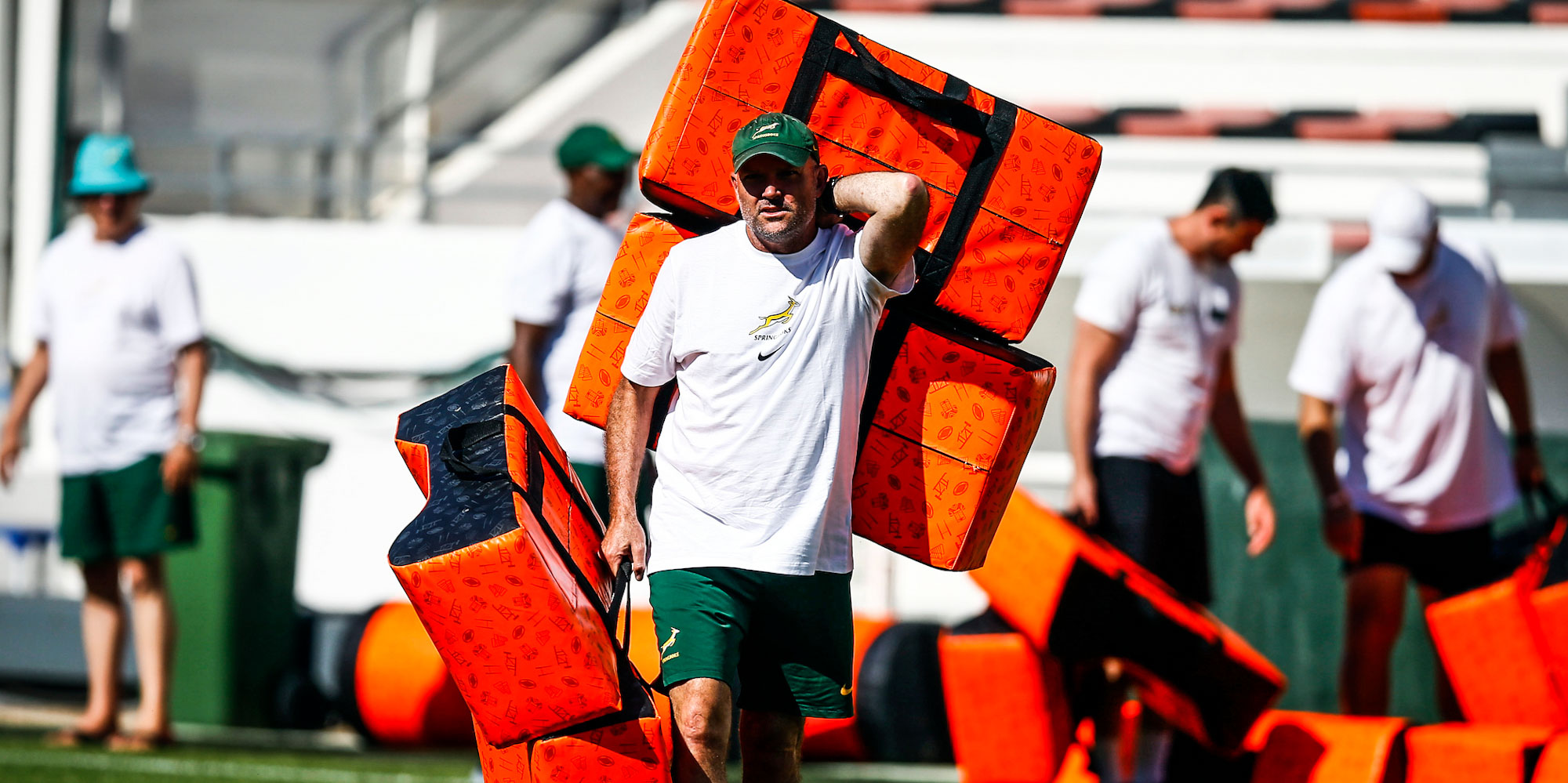 Kolisi also welcomed his team-mate back with open arms and said they would try to make his job as easy as possible on Sunday: "I'm looking forward to working with Handre again. He's experienced, he has a strong personality and he's a general at No 10. We all want him to enjoy himself and not have to play under too much pressure, and we'll try to put him in a position to do so."
Looking forward to the match against Tonga, Nienaber said it was vital to improve a few areas of their game to book a quarter-final spot and attempt to defend their title.
"We obviously have goals if you take the results out of the way," said Nienaber.
"Firstly, we need a win, then a bonus point and a good points difference, and then there are things that we need to rectify which we didn't get right against Ireland. We need to get our foundations right to get to the quarter-final and onward otherwise we won't make it through."
Sunday's match at Stade de Marseille kicks off at 21h00 and will be broadcast live on SuperSport.
Boks expecting "brutal" battle against Tonga
The Springboks are expecting a "brutal" battle against Tonga in their final Rugby World Cup pool match in Marseille on Sunday, and have emphasised the importance of being accurate on attack and defence to book a place in the quarter-finals.
The Boks are second on the log in Pool B on 10 points, four behind Ireland who lead the group on 14 points.
Tonga are in fourth place without any points after suffering defeats against Ireland and Scotland – two of the strongest teams in the pool on the world rankings – but the Boks are not leaving anything to chance to book their place in the top eight and they are determined to get their campaign back on track and to build momentum after going down 13-8 against Ireland last weekend.
"It's a big week for us against Tonga," said Springbok fullback Willie le Roux.
"This is knockout rugby for us and it's going to be brutal because they have some big guys playing for them.
"It's going to be a physical match and I think there'll be some sore bodies after the game. Our defence will have to be up for it because they have players that can spark anything from anywhere."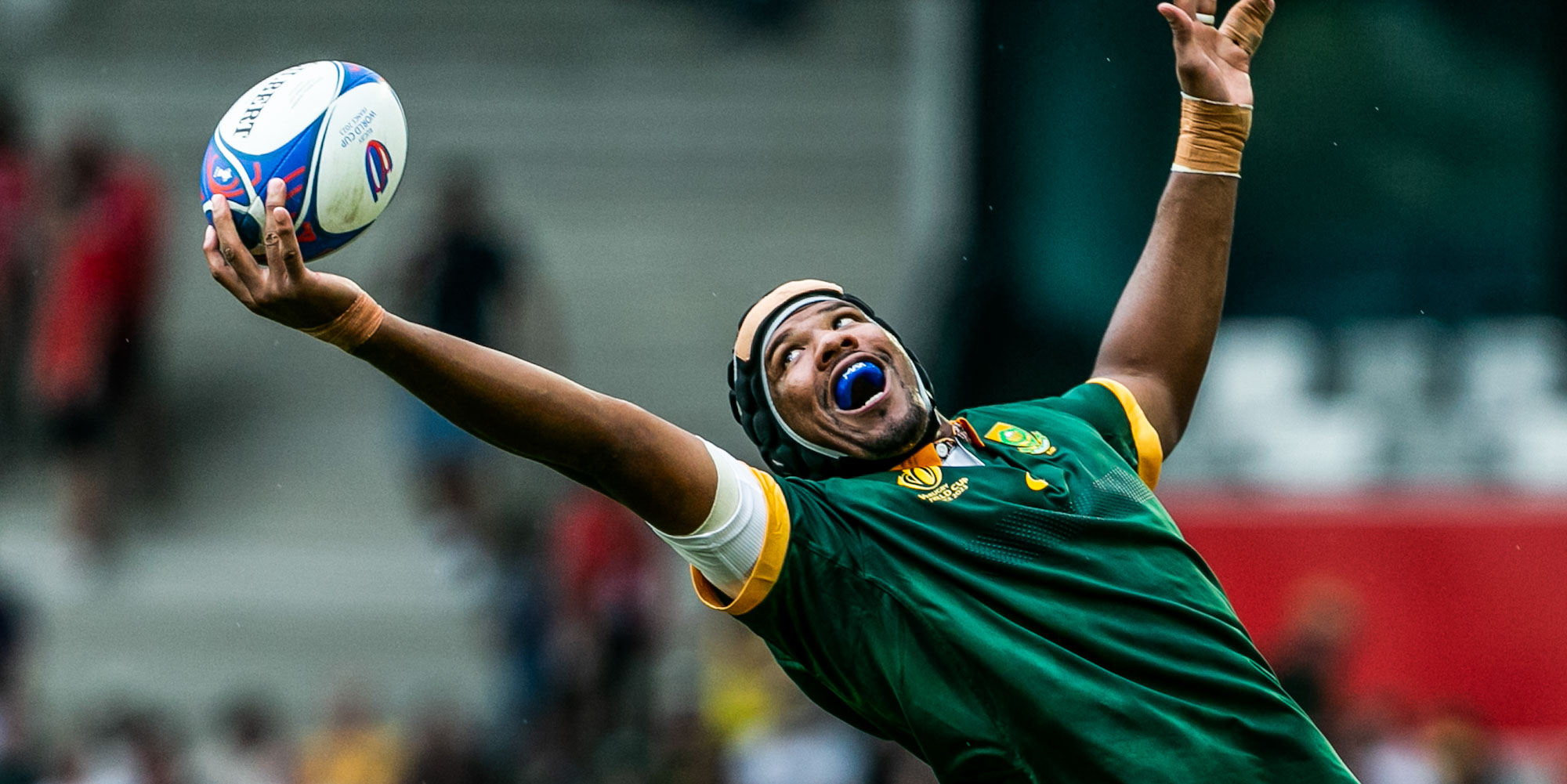 Springbok lock Marvin Orie also expected a massive onslaught from the Pacific Islanders in the set pieces: "They have a lot of big and athletic players. They are hard hitters as one can see, so we are expecting challenging scrums and lineouts. Many of their players have also played at a high level, so it will be a tough match."
Le Roux was realistic about the role he played in the Rugby World Cup squad despite being one of the most experienced players in the squad with 89 Test caps, saying with such good depth in the group, no one could take their place in the team for granted.
"On a personal note, I just want to do my best, enjoy myself and to try to make the team win," said Le Roux. "We have such great depth in the team, one cannot get comfortable in a jersey. We keep pushing one another to get better."
Orie, meanwhile, was excited about joining forces with his former Tygerberg High School team-mate, Bok centurion Eben Etzebeth, in the second row this weekend: "Eben is a world class player, he's played over 100 Tests for South Africa. His game is also at a high level, and he inspires us all to reach our best through the standards he sets."
The match at Stade de Marseille kicks off at 21h00 on Sunday and will be broadcast live on SuperSport.
Nienaber makes wholesale changes for Ireland clash
Springbok coach Jacques Nienaber made 13 personnel changes and a positional switch as well naming a seven-one split in favour of the forwards on the replacements' bench for Saturday's third Rugby World Cup pool encounter against Ireland.
Nine players who sat out Sunday's 76-0 win over Romania return to the starting line-up while four others move from the bench to the starting XV for another pivotal encounter in the Pool B 'Group of Death'.
The two players to retain their places in the run-on team are Bongi Mbonambi (hooker) and Damian Willemse (utility back) – who moves from flyhalf to fullback – while Steven Kitshoff, Frans Malherbe (props), Jasper Wiese (No 8) and Jesse Kriel (centre) move from the replacements' bench.
Overall, the team reunites the starting combination that defeated Scotland 18-3 in the opening pool match except for hooker, where Mbonambi starts in place of the injured Malcolm Marx.
In the pack, it means the restoration of the locking combination of Eben Etzebeth and Franco Mostert, and the loose trio of captain Siya Kolisi, Pieter-Steph du Toit (both flankers) and Wiese.
Outside them, scrumhalf Faf de Klerk and flyhalf Manie Libbok unite at halfback, while Kurt-Lee Arendse and Cheslin Kolbe will patrol the wings outside of the centre pairing of Damian de Allende and Kriel.
Nienaber's seven-one bench will see Deon Fourie continue as hooker, while Ox Nche and Trevor Nyakane will provide prop reinforcements with the Munster lock duo of Jean Kleyn – who played five Tests for Ireland which included wearing the light green jumper in the 2019 Rugby World Cup – and RG Snyman are paired on the bench with loose forwards Marco van Staden and the versatile Kwagga Smith, who can cover wing as well thanks to his Springboks Sevens' experience.
The single back on Nienaber's bench is scrumhalf Cobus Reinach, who also provides cover at wing.
"Ireland are a quality team with a strong pack of forwards and talented backs, and they play with a lot of speed, so we know what we have to do to deliver a top-drawer performance for things to go our way," said Nienaber.
"We faced them late last year and we've been keeping an eye on their performances this year, so everyone knows what we have to do this weekend.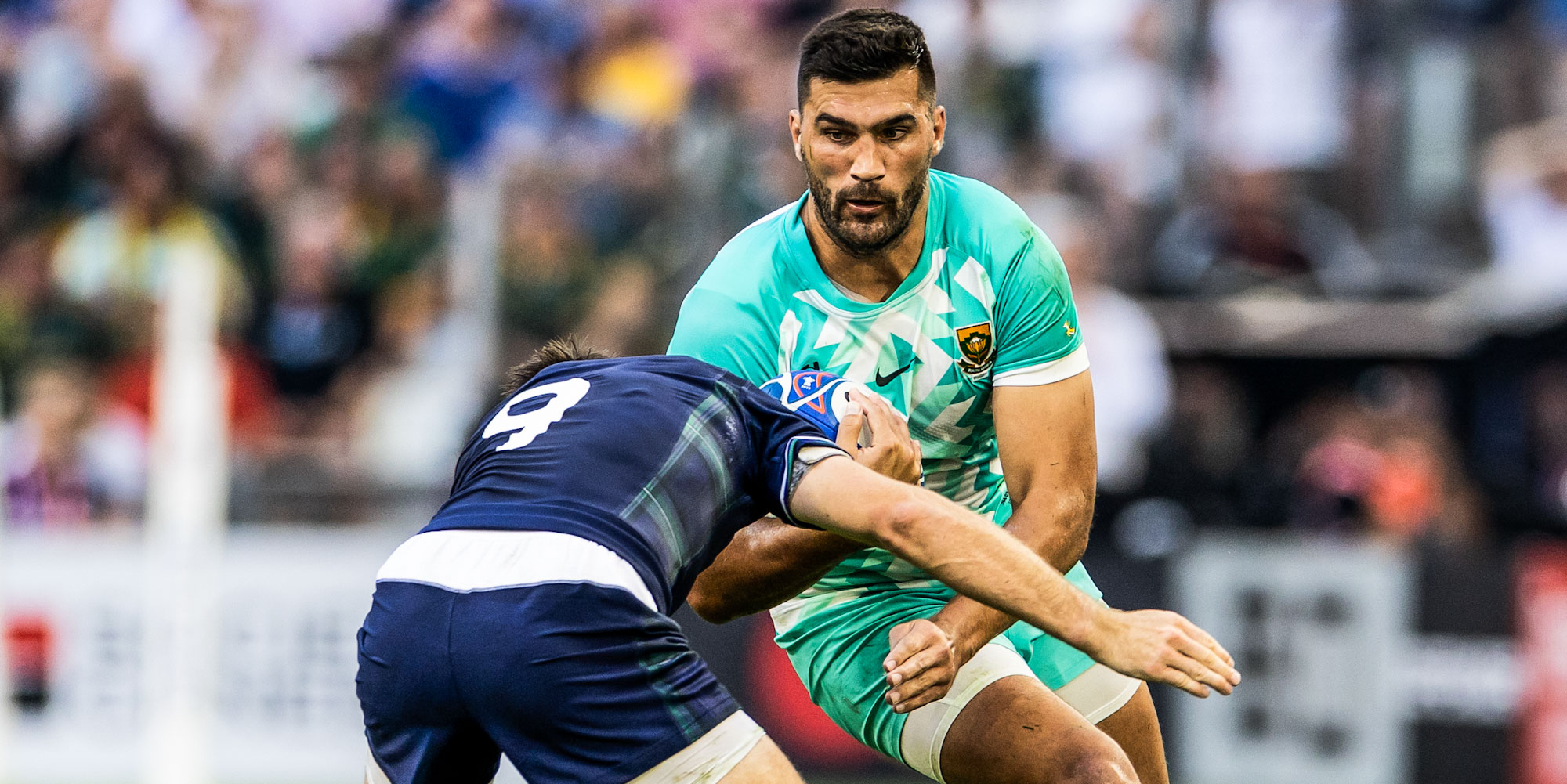 "We're fortunate to have a match-fit squad and have been building depth and versatility for a while and believe this is the best combination for this match. For many of these players this is their second or third World Cup, so they know what it takes to perform at this level, and we believe this team has the right balance of players to achieve what we would like to achieve in this match.
"We know it's going to be a grind of a match and we know we need to pitch up physically and mentally. We also need to start with intensity and stay focused until the final whistle.
"This is a massive game for both sides with an eye to progressing out of our pool, so we need to be extremely accurate in all areas of our game."
Nienaber brushed off suggestions that the links between some of the Springbok coaches with Nienaber, SA Rugby Director of Rugby Rassie Erasmus and assistant coach Felix Jones having Irish links, as well as the likes of Kleyn and Snyman, who are currently plying their trade at Munster gave either side a special advantage.
"The teams have been facing one another for years, and just as they know us, we know them," he said. "At the end of the day both teams have immense respect for one another, and while this aspect may be entertaining for the fans, the match will come down to who plays the most effective rugby on the day."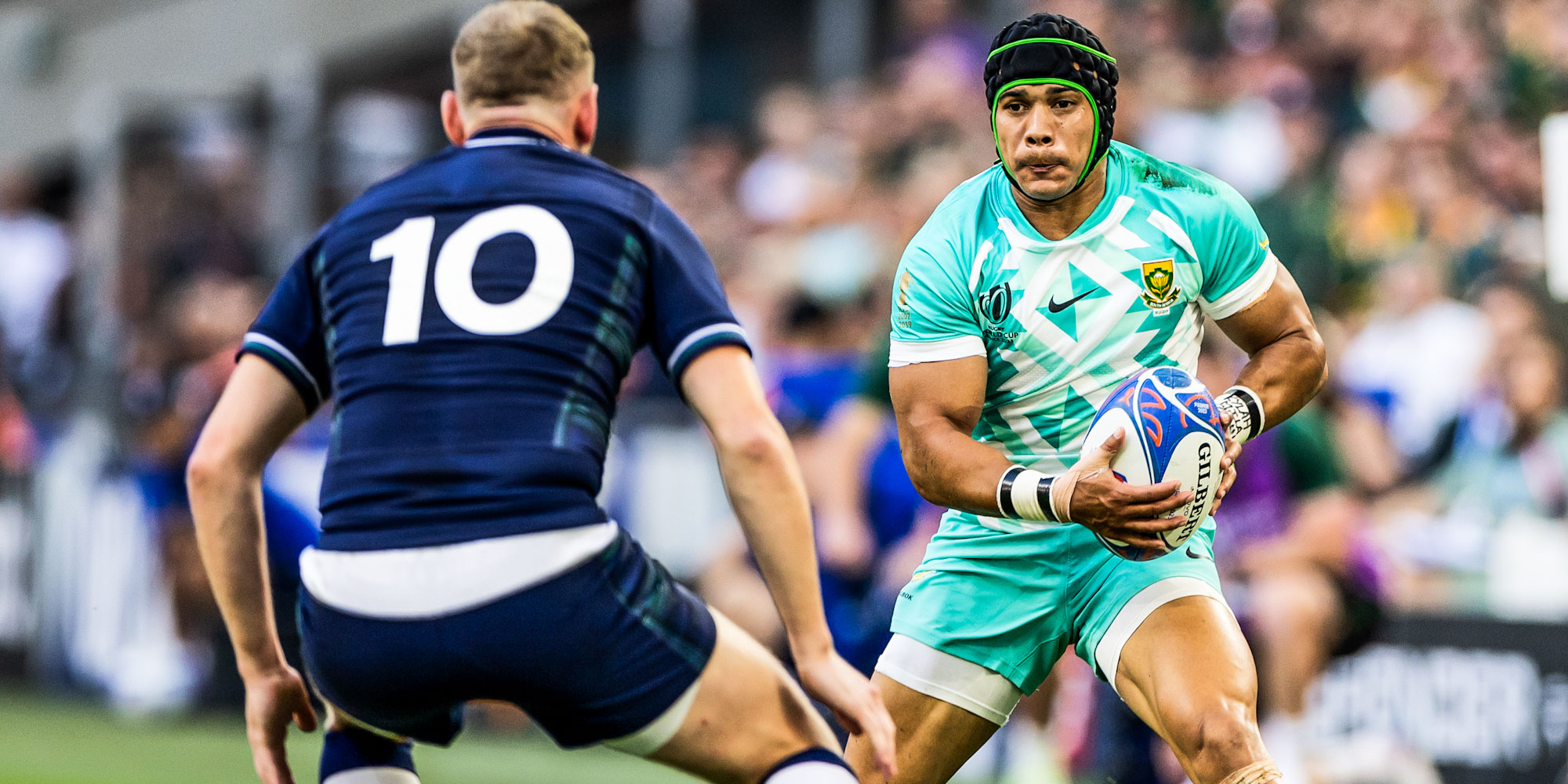 Of the six-day turnaround for this match, Nienaber said: "We've known for a long time that we would have a shorter turnaround for this match, and we planned accordingly in terms of training and team selection for the last two games. The early kick-off against Romania also assisted as we had the whole night on Sunday to begin our recovery, so we are ready for what lies ahead."
The Boks returned to the training field on Tuesday after having Monday off to rest and recover as they made the trip from Bordeaux to Paris by train.
Springbok team to face Ireland in Paris:
15 – Damian Willemse (DHL Stormers) – 35 caps, 56 pts (4t, 9c, 4pg, 2dg)
14 – Kurt-Lee Arendse (Vodacom Bulls) – 11 caps, 60 pts (12t)
13 – Jesse Kriel (Canon Eagles) – 63 caps, 70 pts (14t)
12 – Damian de Allende (Wild Knights) – 74 caps, 50 pts (10t)
11 – Cheslin Kolbe (Suntory Sungoliath) – 27 caps, 81 pts (12t, 3c, 5pg)
10 – Manie Libbok (DHL Stormers) – 10 caps, 71 pts (1t, 21c, 8pg)
9 – Faf de Klerk (Canon Eagles) – 51 caps, 50 pts (5t, 5c, 5pg)
8 – Jasper Wiese (Leicester Tigers) – 24 caps, 5 pts (1t)
7 – Pieter-Steph du Toit (Toyota Verblitz) – 72 caps, 40 pts (8t)
6 – Siya Kolisi (captain, Racing 92) – 78 caps, 50 pts (10t)
5 – Franco Mostert (Honda Heat) – 68 caps, 15 pts (3t)
4 – Eben Etzebeth (Hollywoodbets Sharks) – 114 caps, 25 pts (5t)
3 – Frans Malherbe (DHL Stormers) – 65 caps, 5 pts (1t)
2 – Bongi Mbonambi (Hollywoodbets Sharks) – 64 caps, 65 pts (13t)
1 – Steven Kitshoff (Ulster) – 78 caps, 10 pts (2t)
Replacements:
16 – Deon Fourie (DHL Stormers) – 8 caps, 5 pts (1t)
17 – Ox Nche (Hollywoodbets Sharks) – 23 caps, 0 pts
18 – Trevor Nyakane (Racing 92) – 64 caps, 5 pts (1t)
19 – Jean Kleyn (Munster) – 5 caps, 0 pts (Ireland 5 caps)
20 – RG Snyman (Munster) – 30 caps, 5 pts (1t)
21 – Marco van Staden (Vodacom Bulls) – 16 caps, 0 pts
22 – Kwagga Smith (Shizuoka Blue Revs) – 35 caps, 30 pts (6t)
23 – Cobus Reinach (Montpellier) – 28 caps, 60 pts (12t)
Stats and facts:
Springbok record against Ireland:
Played 27, Won 18, Lost 8, Drawn 1. Points for: 522; Points against: 399. Tries scored: 71; Tries conceded: 37. Highest score: 38; Biggest win: 38 points (38-0). Average score: 19-15. Win %: 66,7%.
Milestones:
Springbok wing Kurt-Lee Arendse will start the match with an impressive try-scoring record of 12 tries in 11 Tests.
Springbok centre Damian de Allende will reach the 75 Test mark when he takes the field on Saturday.
Saturday's match will be the first time the Springboks and Ireland clash at a Rugby World Cup, making it the first Test between the two sides at a neutral venue.
Bongi Mbonambi, Frans Malherbe, Steven Kitshoff, Eben Etzebeth, Pieter-Steph du Toit, Franco Mostert, Siya Kolisi, Faf de Klerk and Damian de Allende are the only players left from the last time the Boks beat Ireland – on 25 June 2016, in Nelson Mandela Bay.
Kitshoff and Mbonambi made their Springbok debuts in the same match against Ireland seven years ago, while De Klerk and Mostert debuted earlier in that series against the Irish.
Replacement forwards Jean Kleyn, RG Snyman and Marco van Staden will face Ireland for the first time.
The Springboks have won their last seven Tests in the French capital. Their last defeat in the city was in 2005 by France (20-26).
Miscellaneous:
The total Test caps for the Springbok starting line-up is 833.
There are 271 caps in the backline, with 562 caps among the forwards. On the bench there are a further 208 caps.
The average caps per player in the backline is 38, the forwards 70, while the players on the bench average 26.