Bright, brave Boks denied at the death in Marseille
A rousing 14-man fightback by the Springboks fell agonizingly short as France ended a run of seven successive defeats by the Boks with a 30-26 (halftime 16-10) victory at the Stade Velodrome in Marseille on Saturday night.
The Boks played for 58 minutes with 14 men – after Pieter Steph du Toit was red carded for a head collision – and the last ten minutes with 13 men following a yellow carding for replacement Deon Fourie after a second infringement at a close-range France maul.
The home team also played the last 32 minutes with only 14 men of their own, after skipper Antonie Dupont was dismissed for ploughing into the aerial Cheslin Kolbe. The Springbok wing was upended, landing on his head, and played no further part after being withdrawn for a head injury assessment.
The Boks could proud of their effort however. They drove the game, winning the collisions for the most part and playing a high passing game against a French team that barely used their backline and resorted to the kick and the maul. The boot of fullback Thomas Ramos was their most potent weapon as he was successful with seven out of eight kicks at goal.
The Boks used three kickers (Kolbe, Faf de Klerk and Damian Willemse) – through circumstance not choice – and the trio were successful with all six kicks at goal to put last week's Dublin troubles behind them.
It was a brilliant Test match as South Africa came back from 13-0 down shortly after their first card to lead with six minutes remaining before a spate of penalties gave France the field position to sneak a victory that should have been the Boks.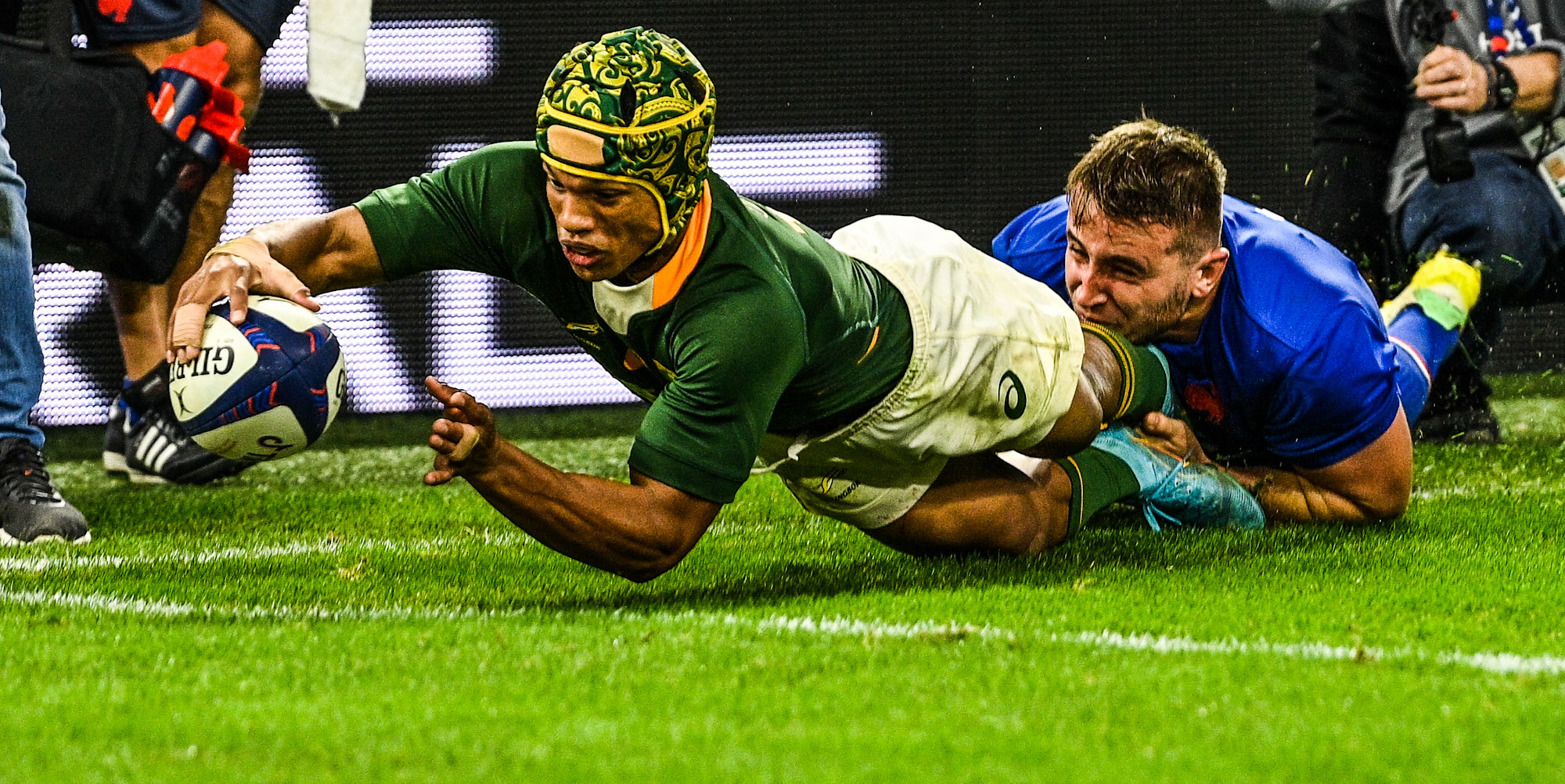 Du Toit's horror moment arrived in the 12th minute when he was sent off by referee Wayne Barnes. The loose forward half-stumbled half-drove at knee height to clean a ruck and his head made direct contact with the cheek of centre Jonathan Danty who was seated in the ruck, facing the oncoming Bok.
His departure robbed the Boks of a back-of-the-lineout option as well as his phenomenal work rate and France took advantage within nine minutes to add to their 6-0 lead from the boot of Ramos after two offside offences by the Boks.
French wing Damian Penaud ghosted outside Jesse Kriel's attempted tackle on halfway to make the line break. France were held short but after eight phases of close-range drives loosehead prop Cyril Baille found a gap from five metres to score just to the left of the poles.
Ramos converted to take France into a 13-0 lead against the 14-man Boks. It looked a mountain to climb. This motivated and focused Springbok team strapped on their crampons and started up the cliff face.
Base camp was a penalty goal from Kolbe in the 25th minute when the more obvious option from long range and a difficult angle was a kick to the corner.
Better was to follow five minutes later when the maul option – working better than in recent weeks – propelled Siya Kolisi over the tryline as he broke away to dive expansively into the in-goal with Kolbe converting to reduce a once yawning deficit to three (13-10).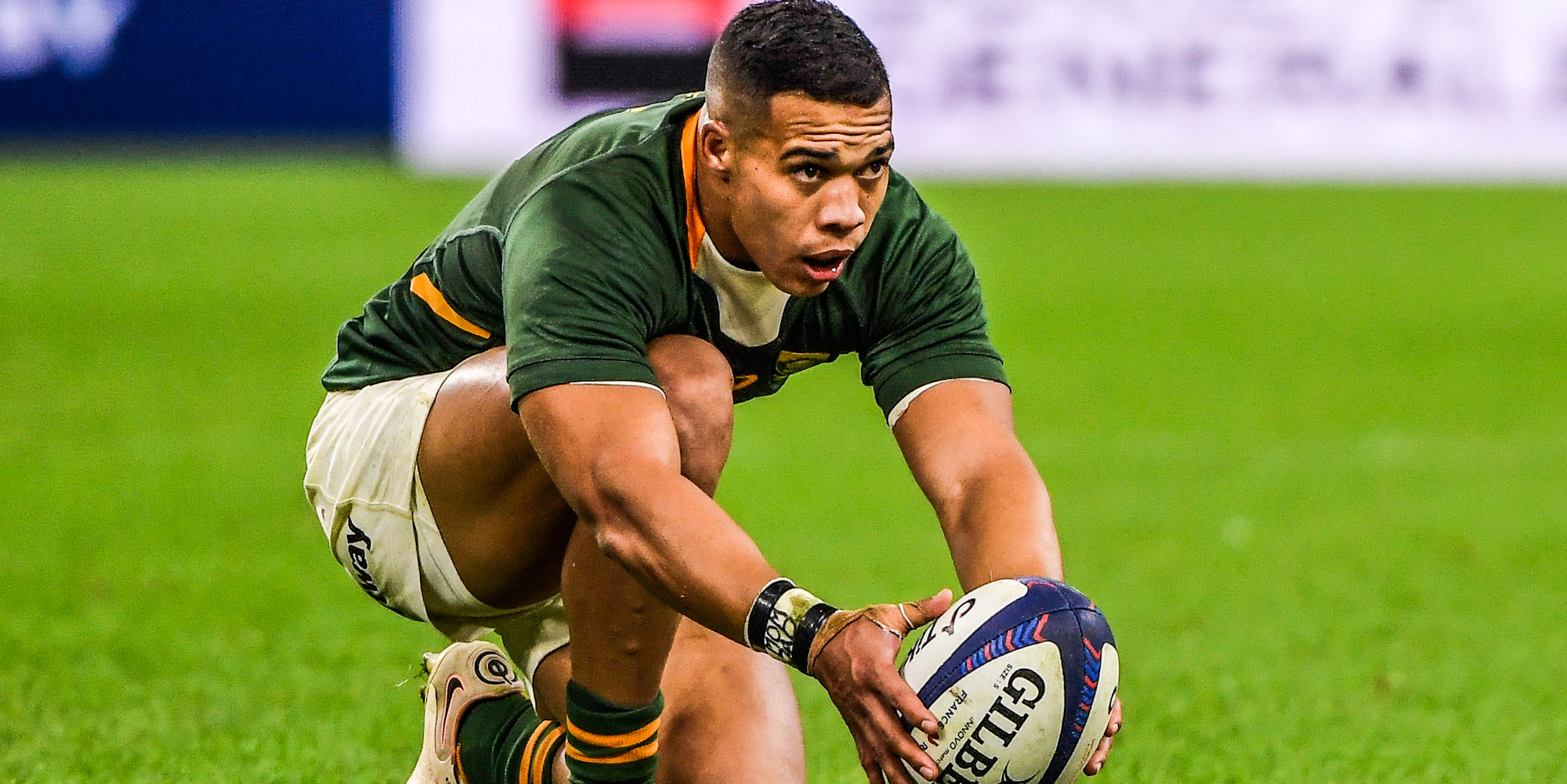 Ramos kicked two penalty goals either side of halftime to one from Kolbe which restored the lead to six points (19-13) before the second red card of the match set up a rip-roaring second half in which the Boks claimed the lead for the first time in the 52nd minute and held if until the 74th by which time they had been reduced to 13-men.
Dupont was dismissed for a dangerous challenge on the airborne Kolbe who was flipped through 180 degrees to land his head and shoulder. The wing was removed for an HIA from which he did not return.
His dismissal was the cue for the Bomb Squad to arrive and although the resulting maul drive was stopped, De Klerk and Willie le Roux combined down the blindside to put over wing Kurt-Lee Arendse in the right-hand corner.
De Klerk – in the absence of Kolbe – converted brilliantly from the touchline and added a penalty goal to stretch out the Bok lead to four points (23-19). Flyhalf Damian Willemse became the Boks' third kicker – landing a tricky penalty in the 63rd minute – after De Klerk had been withdrawn.
Roared on by their home crowd and a string of penalties against the Boks, which culminated in the yellow carding of Fourie, France found the momentum to claim a second try from a close range drive with Sipili Falatea finishing after patchy consultation with the TMO on whether there had been a double movement.
A sixth penalty goal for Ramos with two minutes remaining ran the clock down to allow the home side to close out a rapturously received home victory.
Scorers:
Springboks 26 (10) – Tries: Siya Kolisi, Kurt-Lee Arendse. Conversions: Cheslin Kolbe, Faf de Klerk. Penalty goals: Kolbe (2), De Klerk, Damian Willemse.
France 30 (16) – Tries: Cyril Baille, Sipili Falatea. Conversion: Thomas Ramos. Penalty goals: Ramos (6).
Jones officially sacked by RFU
The Rugby Football Union (RFU) will now conclude the long-term work it has been undertaking on coach succession planning with changes set to be announced in the near future. In the interim, Richard Cockerill will take over the day to day running of the men's performance team.
"It is important to recognise the huge contribution Eddie has made to English rugby, winning three Six Nations Championships, one Grand Slam and taking us to a Rugby World Cup Final," said RFU CEO, Bill Sweeney.
"He has the highest win ratio of any previous England head coach and has helped develop the leadership skills of many players and coaches. I am grateful to Eddie for all he has done for England across many areas of the game and the professional way in which he has approached reviewing the performance of the team. He has provided the panel with astute insight and meaningful lessons that will support the team performance going forward."
During his time in charge Jones steered England to three Six Nations titles, including a Grand Slam in 2016, two series wins in Australia, an unbeaten run of 18 matches, an Autumn Nations Cup, and a Rugby World Cup final in Japan.
"I am pleased with much that we have achieved as an England team and I look forward to watching the team's performance in the future," said Jones. "Many of the players and I will no doubt keep in touch and I wish them all well in their future careers."
The decision for Eddie to leave was taken by the RFU board earlier today. Speaking about the decision, RFU Chair, Tom Ilube said: "The independent review panel regularly updates board on its discussions and findings. We are fully supportive of its process and recommendations."
Gatland returns as Pivac is sacked
Warren Gatland will return to Wales before Christmas to replace incumbent head coach Wayne Pivac.
Welsh Rugby Union (WRU) CEO Steve Phillips has confirmed Gatland will take charge of Wales for the 2023 Guinness Six Nations and at the 2023 Rugby World Cup in France, with the ability to go through the next World Cup cycle up to and including Australia 2027.
Wales' most successful and longest serving coach is back to take over from fellow New Zealander Pivac, who has agreed to part company with the WRU after the official 2022 Autumn Nations Series review was completed and approved by the WRU Board.
"This is one of the toughest calls to make in sport, but the review process has reached its conclusion and we have acted quickly and efficiently in the very best interests of our national team," said Phillips.
"Ultimately we are in the results business and we have agreed with Wayne that the current trajectory for Wales is not where we want it to be and we thank him sincerely for his time, enthusiasm, diligence and effort, which is unquestioned, as head coach over the last three years."
Gatland leaves Super Rugby side the Chiefs to return, after formerly serving Wales over a 12-year period. He completed his first Six Nations clean sweep in his debut season with Cymru in 2008, before repeating the feat in 2012 and finishing on the same high to win the 2019 tournament.
"In Warren we are bringing in one of the very best coaches in the international game," continued Phillips.
"We were sorry to see him go when he left and we are delighted that he has agreed to return.
"We know him well and, most importantly, he knows us well too. We are extremely excited about this latest chapter for Wales-and-Warren-Gatland and I know the feeling is mutual.
"He will undoubtedly be able to make an immediate impact, just as he did when he joined us for the first time in 2008. But it has also been important to both parties to ensure we get absolute maximum gain out of the return of such an experienced and highly regarded individual.
"It is for this reason that we are particularly pleased to have been able to secure Warren's services for the next few years with the ability to go to the 2027 Rugby World Cup.
"This appointment is no quick fix, nor sticking plaster, it is part of our long term planning for the game in Wales.
"We have been able to take swift action in difficult circumstances and that is testament to the good grace and professionalism of Wayne and the efficiency of our review process."
Native New Zealander Gatland, who took charge of two successful British & Irish Lions tours during his time with Wales, was also in charge for three Rugby World Cups, reaching the semi-final stages on two occasions (2011 and 2019) and took Wales to the top of World Rugby's rankings – for the first time – by virtue of a record 14-match unbeaten run during his final season.
"I'm very much looking forward to returning to coach Wales," said Gatland
"This is an opportunity to achieve something with a talented group of players in a country so passionate about rugby. A country which made my family and I so welcome, when we first arrived fifteen years ago, and all the time we were there.
"Our immediate priority is obviously the 2023 Guinness Six Nations and next year's Rugby World Cup.
"There is little time for sentiment, professional sport is all about preparation, values and results. There will be new challenges as there always is with a change in head coach, but for me the environment, the players and their families will always come first.
"We must prepare to the best of our ability in the time available. We will value and respect each other, we will work hard and, if we get this right together, performances and results will follow."
The WRU and New Zealand Rugby have reached agreement for Warren Gatland to be released from his existing contract with immediate effect.
"Warren Gatland is Wales' most successful coach, overseeing a period in which we won three Grand Slams and reached the very top of World Rugby's rankings for the first time in the history of those records," added recently appointed WRU chair Ieuan Evans
"We are delighted he has agreed to return to us. We will of course need to afford him time and ensure he has the tools at his disposal to rekindle the success he has achieved with Wales during his previous tenure, but we are all very excited about the future.
"I would like to add my sincere gratitude to Wayne. He has given much of himself over the last three years, including leading Wales to the Six Nations Championship title in 2021 and we are extremely grateful to him for his dedication to the role."
Wayne Pivac said: "I am obviously extremely sad to stand down from the role.
"It was a speedy review process post-Autumn Nations Series as time is of the essence with the Six Nations fast approaching. Unfortunately, the results or performances this year were not all as we hoped. As a group we all take responsibility for that, but me in particular as head coach.
"We have played some really good rugby at times, but needed to do that more consistently. However, I know that there is a strong foundation for the squad to progress to great things in the future.
"I would like to thank the players, coaches, management and the WRU for their commitment, support and hard work in my time as head coach and to all the people in Wales for making me feel at home here over the past eight years."
Images & Content – Wales Rugby
Super Rugby Pacific locked in until 2030
Super Rugby Pacific's future has been locked in until 2030 with New Zealand Rugby (NZR) and Rugby Australia (RA) announcing details of a new joint-venture agreement in Sydney today.
NZR CEO Mark Robinson and RA CEO Andy Marinos each heralded the new partnership, which will extend the existing joint venture from 2024 to 2030, as a significant moment for professional club rugby in the Pacific region. 
Robinson said the agreement represented a unified commitment to the Super Rugby Pacific format. 
"This long-term agreement provides certainty for players, coaches, fans, sponsors and broadcast partners and it solidifies our joint commitment to ensuring Super Rugby Pacific is the most entertaining, innovative, and fan-focused cross-border club competition in the world. We charted a new path with the introduction of Moana Pasifika and the Fijian Drua this year, and having all 91 games played in regional time zones, believe we have entered an exciting new era for rugby in the Pacific region." 
Marinos said the agreement was a watershed moment for professional rugby across Australia, New Zealand and the Pacific Islands. 
"Today marks the dawn of a new era of Super Rugby within our region. Securing this long-term partnership provides stability and continuity that the competition and Super Rugby clubs need to enable rugby to grow in stature and importance across the region." 
The new agreement will usher in a new governance model for Super Rugby Pacific with the establishment of a nine-person board, which will include an independent Chair, four independent Directors, and one representative each from NZR, RA, the New Zealand Rugby Players Association (NZRPA), Rugby Union Players' Association (RUPA). The Board will oversee the competition with the purpose of a clear, unbiased focus on governance, and the creation of a consistent look and feel across the competition.  
Marinos said there were no plans to change the current format, but also a commitment to ensure the competition remained at the forefront of dynamic and innovative rugby. 
"RA and NZR are committed to the development of the most exciting form of rugby in the world, through trialling and implementing new rules, new ways of engaging fans or broadcast innovations with our partners. The partnership will enable our players, clubs and partners to plan ahead with certainty in a competition that we are sure will feature some of the best rugby in the world." 
The new Board will also have a mandate to explore the creation of a fully integrated women's competition structure in order to build on the success of Super Rugby W in Australia and Sky Super Rugby Aupiki in New Zealand. 
Robinson said there was a collective commitment to grow the women's professional competitions alongside Super Rugby Pacific. 
"We saw the quality of women's rugby throughout the Rugby World Cup in New Zealand and while it is not a case of copy and paste with the men's structure in Super Rugby Pacific, we believe there are enormous opportunities to build a world class cross border professional women's club competition in the Pacific region." 
The agreement confirms the current Super Rugby Pacific competition format, however the new board will keep continue to look at options to adapt and adjust over time. 
An agreement has been settled regarding revenue sharing between the parties until the conclusion of the current broadcast deals at the end of 2025 – with further financial agreements to be determined following the finalisation of future broadcast agreements. 
The ongoing partnership also establishes an opportunity for NZR and RA to collaborate on wider commercial initiatives and opportunities – inside and outside of Super Rugby Pacific – to create a stronger presence for the sport in Australia, New Zealand and the Pacific.