Boks excited about "massive" RWC quarter-final against France
Springbok scrumhalf Faf de Klerk said the possible return of French captain Antoine Dupont to the hosts' team for their Rugby World Cup quarter-final on Sunday won't change the Boks' approach to a match which the team have billed as "massive" as the competition reached the knock-out stage this week.
Dupont was injured in France's pool game against Namibia a few weeks ago, when he fractured his cheekbone, but the French Rugby Federation said on Monday that their captain had been given the green light to return to training following surgery.
The Springboks arrived in Paris on Monday afternoon in high spirits and excited about the prospect of facing France in the fourth quarter-final, which will kick off at 21h00 on Sunday evening in front of a passionate and vocal home crowd at the Stade de France.
De Klerk, Deon Davids (assistant coach) and RG Snyman (lock) addressed the media on Monday all said their RWC experience, as well as playing the French in Marseille last year – when the hosts won by 30-26 – served as a good dry run for Sunday's match.
Of Dupont's potential return, De Klerk said: "He's a great player and he gives the team a lot of confidence. But it doesn't affect us he if plays or doesn't. We prepare to face the team, not individuals. That said, for me personally, it's always good to face the world's best."
Davids said the team didn't need more motivation that that as they prepare to begin their training programme on Tuesday: "We are playing against the World Cup hosts in what is going to be a massive atmosphere on the day.
"Last year we had a dry run when we faced them in Marseille and some of the players had a taste of playing in the World Cup knock-out stages in Japan in 2019. That said, we need to adapt well on the day and be razor sharp in our execution.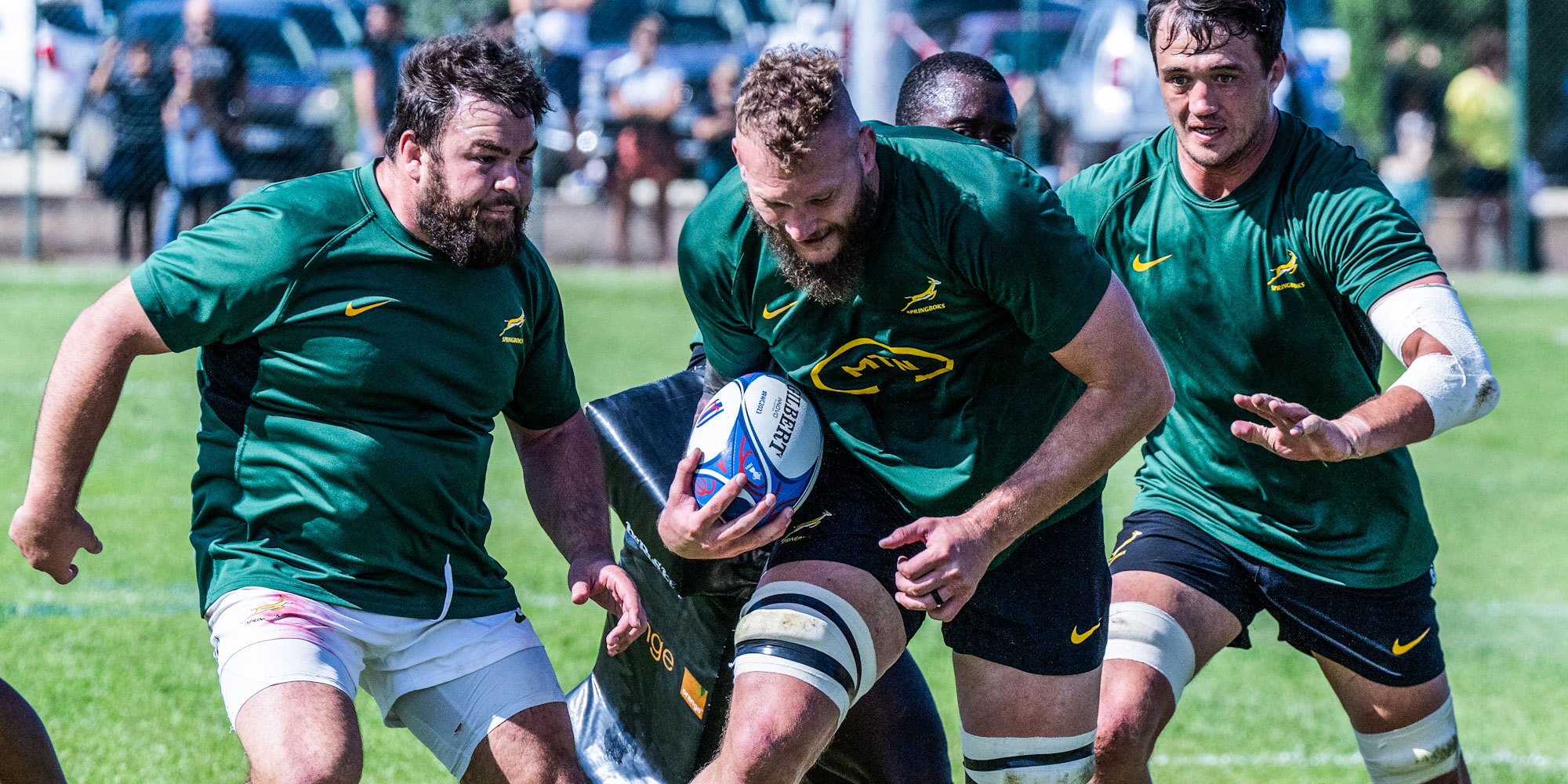 "Playing against France in this beautiful city (Paris) in a Rugby World Cup quarter-final is big, and I don't think any team needs more motivation than that.
"They are a formidable team, they're ranked second in the world, and they'll have the home crowd behind them, so they'll be a massive opponent. They are definitely the favourites going into the match. They also don't have weaknesses at this stage."
Snyman, in turn, expected a fierce battle in the scrums on Sunday: "The physicality of the French scrum is definitely a challenge we'll face. But we also measure ourselves on our physicality, so we are looking forward to it."
With a Rugby World Cup semi-final spot up for grabs, De Klerk said the Boks were comfortable varying their game on the day if needed.
"As a team we can go back our traditional way of doing things if needs be, but we have also added additional plays to our game which we can bank on," said De Klerk.
"So, it will go down to what is needed on the day. As a team we are in a lucky position in that regard."
Asked whether France or the Springboks would be in the best position going into the match with South Africa having a match-free week, while France faced Italy last weekend, Davids said: "There's always a fine line when it comes to whether the week off helps going into such a match or whether it's better to go in with the momentum from a previous match. And I don't think there is a right answer. In our case, we came off four straight matches, and it was good to give the players a few days off with their families and to recharge."
Munster Confirm Three New Signings
Munster Rugby and the IRFU are pleased to confirm the signing of Oli Jager from the Crusaders with the tighthead prop signing a contract until the summer of 2027.
Hooker Eoghan Clarke is rejoining Munster on a short-term contract with back three player Colm Hogan also returning on a short-term deal.
Jager will join the province in the coming weeks with his contract beginning at the start of December.
Born in London, Jager started out at Naas RFC before playing schools rugby at Newbridge College and Blackrock College. He lined out for the Ireland U18 Schools team in 2013 before moving to Canterbury in New Zealand at the age of 17.
Initially attending the Crusaders International High Performance Unit, he earned a place in the Crusaders Academy in 2014. After impressing with New Brighton RFC, he earned a place in the Canterbury squad for the Mitre 10 Cup in 2016.
Jager made his Super Rugby debut for the Crusaders in 2017 and has been a key member of their squad for the past seven years, winning seven consecutive Super Rugby titles.
Eoghan Clarke spent three years in the Munster Academy before departing for Jersey Reds in March 2021. A former Ireland U20 international, Clarke won the English Championship with Jersey Reds last season before the club went into liquidation last month.
Colm Hogan, who has lined out for Ireland U20 and Munster A in the past, played his schools rugby with Glenstal Abbey. He captained Dublin University in the AIL and also had a spell with Colomiers in the PRO D2 while studying in France.
The 26-year-old played for Leinster against Chile last year and lined out with recent Munster arrival Alex Nankivell for Tasman Mako in the NPC this year.
Images & Content from Irish Rugby & Images © Inpho Photography
Key All Black announces sabbatical to play in Japan
All Blacks captain Sam Cane will take up a sabbatical option in his New Zealand Rugby (NZR) contract in 2024 to play a season for Suntory in Japan League One.
The 31-year-old, 95-Test loose forward will miss the 2024 DHL Super Rugby Pacific season with the Chiefs, but will return to New Zealand in June to be available for selection to the All Blacks for the 2024 Steinlager Series and Rugby Championship campaign.
Cane, who is contracted to NZR through to the end of 2025, said he was looking forward to experiencing a new playing environment with Suntory and learning more about a new culture in Japan.
"When the opportunity to play for Suntory in 2024 came up it felt like the right time following the Rugby World Cup to try something new and also a great chance to continue to grow and learn in my rugby and life journey. I'm grateful to New Zealand Rugby for their support to take this opportunity.
"It wasn't an easy decision to skip a season with the Chiefs, but I know the team is in a great place and has an incredible group of leaders in the squad and the coaching group to have a successful 2024, and I'm really pleased to be able to return in time to put my best foot forward for selection in the All Blacks."
NZR CEO Mark Robinson said:
"Sam's decision to take a sabbatical in 2024 has our full support and we wish him and his family all the best for their time in Japan. There are very few players who have given as much as he has to the jerseys he's worn in his career to date and it's a mark of his commitment to the All Blacks that he will return and make himself available for the Test season."
Gallagher Chiefs Head Coach Clayton McMillan said:
"Sam has given everything to this team on and off the field and deserves to take this opportunity to experience something different. He is an exceptional player and influential leader who has been an integral part of the Gallagher Chiefs for many years. We wish him and his family all the best and hope they enjoy their time in Japan after a full-on year."
Key All Black commits to Gallagher Chiefs until 2025
Dominant loose forward Luke Jacobson has extended his contract with the Gallagher Chiefs, Waikato and New Zealand Rugby until the end of 2025.
The 18-test All Black was a consistent starter for the Gallagher Chiefs this year and a key element of their outstanding DHL Super Rugby Pacific performances. He consequently went on to be named in the All Blacks squad to travel to France.
 
Gallagher Chiefs head coach Clayton McMillan is delighted to have Jacobson sticking around for another two seasons.
"Luke is an outstanding player; he's a workhorse, a consistent performer and considered a real warrior within our group. Luke leads by example both on and off the field. He isnt one to waste words and prefers to let his actions speak for themself. In the absence of some senior players who have moved on, I have no doubt Luke will play an integral part providing the  leadership and guidance our younger players will be looking for".
Jacobson has impressed throughout his career, playing for the New Zealand U20s team twice and captaining them in his second season to win the 2017 U20 World Championship title. This aptitude for leadership has seen him pull on the Gallagher Chiefs captain's armband on multiple occasions.
Waikato Rugby head coach Ross Filipo is excited about Luke extending his career with Waikato. "He is a great man and a great leader who continues to make huge contributions on and off the field and always represents the region with pride."
Speaking on his signing Jacobson said: "I'm stoked to signing on with the Waikato, Chiefs and NZR for another two years. I love representing these teams and am very proud to be able to call myself a Waikato/Chiefs man and also and All black. I'm hungry to succeed with these teams and tick off a few unticked boxes."
The 2024 Gallagher Chiefs squad will be named later this year ahead of assembling for pre-season training.