Bok duo seek first win against England in London
They've never been in a Springbok team that have beaten England at Twickenham, and on Saturday Malcolm Marx and Damian de Allende will look to change that when the sides meet in what is expected to be an epic encounter in their final Castle Lager Outgoing Tour match.
The last time the Springboks defeated England on their home patch was in 2014, and in their last two outings the Boks suffered heart-breaking one-point losses – something they would like to change when the teams line up this weekend.
It will mark a big occasion for both teams, not only because it is their final match of 2022, but also since both sides will be desperate to secure a win following a mix of encouraging victories and disappointing results in their November internationals as they look to build momentum with less than a year to go before the Rugby World Cup.
"It would be incredible (to win this weekend)," said De Allende, who – like Marx and Lukhanyo Am – were included in World Rugby's 2022 Dream Team over the weekend.
"I haven't been part of a team that beat them at home. But that said, they are a great team and it's going to be a tough encounter, especially since they have also been up and down in the last few games."
De Allende added: "When we played against them last season we tried to force things a bit too much in the last five or 10 minutes, but we learned from it and we spoke about it as a group, and hopefully we can turn things around on Saturday."
De Allende said England's performance to secure a 25-25 draw against New Zealand last week showed that they are a force to be reckoned with.
"One can never can never write them off," said De Allende. "We all saw the last few minutes of their clash against the All Blacks last week.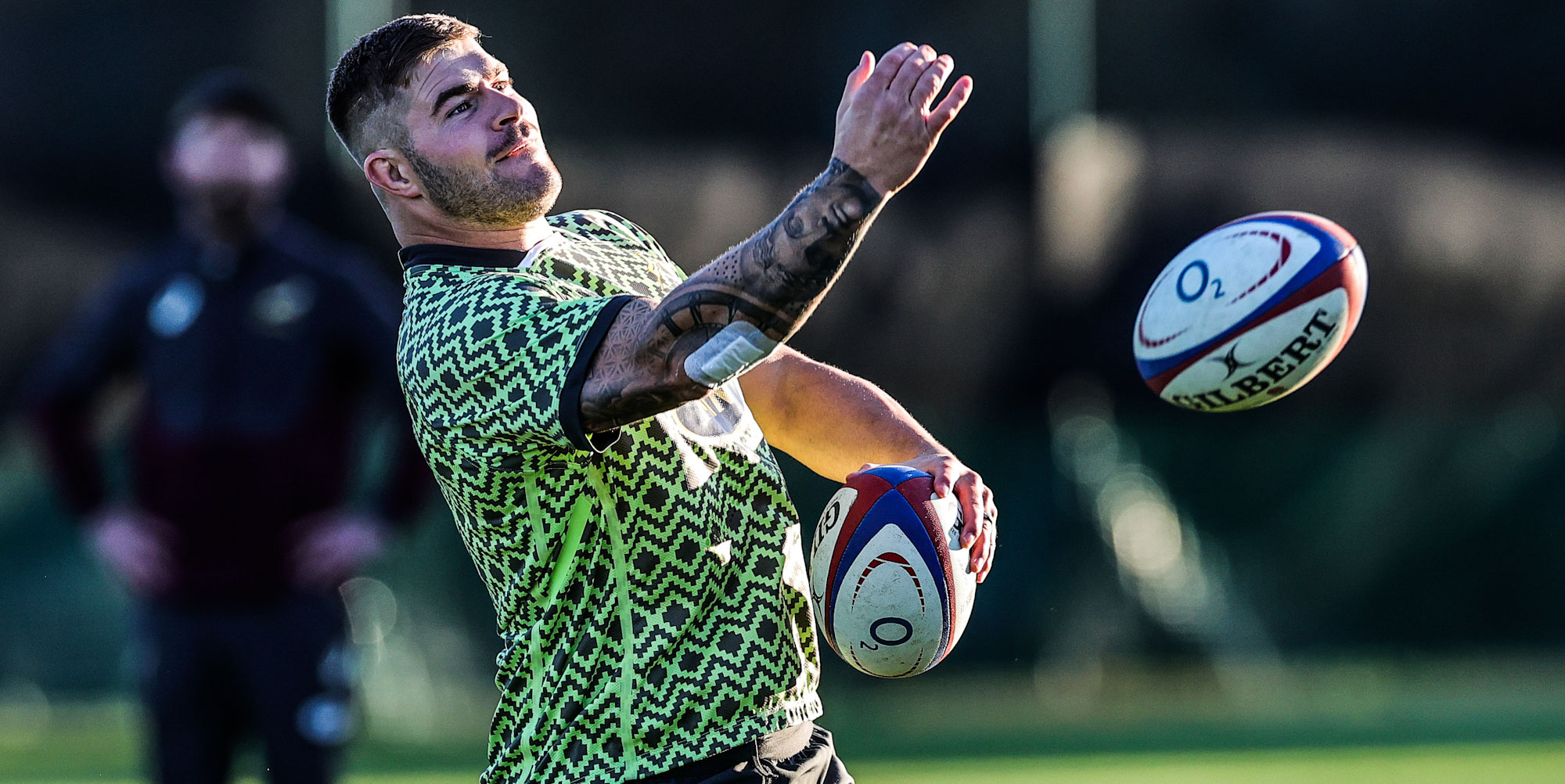 "We always give them the respect they deserve, and hopefully we'll pitch up on Saturday and deliver a consistent performance."
Marx spoke equally highly of England, and said following the Boks' narrow defeats against Ireland and France before their comprehensive victory against Italy last week, they were excited to give everything this weekend.
"We gave our best in every Test we played on tour and there were results that went our way and others that didn't, but we are all excited and very keen to get out there against England," said the Springbok hooker.
"We haven't won here in a while, and I've never won against them at home, so as a team we are looking forward to this match."
With both teams wrapping up their 2022 international seasons on Saturday, Marx said they are expecting a massive onslaught from the England pack.
"No team like losing," he said. "Every time you go onto the field, you want to give your best. Both us and England want to win this game to finish the season on a positive note.
"We've obviously seen how good and dominant they've been, so we know it's going to be a great challenge for us in the set pieces. We've been working really hard all this week and hopefully we can improve on our performances up front in the previous games."
The Boks wrapped up their main training block for the week on Wednesday and will have Thursday off to rest before returning to the field for their captains run on Friday.
Spencer looking to bring innovation to Sky Super Rugby Aupiki
Former All Blacks and Blues first five-eighths Carlos Spencer hopes to pass on the sort of rugby that marked his career as a backs coach for the Blues women's side in Sky Super Rugby Aupiki in 2023.
The 99-time Blues' pivot played 44 Tests for the All Blacks and 89 games for Auckland during his career spanning the turn of the century. He also played for Northampton and Gloucester in the English Premiership.
Since building his coaching record after completing his rugby-playing career in South Africa in Gauteng, he has coached in the Republic, the United States and the Hurricanes in Wellington.
Now he has taken the chance to join head coach Willie Walker and fellow assistant coach Linda Itunu with the Blues.
Spencer, 47, said: "When I was playing, I always liked to bring a bit of innovation and 'out-of-the-box' thinking to the table. Now, as a coach, I want to encourage and help grow those same traits in our Blues wahine."
Like most of New Zealand, he was caught up in the Black Ferns' World Cup success, and he anticipates there will be a follow-on effect in Sky Super Rugby Aupiki.
"You've seen the rise of women's rugby and the way the public got right in behind the Black Ferns.
"We're at an exciting juncture for the sport, and I'm looking forward to getting involved and doing what I can to help grow and support women's rugby."
"I've known Willie [Walker] for a while. We've thrown the touch ball around and have a good relationship. He's done some fantastic work with the Auckland Storm in the Farah Palmer Cup, and I'm looking forward to exchanging ideas and getting the backline humming.
"I don't know Linda, but have seen her exploits on the field for many years with the Black Ferns – she was an enforcer on the field,"
Blues chief executive Andrew Hore said having Spencer on board with the Blues organisation was special, and was an example of harnessing the resources available within the franchise's region.
Constructive talks between World Rugby, Erasmus
World Rugby CEO Alan Gilpin and World Rugby Director of Rugby Phil Davies met with South Africa Director of Rugby Rassie Erasmus on Thursday and held positive discussions regarding recent events and match official communications in general.
Views were exchanged resulting in a better understanding of the respective positions.
There was agreement that further dialogue was needed in terms of enhancing the process that operates between teams and match officials to ensure all can play their part in creating great spectacles and avoid frustration but in a way that underpins the respect for match officials, coaches and players.
Further dialogue will continue after today's final Springbok test of the year.
Nienaber, Kolisi praise Boks for special win
Springbok coach Jacques Nienaber and captain Siya Kolisi praised the team for their brave effort to earn their first win over England at Twickenham since 2014, and their first personal victories in London as they registered a rewarding 27-13 victory on Saturday.
The Boks built up an encouraging 14-3 halftime lead and managed to stretch it to 27-6 in the 57th minute before being reduced to 14 men for the last 20 minutes after replacement prop Thomas du Toit received a red card for a dangerous tackle. Despite this, the team hung on as if their lives depended on it to snatch the memorable victory.
The result saw the Boks win two of their four matches on the Castle Lager Outgoing Tour – with the two narrow defeats being against the first and second ranked teams in the world in Ireland and France.
"We've had a couple of special results as a team, but this was the first win for Siya and I at Twickenham, so it's very special to us," said Nienaber.
"The forwards were outstanding and created a good platform for our backs to attack, so all-in-all, it was a fantastic team effort."
Kolisi echoed lauded the entire team for their efforts to make the victory possible.
"Sometimes we take it for granted what a special environment one is in and the great coaching team we have," said Kolisi.
"When we got together with most of this coaching team in 2018, we all bought into the plans and the synergy and the way we work together is really special in this group."
Nienaber was delighted with the way some of the young players rose to the occasion and said: "With this match being outside of the international Test window there were a whole lot of players who were not available for selection, but we have a lot of players knocking on the door and it was great to give those guys an opportunity tonight.
"It's always good to give those players a chance under such pressure in front of a packed Twickenham, which can be pretty hostile, and they stood up today."
Asked what he had told his players when they were reduced to 14 men, Kolisi said: "We actually said last week there is nothing we haven't faced together as a group year. We've even been in situation when we had a red card, so the players knew what to do.
"Everyone knew they had to work harder to make up for the extra man, and the way the forwards played was great, and everyone did their bit to get the result."
Wrapping up the tour, Nienaber said: "This was one of the most enjoyable four weeks we've had had even though we only got a 50% win record. The way the team, coaches, management and the game drivers made plans and worked tightly together with it was great, and we can take a lot from this going forward."
The team will make their journey back to South Africa on Sunday and arrive on their home soil on Monday.