A fertile breeding ground for international players
One of the significant features to come out of the Springboks' Castle Lager Outgoing Tour this month – and the November international series in general – was how it underlined the role played by the Vodacom United Rugby Championship in breeding players for successful roles in their national teams.
Indeed, while Springbok coach Jacques Nienaber was initially criticised for ignoring home based players who'd made their names in the Vodacom URC, by the end of the calendar year that had changed, with several newcomers who either first captured the eye in the 16-team cross-hemisphere competition or grew their game there, making an indelible mark.
Understandably, the 2021/22 finalists, the eventual champions DHL Stormers and the Vodacom Bulls, led the way when it came to providing breakout opportunities for players within their system.
Kurt-Lee Arendse, who scored the thrilling try that had Twickenham aghast and even England supporters marvelling at his pace and skill, was one such player.
Arendse made his debut for the Boks in the second Test against Wales in Bloemfontein in July, but it was after France-based Cheslin Kolbe was injured in the third and deciding game against the Welsh that Arendse got his chance to show that he could transfer his sublime form for the Bulls in the Vodacom URC onto the international stage.
He turned in a stellar performance in his first outing against the All Blacks in Nelspruit in August, with his pace and his mastery in the air being a constant thorn to the New Zealanders and he capped it with the opening try of the game.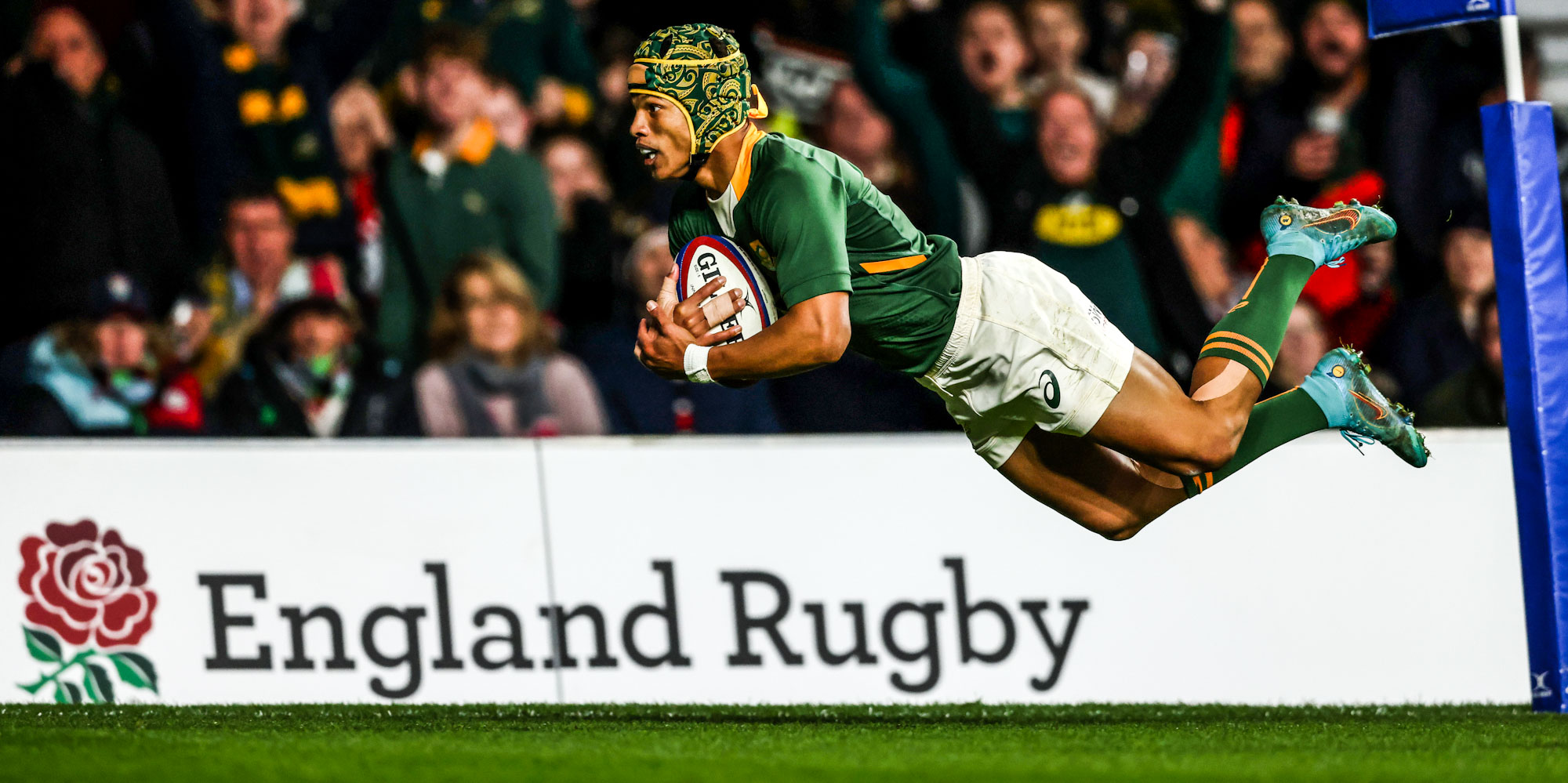 Unfortunately, Arendse blotted his copybook when red carded following an unfortunate clash with an airborne Beauden Barrett and the injury sustained in that incident, plus the subsequent suspension, prevented him from playing for much of the rest of the Boks' Castle Lager Rugby Championship campaign.
He did return though for the final game against Argentina in Durban as a replacement and in no time at all after he came on, Arendse scored one of his trademark tries, running it in from near the Pumas 10 metre line, off the last move of the game.
The Boks didn't hit target in that game, and ended second in the Rugby Championship, but Arendse's star shone, as it did again on the end of season tour.
Arendse was a big contributor to the great Bok counter-attacking that appeared to stun the French in Marseille, his opening try and then the follow up to complete the brace was a talking point when Italy were laid to the sword in Genoa, and then came the Twickenham highlight to the tour.
Arendse is being talked about as a special player, and it was in the Vodacom URC that he first got experience of playing against overseas players and overseas conditions.
Ditto his young Vodacom Bulls team-mate Canan Moodie, who made his Test debut at the age of just 19 as Arendse's replacement during the international season. His excellent try, plucking a kick out of the air and then running 30 metres to score, was the turning point in the Boks' favour against the Wallabies in Sydney and will be part of any end of year highlights package.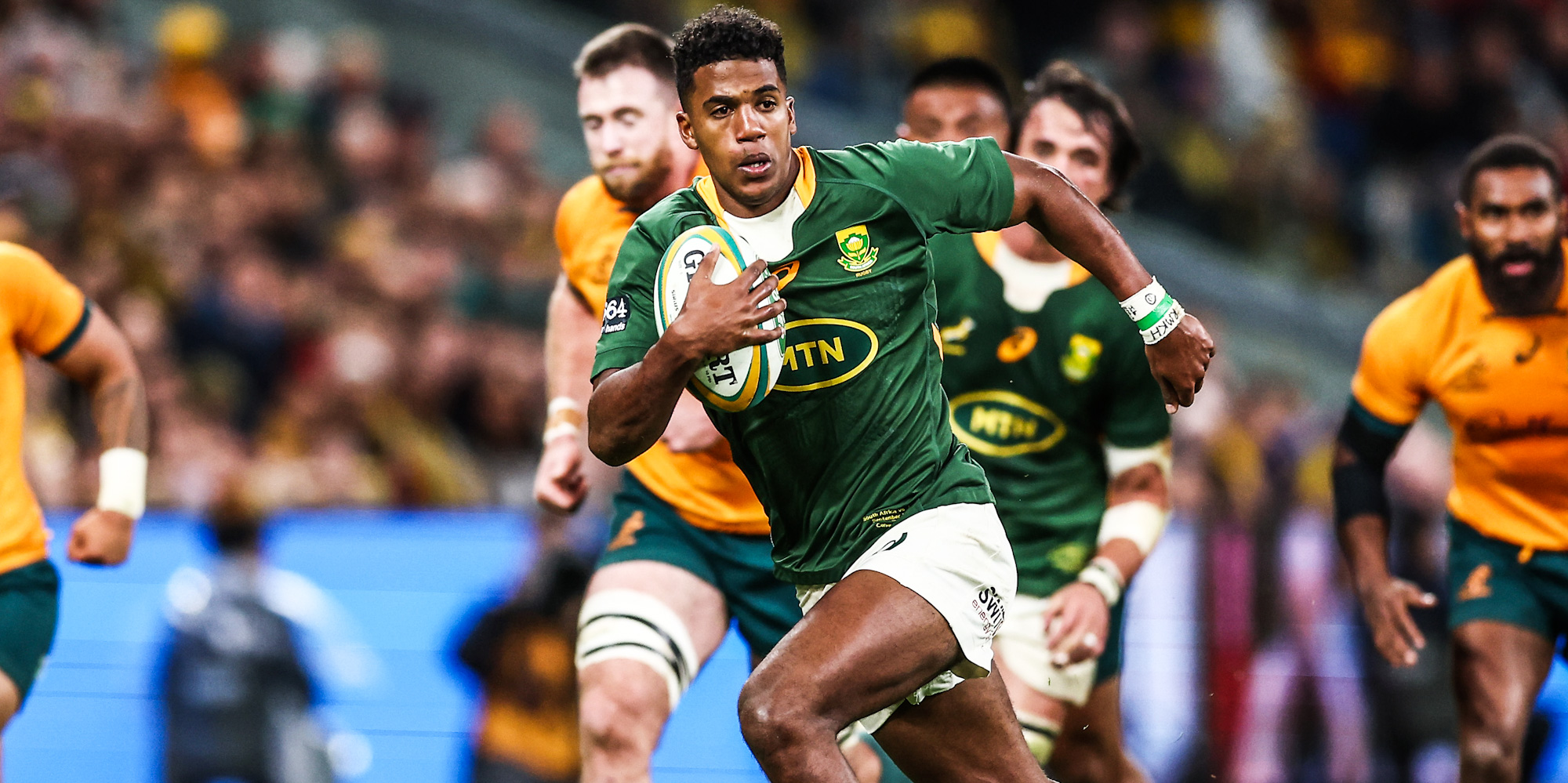 Moodie started the 2022 calendar year playing Currie Cup rugby for the Bulls, and made a big statement in his debut against DHL Western Province before quickly being elevated into the Vodacom URC team, where his potential was picked up by the national coaches.
Elrigh Louw was another Bulls player who has used the Vodacom URC as a platform to bid for national honours, and he played in the competition in its previous guise as the PRO14 when he was at the Southern Kings.
That was where Louw was first spotted by South Africa's Director of Rugby Rassie Erasmus, probably on the recommendation of the then Kings DOR Robbie Kempson.
Louw played for the SA 'A' team in November, but in his absence the 2021/22 Vodacom URC Player of the Year and Players' Player of the Year, Evan Roos, made full use of his opportunity.
With only the one cap earned in the second Test against Wales to his credit before the tour, Roos played off the bench in the destruction of Italy before transferring his Vodacom URC form to the international stage in London a week later. In that game, fellow DHL Stormers player Marvin Orie also showed he belongs at international level.
Although Orie had played for the Boks before, and was first capped while still at the Emirates Lions, this was his breakout year at international and he confirmed it at Twickenham, where no doubt his experience of being part of the winning Stormers effort in the Vodacom URC final helped his confidence.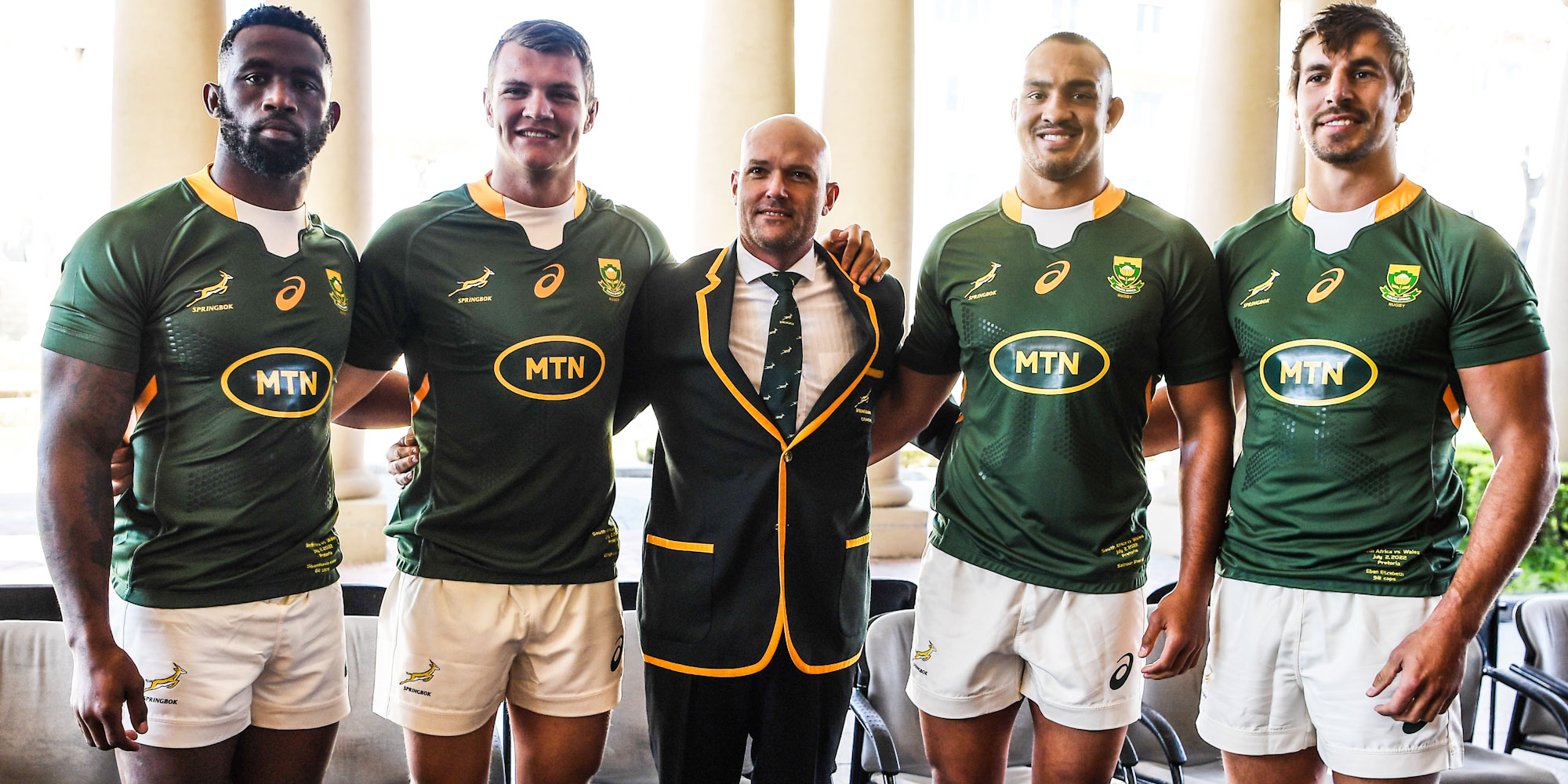 His Stormers teammate Salmaan Moerat would have added more Bok appearances in 2022 were he not playing behind arguably the world's finest lock, Eben Etzebeth, who will grace the Vodacom URC in the colours of the Cell C Sharks going forward.
Deon Fourie and Manie Libbok were two other DHL Stormers players who joined Roos and Moerat in making their Bok debuts this year, with Libbok looking the part as a replacement in Genoa.
Libbok is one of the Vodacom URC's biggest success stories – not long ago he was struggling to establish himself in the starting teams of the Bulls and Sharks, but thanks to the platform given to him by the Stormers, he has grown into a genuine international quality player.
Which of course is exactly what Damian Willemse is now. The utility back had also played for the Boks before this year, and was with them as a replacement at the Rugby World Cup in Japan in 2019.
But it was off the back of his Vodacom URC form, and the experience of being in the winning team, that Willemse took the bit properly between his teeth in the international season and made the graduation from fringe international player to the world class player he ended the year as.
And then there is Junior Springbok captain Sacha Feinberg-Mngomezulu, who we first saw when he played as a replacement in last season's quarter-final, was selected to tour but didn't play.
With Italy beating Australia for the first time, and Ireland going through the autumn internationals unbeaten, plus Scotland pushing New Zealand all the way before thumping Argentina and being unlucky not to beat the Wallabies at the start of this phase, it could be argued that the success of the Vodacom URC, and the impetus given to the competition by South African participation, was writ large.
Savea back at the helm of the Hurricanes
All Blacks loose forward Ardie Savea will captain the Hurricanes again for the 2023 DHL Super Rugby Pacific season.
Savea, who will have his 11th season in the side, will mark his first appearance in the competition by playing his 120th game.
The Hurricanes' season opens against the Reds in round one.
Savea said: "I'm looking forward to the season, especially getting out to the communities, when we play in Levin against the Crusaders for our pre-season game and Palmerston North against the Western Force on Sunday, April 2.
"We've just moved into our new facility, and there's something awesome about change; it's brought in a lot of energy. It's refreshing to come in and be in a new space alongside other professional teams. Hopefully, being here can help us move forward and prepare well for our games."
The facility is part of the New Zealand Campus of Innovation and Sport at what was the Central Institute of Technology at Trentham and houses, several Wellington-based teams.
Coach Jason Holland was delighted to be able to call on Savea's leadership ability again.
"Ardie is a special leader. He's the sort of guy you want to follow in whatever he does. He's worked hard at his leadership around all the small details, around how to get the best out of the people around him.
"He's been good at driving us as a group, players and management, about being well-planned and clear in our roles in what we're leading.
"Ards has a great relationship with all the boys and cares about them and the team and that shows in the way he leads."
Marshall primed for Crusaders coaching opportunity
James Marshall couldn't escape rugby's draw after retiring from playing and failed in his promised avoidance of the coaching ranks.
The former Super Rugby title winner with the Hurricanes has fitted into coaching so well that he will spend 2023 as backs coach for the Crusaders in Super Rugby Pacific.
Auckland-born Marshall started his rugby career with Tasman, but when missing a place in the Super Rugby structure, in a team or wider training group, he had a chance as a 20-year-old to play in Italy with Zebre.
It proved a stimulating experience in coping with playing a different style of rugby at a different level.
He returned to New Zealand six months later for another three seasons with Tasman before getting a chance in the Hurricanes' wider squad. He had spent four years trying to get a place in the Crusaders.
"I could never crack it as a player but I'm here now as a coach," he said.
"It is surreal to be here now. When I finished rugby, I promised my wife I wouldn't get into coaching. We had moved around so many times during my career, even when I was playing for the Hurricanes moving to Taranaki every six months.
"We worked it out there were well over 20 houses we lived in throughout my career so when I got to the end of it I did say I wouldn't be chasing the coaching dream, and I wouldn't be moving the family around any more."
However, back in Nelson, he got the chance to work with Andrew Goodman and Shane Christie, which gave him coaching work where he had decided to settle.
"Then a couple of years later,, I get a call from Razor [Scott Robertson] and it really throws a spanner in the works for my wife and when I got the opportunity, it was a no brainer. It's such a good opportunity for me to learn and see where coaching can now take me."
He contacted David Havili to see if he felt Marshall could do the job asked of him as backs coach and to see if he would have the backing of the players.
Havili got back in touch to say how much he thought Marshall could add to the environment. He also contacted some of his Hurricanes contacts and admitted being surprised at how supportive they were.
The Crusaders were one of the most successful sides in the sport's history, and looking from the outside while playing, he had always wondered what went on and how they did it.
"It's been impressive. It's a well-run ship. Razor does a great job. Scotty Hansen, the detail he has on the rugby programme. Tamati Ellison, some of his coaching, it's all world-class.
"It's been awesome for me as a young coach to witness these guys at work and try and learn as much as I can off them.
"There's also the players. It's a pretty impressive squad when you look at it on paper and the chance to work with some world-class athletes and try and teach them as much as I can, but also try and learn from them," he said.
RTÉ And Virgin Media Confirm Details Of Free-To-Air Six Nations Coverage
RTÉ and Virgin Media Television today announced details of its joint Guinness Six Nations coverage, where the action will be free-to-air for supporters in the Republic of Ireland.
Kicking off on Friday, 3 February, this year's Six Nations coverage will include all fixtures from Ireland's Men's, Women's and U20 tournaments.
The partnership will see all games equally aired across both broadcasters again this year.
The 2023 Men's Six Nations will open with Ireland v Wales on Virgin Media One, followed by England v Scotland on RTÉ2. Ireland will then take on current champions France on Saturday, 11 February.
The TikTok Women's Six Nations will begin on Sunday, 26 March with Wales v Ireland.
Speaking at this morning's launch at the Aviva Stadium, presenters Jacqui Hurley and Joe Molloy were joined on stage by members of their broadcast teams this year including pundits Rob Kearney, Fiona Hayes (Virgin Media Television), and RTÉ's Jamie Heaslip and Hannah Tyrrell.
RTÉ also confirmed that Irish international and Munster player Simon Zebo will be joining their punditry team.
Commenting, Head of RTÉ Sport, Declan McBennett said: "With this being a great year for rugby, there is added excitement about this year's Six Nations which RTÉ is once again bringing to sports fans all over the country free-to-air along with Virgin Media Ireland as part of our historic partnership which we launched last year.
"It's going to be a huge year for Irish rugby and we're really looking forward to it."
Images & Content from Irish Rugby & Images © Inpho Photography